27 mars 2011
The March 2011 Daring Baker's Challenge was hosted by Ria of Ria's Collection and Jamie of Life's a Feast. Ria and Jamie challenged The Daring Bakers to bake a yeasted Meringue Coffee Cake.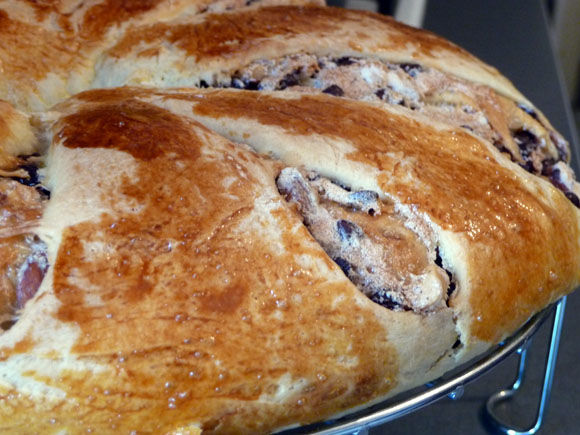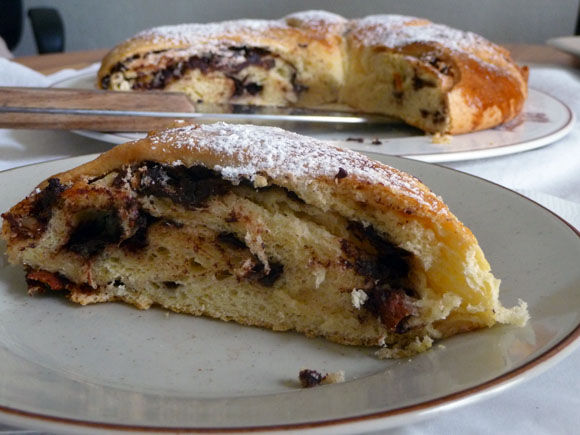 Mets la main à la pâte, indeed! I should just copy/paste the description of this dish's authors. Let me explain.
"fabulous yeast-risen coffee cake", "gorgeous brioche-like dough", but most importantly: "More often than not, yeast and non-yeast baking are seen as two separate things and we have often found that even the most passionate and seasoned bakers don't have a lot of experience or confidence with yeast baking. " Not that I have that much experience in baking at all, but I am definitely not the yeast baking type. I have made baguettes that never rose, bagels that tasted only of yeast, but at least they kinda rose, and pizza doughs that I would rather skip talking about. Of course part of my fear is killing the yeast bacteria alltogether, but my biggest turnoff is the horrible taste mentioned above, so strong it seems impossible to season the dough accurately. You don't want to end up throwing away three quarters of what you just baked. I had long thought that the problem lied in the brand of active dry yeast I used. Maybe I should look for artisan brands, or ask for fresh yeast at a bakery?
Time passed and about a month ago, I bought the usual dry yeast. I am not really sure why. Then, a few days later, I discovered the Daring Bakers' challenge for the month of March. I got a little scared, I really did'nt want to have to write about something disgusting. Circumstances had led me to be in the company of my mother at the time. And I learned that, if it were'nt for coffe cake, I may not even be here to write this message. My grandfather supposedly married my grandmother because HER mother made the best coffee cake in the world. Note that in my family, any good meal is the best we've ever had.
The month of March went by with my completely forgetting about the Daring Kitchen. What passed through that head of mine? Thursday, the 24th, coffee cake was the last tought I had before going to sleep. Woke up on the 25th with everthing I needed in my pantry and fridge, and ready for a workout.

Le défi des Daring Bakers du mois de mars 2011 est accueilli par Ria de Ria's collection et Jamie de Life's a Feast. Ria et Jamie défient les Daring Bakers de faire un coffee cake levé à la meringue.
Mets la main à la pâte. Tel était le sous-titre de ce mois-ci. J'aurais pu simplement faire un copier/coller de la description faite par les auteurs du défi. "fabulous yeast-risen coffee cake", "gorgeous brioche-like dough", intraduisible. Mais surtout "Plus souvent que pas, la pâtisserie utilisant de la levure de boulanger se distingue et nous avons remarqué que, souvent, les pâtissiers amateurs les plus émérites n'ont pas l'expérience de, ni la confiance en l'utilisation de la levure de boulanger." (Je vous épargnerai ma réflexion sur les ressemblances et les différences entre les mots boulange (-rie) et bake (-ing, -ery), réflexion interressante, mais qui ne m'a mené nulle part.) Je ne suis certainement pas une pâtissière émérite, ce qui ne m'empèche pas d'être male à l'aise avec cette fichue levure. J'ai déjà fait des baguettes qui n'ont jamais levé, des bagels qui n'avaient que ce goût atroce de levure, bien qu'ayant levé un peu, et des pâtes à pizza dont je préfèrerais ne pas parler. J'ai évidemment la peur de tuer les précieuses bactéries, mais je suis surtout réticente à l'idée de jeter à la poubelle les trois-quarts d'un plat immangeable. J'ai souvent pensé que le problème était dans le choix de la levure, peut-être devrais-je chercher une autre marque, ou en acheter de la fraîche chez le boulanger?
Le temps s'est écoulé jusqu'à il y a environ un mois, quand j'ai fini par acheter toujours cette même levure. C'est plusieurs jours plus tard que j'ai découvert le défi des Daring Bakers pour le mois de mars. J'appréhendais de devoir écrire un article sur quelque chose qui allait être franchement mauvais. Les aléas de la vie m'ont fait retrouver ma mère à ce moment. J'ai appris que, sans le coffee cake, je ne serais peut-être pas là pour en parler. Mon grand-père aurait épousé ma grand-mère parce que la mère de cette dernière faisait le meilleur coffee cake au monde. Notez que dans ma famille, n'importe quel bon repas est le meilleur de tous les temps.
La Daring Kitchen m'est complètement sortie de la tête pendant tout le mois de mars, jusqu'au 24 au soir, jeudi donc, quand ma dernière pensée, avant de m'endormir fut le coffee cake. Je me suis levée le 25 avec frigo et placards pleins et prets, et biscotos en forme.

Ingredients for one cake:
Yeast coffee cake dough:
300 g flour
20 g sugar
2 g salt
3,5 g active dry yeast
120 mL low fat milk
65 g butter, at room temperature
1 egg

Meringue:
2 small egg whites (keep yolks for egg wash)
pinch of salt
1/2 teaspoon vanilla
55 g sugar
Filling:
55 g walnuts and almonds
15 g sugar
pinch of cinnamon
90 g dark chocolate chips
Directions:
In a large mixing bowl, combine 115 g flour, sugar, salt and yeast.
In a saucepan, combine milk and butter, heat over medium heat until warm and butter is just melted.
With an electric mixer on low, gradually add warm liquid to flour mixture, beating until well blended. Increase mixer speed and beat for two more minutes.
With a wooden spoon, stir enough flour to make dough that holds together. Turn out onto floured surface and knead for 8 to 10 minutes until dough is soft, smooth, sexy and elastic, keeping surface floured and adding flour as needed.
Place dough in lightly greased bowl. Cover bowl with plastic wrap and a kitchen towel. Let rise until double in bulk, about 45 to 60 minutes.
Once the dough has doubled, make the meringue. Beat the egg whites with the salt, first on low for 30 seconds, then increase to high and continue until foamy and opaque.
Add vanilla then start adding the sugar one tablespoon at a time as you beat, until very stiff and shiny peaks form.
Punch down the dough. On a lightly floured surface, roll it out into a 50x25 cm rectangle.
Spread meringue evenly up to about 1 cm from the edges. Sprinkle sugar and cinnamon evenly over meringue, followed by nuts and chocolate.
Roll up the dough jellyroll style. Pinch the seam closed to seal. Transfer the log to a lined cookie sheet, seam side down. Bring the ends of the log around and seal the ends together, forming a ring, tucking one end into the other and pinching to seal.
Make cuts along the outside edge at 2 cm intervals.
Cover with plastic wrap and allow to rise again for 45 to 60 minutes.
Preheat oven to 180°C
Brush the tops of the coffee cakes with the egg wash. Bake in the preheated oven for 25 to 30 minutes until risen and golden brown. The dough should sound hollow when tapped.
Carefully slide the cake to a cooling rack if using silicon mat. With parchment paper, transfer to countertop first to remove paper. Allow to cool.
Just before serving, dust the tops of the coffee cakes with confectioner's sugar. These are best eaten fresh, the same day or the next day.
Ingrédients, pour un coffee cake:
La pâte briochée:
300 g de farine
20 g de sucre
2 g de sel
3,5 g de levure de boulanger
120 mL de lait demi-ecrémé
65 g de beurre, à température ambiante
1 œuf
La meringue:
2 petits blancs d'œufs (garder les jaunes pour dorer le gâteau)
1 pincée de sel
1/2 c à c de vanille
55 g de sucre
La farce:
55 g de noix et d'amandes
15 g de sucre
1 pincée de canelle
90 g de chocolat noir en petits morceaux
Réalisation:
Dans un grand bol, mélanger 115 g de farine, le sucre, le sel et la levure.

Dans une casserole, mélanger le lait et le beurre, chauffer à feu moyen jusqu'à ce que le beurre soit tout juste fondu.

Avec un batteur éléctrique reglé sur puissance minimum, ajouter petit à petit le liquide chaud au mélange de farine. Augmenter la puissance et battre encore deux minutes.

À l'aide d'une cuiller en bois, mélanger juste assez de farine pour qu'une pâte qui se tienne se forme. Pétrir 8 à 10 minutes sur une surface farinée jusqu'à ce que la pâte soit douce, lisse, et élastique, en ajoutant de la farine si besoin est.

Mettre la boule de pâte dans un bol légèrement huilé. Couvrir le bol de scélophane et d'un torchon propre. Laisser lever 45 à 60 minutes, la boule doit doubler en volume.
Une fois que la pâte a doublé, faire la meringue: battre les blancs d'œufs avec le sel, doucement pendant 30 secondes, puis plus rapidement jusqu'à ce que les œufs soient mousseux et opaques.

Ajouter la vanille, puis, tout en battant, le sucre petit à petit, jusqu'à ce que l'appareil soit brillant et rigide.
Dégonfler la pâte en lui donnant un petit coup de poing. L'abaisser sur une surface farinée, de manière à obtenir un rectangle de 25x50 cm.

Étaler dessus la meringue, en laissant une marge d'un cm environ tout autour. Parsemer de sucre et de canelle, puis des noix et du chocolat.

Enrouler la pâte comme pour une bûche. Coller les extrémités en pinçant. Placer la bûche sur une plaque couverte de papier sulfurisé, avec la jointure vers le bas. Amener les extrémités ensembles pour faire une couronne. Border une extrémité dans l'autre et pincer pour fermer.

Faire des entailles tous les 2 cm environ.

Couvrir de film plastique et laisser lever encore 45 à 60 minutes.
Préchauffer le four à 180°C

Badigeonner le dessus du gâteau de jaune d'œuf à l'aide d'un pinceau. Mettre au four pour 25 à 30 minutes. Il doit avoir gonflé et doré, et doit sonner creux quand on le tapote.
Transvaser sur une grille en faisant attention. Laisser refroidir.

Juste avant de servir, saupoudrer le dessus de sucre glace. Déguster le jour même ou le lendemain.