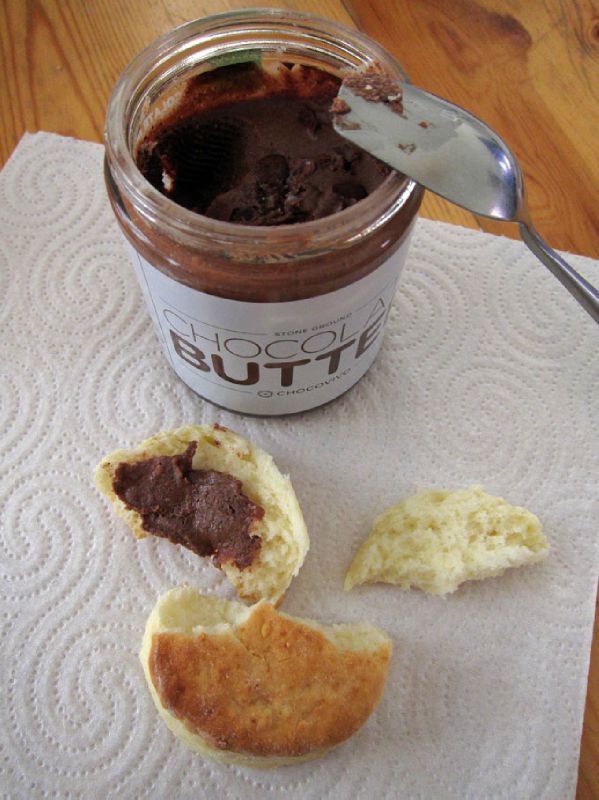 Audax Artifex was our January 2012 Daring Bakers' host.. Aud worked tirelessly to master light and fluffy scones (a/k/a biscuits) to help us create delicious and perfect batches in our own kitchens!
So I would like to start by thanking Audax for challenging us to bake something relatively simple in this post-holiday time of unkept resolutions. I didn't wait untill January to think to myself that I should be more serious about making the pastries every month. So today, I gladly present my little scones, I will call them biscuits (or maybe even bisquits) (as the anglophone part of me is from California), that were easy enough to make to let me worry about other resolution-type issues.
I only made one batch, and made it as simple as can be. But now I know how easy and fast it is to have them on my table, so the most important part is done (now I kinda wanna make what Americans call scones, otherwise known as rock cakes). I really had no idea about the denominations of these teatime delights, and was a little shocked at my ignorance, but am now aware what to look for in non American English language websites! Again, thank you Audax.
Audax Artifex était notre hôte des Daring Bakers pour le mois de Janvier 2012. Aud s'est donné à fond pour masteriser un scone (ou biscuit pour les américains) à la fois léger et moelleux pour nous aider à créer de parfaites et délicieuses fournées dans nos propres cuisines!
J'aimerais commencer en remerciant Audax de nous défier de préparer quelque chose de relativement simple en ces temps post-fêtes de résolutions non tenues. Je n'ai pas attendu le mois de janvier pour me dire que je devrais être plus sérieuse dans la réalisation de mes défis mensuels. Alors aujourd'hui, je présente fièrement mes petits scones que j'appellerai "bicuits" ou encore bisquits (ma moitié anglophone vient de Californie), qui étaient juste assez simples à réaliser pour me permettre de penser à d'autres types de résolutions.
Je n'ai fait qu'une fournée et l'ai faite aussi simple que possible. Maintenant que je sais à quel point c'est facile et rapide de les avoir sur ma table, le plus dur est fait (maintenant j'ai envie de faire ce que les Américains appellent des scones et que les autres anglophones appellent rock cakes). Je n'avais réellement aucune idée de ces histoires de dénomination et fus pour le moins choquée de mon ignorance, mais maintenant je sais quoi chercher dans des sites anglophones non américains! Encore merci, Audax.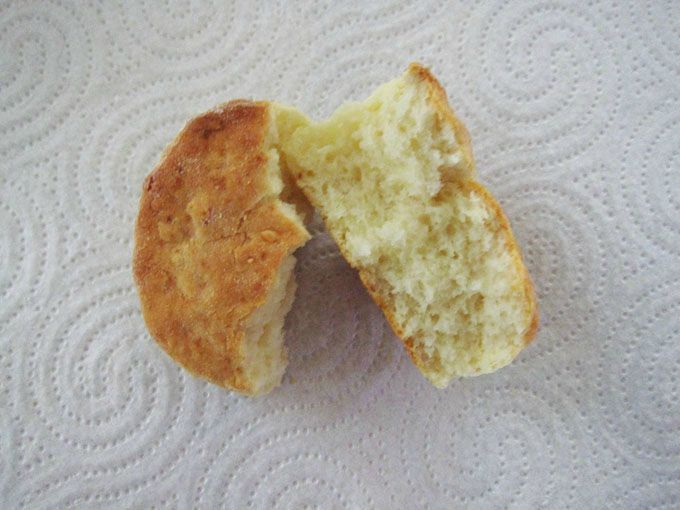 I made the recipe exactly as is, my new habit lately. I'm still quite the daring baker (in my dreams!!). Rather than focusing on nutritional balance, I try to focus on white balance and exposure. Have this simple treat with an exquisite chocolate/almond spread or home made or cottage industry jam.
J'ai réalisé la recette telle quelle, ma nouvelle habitude ces derniers temps. [je vais maintenant tenter de traduire des jeux de mots] Plutôt que de penser à la balance nutritionelle, je me dirige plutôt sur la balance des blancs et l'exposition. [Non, décidémént, en Français, c'est beucoup moins drôle] Mangez cette simple gourmandise avec un festin de chocolat et amandes à tartiner ou avec une confiture maison ou artisanale.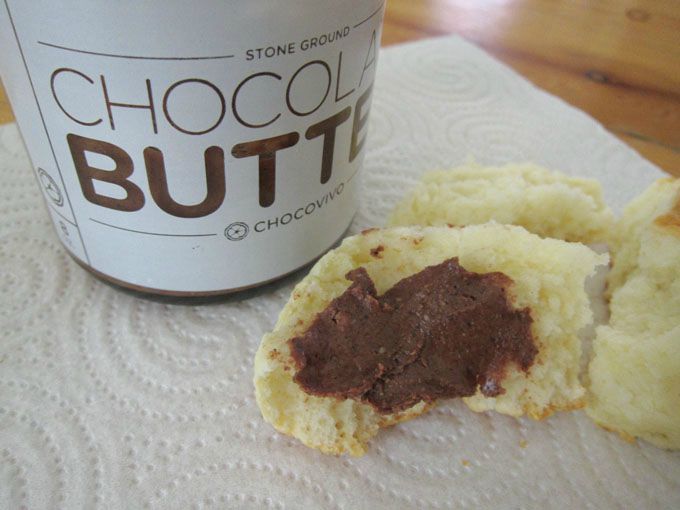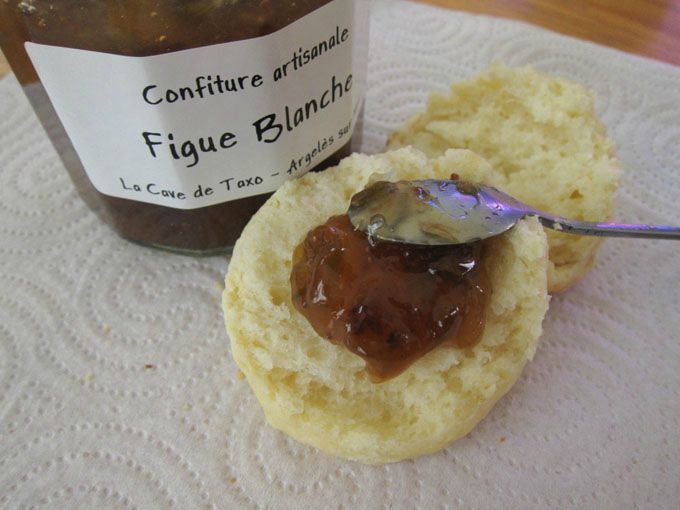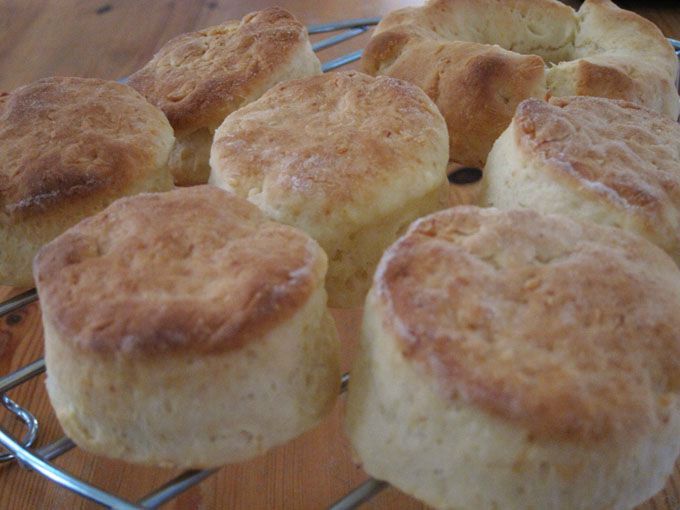 Basic Scones (a.k.a. Basic Biscuits) recipe:

Servings: about eight 2-inch (5 cm) scones or five 3-inch (71⁄2 cm) scones Can be doubled
Ingredients
1 cup (240 ml) (140 gm/5 oz) plain (all-purpose) flour
2 teaspoons (10 ml) (10 gm) (1/3 oz) fresh baking powder
1⁄4 teaspoon (11⁄4 ml) (11⁄2 gm) salt
2 tablespoons (30 gm/1 oz) cold grated butter (or a combination of lard and butter)
Approximately 1⁄2 cup (120 ml) cold milk (Optional 1 tablespoon milk, for glazing the tops of the scones)
Directions:
1. Preheat oven to very hot 475°F/240°C/gas mark 9.
2. Triple sift the dry ingredients into a large bowl. (If your room temperature is very hot
refrigerate the sifted ingredients until cold.)
3. Rub the frozen grated butter (or combination of fats) into the dry ingredients until it resembles
very coarse bread crumbs with some pea-sized pieces if you want flaky scones or until it
resembles coarse beach sand if you want tender scones.
4. Add nearly all of the liquid at once into the rubbed-in flour/fat mixture and mix until it just
forms a sticky dough (add the remaining liquid if needed). The wetter the dough the lighter
the scones (biscuits) will be!
5. Turn the dough out onto a lightly floured board, lightly flour the top of the dough. To achieve
an even homogeneous crumb to your scones knead very gently about 4 or 5 times (do not press too firmly) the dough until it is smooth. To achieve a layered effect in your scones knead very gently once (do not press too firmly) then fold and turn the kneaded dough about 3 or 4 times until the dough has formed a smooth texture. (Use a floured plastic scraper to help you knead and/or fold and turn the dough if you wish.)
6. Pat or roll out the dough into a 6 inch by 4 inch rectangle by about 3⁄4 inch thick (151⁄4 cm by 10 cm by 2 cm thick). Using a well-floured 2-inch (5 cm) scone cutter (biscuit cutter), stamp out without twisting six 2-inch (5 cm) rounds, gently reform the scraps into another 3⁄4 inch (2 cm) layer and cut two more scones (these two scones will not raise as well as the others since the extra handling will slightly toughen the dough). Or use a well-floured sharp knife to form squares or wedges as you desire.
7. Place the rounds just touching on a baking dish if you wish to have soft-sided scones or place the rounds spaced widely apart on the baking dish if you wish to have crisp-sided scones. Glaze the tops with milk if you want a golden colour on your scones or lightly flour if you want a more traditional look to your scones.
8. Bake in the preheated very hot oven for about 10 minutes (check at 8 minutes since home ovens at these high temperatures are very unreliable) until the scones are well risen and are lightly coloured on the tops. The scones are ready when the sides are set.
9. Immediately place onto cooling rack to stop the cooking process, serve while still warm.
Basic Scones (a.k.a. Basic Biscuits) recette:
Pour environ 8 scones de 5cm (2 pouces) ou 5 scones de 7 ou 8 cm (3 pouces)
Ingrédients
140 g de farine
2 cc de levure chimique (10 g, ≈ 1 sachet)
1/4 cc de sel fin
2 noisettes (30 g) de beurre froid (ou un mélange de beurre et de saindoux)
environ 120 ml de lait (+ 1 CS pour dorer le dessus, optionel)
Préparation
1. Préchauffer le four à 475°C (chaud chaud!!)
2. Passer la farine, la levure et le sel trois fois au tamis (pour aerer et pour bien mélanger)
3. Malaxer le beurre du bout des doigts dans le mélange d'ingrédients secs jusqu'à obtention d'une consistance de chapelure épaisse si vous voulez des scones friables ou de sable épais si vous voulez des scones moelleux.
4. Ajouter presque tout le lait d'une traite et mélanger jusqu'à obtention d'une pâte collante (rajouter du lait si besoin). Plus la pâte sera humide, plus les scones seront légers.
5. Abaissez la pâte sur une surface légèrement farinée. Farinez aussi légèrement le dessus du pâton. Pétrir rapidement sans trop appuyer puis plier la pâte et pétrir trois ou quatre fois jusqu'à ce que la pâte soit lisse.
6. Étaler la pâte avec les doigts pour obtenir un rectangle d'environ 15x10 cm sur 2cm d'épaisseur. Fariner un emporte-pièce de 5cm de diamètre et découper environ six ronds. Remanier les déchets de découpe pour faire les deux ronds restants (ces deux scones ne seront pas aussi légers et moelleux).
7. Placez les ronds près les uns des autres et qui se touchent pour avoir des côtés moelleux, ou plus espacés pour avoir des côtés croustillants.
8. Enfourner environ dix minutes, en vérifiant la cuisson au bout de huit minutes, on ne sait jamais. Ils doivent avoir bien levé et le dessus doit être légèrement coloré.
9. Les mettre à refroidir sur une grille, servir encore chaud.