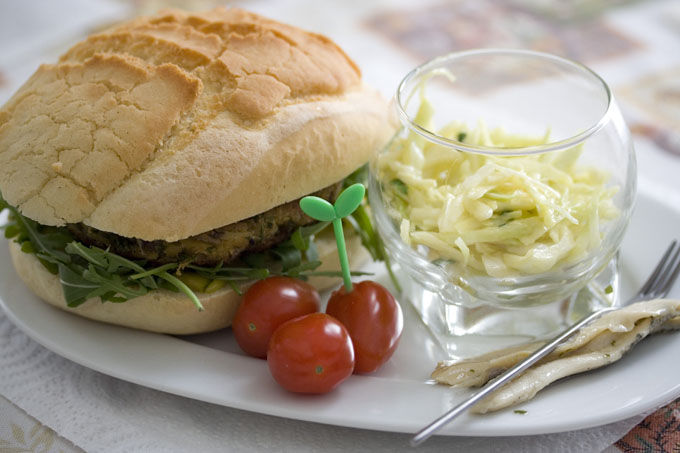 Sara and Erica of Baking JDs were our March 2012 Daring Baker hostesses! Sara & Erica challenged us to make Dutch Crunch bread, a delicious sandwich bread with a unique, crunchy topping. Sara and Erica also challenged us to create a one of a kind sandwich with our bread!


---
Sara et Erica de Baking JDs étaient nos hôtes Daring Bakers pour Mars 2012! Sara et Erica nous ont défiés de faire du pain Dutch Crunch, un délicieux pain à sandwich avec une croûte unique. Elles nous ont aussi défiés de créer un sandwich original avec notre pain!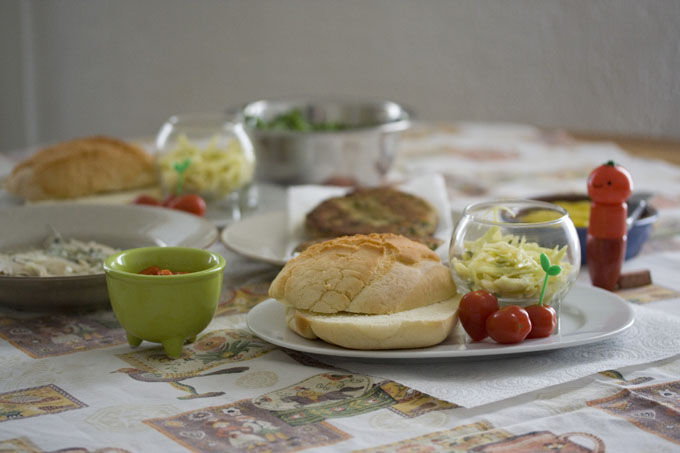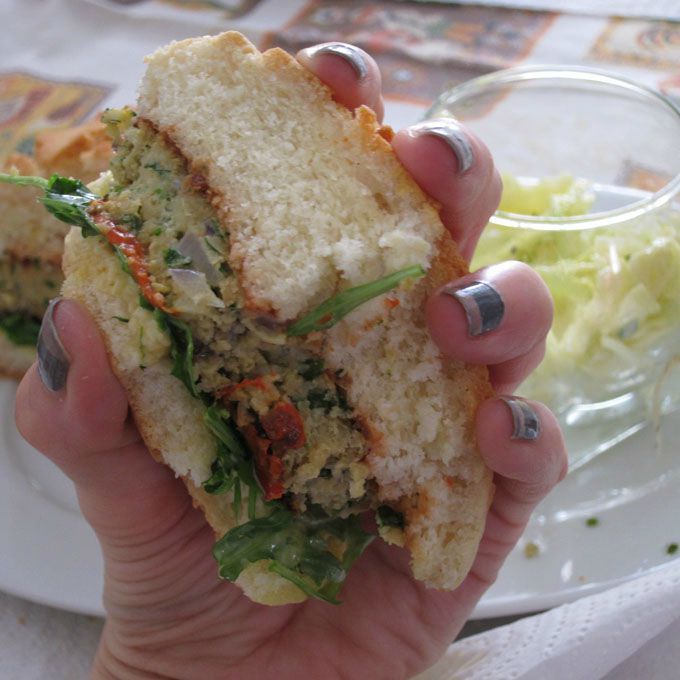 What a fantastic challenge! I am still not the daring bread baker, even though the Daring Kitchen has taught me that it really isn't that hard! (I skipped the sourdough challenge, I may have to make up for it eventually! Allthough I am so bad at watering my plants, I wonder how good I'll be at feeding my sourdough!!) I have been postponing this challenge for fear of lack of organisational skills. As if it were'nt enough trouble to make one yeasted dough, we had to add the double yeasted crunch too!! During this process of procrastination, I wrote down ideas of possible fillers. Was it going to be a BLT? Something of a Jambon-beurre (classic French ham and butter on fresh baguette)? A deli inspired pastrami/roast beef with pickles, relish and yellow mustard? How about some falafels? Yum! I'll go for falafels! After some research, I opted for a chickpea veggie patty. And then to figure out what else to stick in there! I also looked for what typically lies in a Dutch Crunch sandwich. As I feared, the possibilities are endless, but devil sauce seems to win'em all in Yelp reviews. I am unfamiliar with this sauce and couldn't find an exact definition or recipe, but figured it was a kind of creamy garlic sauce similar to aioli. Needless to say, aioli was on the menu.
Now for a quick review of the bread itself, well, I was a little disapointed for one simple reason: I strongly dislike the smell and taste of yeast, and this recipe calls for a lot of it, and not a whole lot of salt. After eating two rolls (on two seperate days), I just couldn't eat any more, I could smell it from miles away (er, let's just say a few feet away!) On the other hand, this is a pretty simple recipe for bread that you could eat at lunchtime if you organize well enough. And that's not usually true of most breads. I'm glad I got the chance to make and taste Dutch Crunch, now I can't wait to go back to San Fransisco to try the real thing! (I've been to SF many times, I can't believe I never tried the crunch!!).


---
Quel défi fantastique! Je ne suis toujours pas celle qui se risque à faire du pain, bien que la Daring Kitchen m'ait maintenant appris que ce n'est pas si sorcier! (J'ai loupé le défi du pain au levain, il va falloir que je me rattrape un de ces quatre, mais vu comme je prends soin de mes plantes vertes, je me demande si j'arriverai à alimenter mon levain tous les jours!) Par peur de manquer cruellement d'organisation je n'ai pas arrêté de repousser la réalisation de ce défi-ci. Comme si ce n'était pas déjà assez compliqué de faire une pâte à pain normale, il faut lui rajouter une croûte de farine de riz avec le double de levure! Pendant ce processus de procrastination j'ai écrit quelques idées de garnitures possibles. Est-ce que ça allait être un BLT (bacon, salade, tomate), un jambon-beurre, un sandwich au pastrami ou au roastbeef typique des deli américains, avec de gros cornichons, de la relish et de la moutarde jaune? Et pourquoi pas des falafel? Hmmm! Va pour les falafel! À la suite de quelques recherches, j'optai pour des burgers végétariens au pois chiche. Et je verrai bien ce que je mets avec! J'ai aussi regardé ce qui se met typiquement dans un Dutch Crunch sandwich. Comme prévu, les possibilités sont infinies, mais la "devil sauce" semble remporter les suffrages dans les avis de Yelp.com. Je ne connais pas vraiment cette sauce mais elle semble être une sauce crémeuse à l'ail similaire à l'aioli. Donc, ben, aioli au menu.
Maintenant je vais faire une petite critique du pain en lui-même. J'ai été un peu déçue pour une raison très simple: je supporte très mal l'odeur et le goût très fort de levure. Dans cette recette, il y en beaucoup, et très peu de sel. Après avoir mangé deux pains (sur deux jours), je n'en pouvais plus, je sentais l'odeur de levure à des kilomètres à la ronde (ok, quelques mètres à la ronde!!). Mais je dois avouer que c'est une recette de pain très simple que l'on peut déguster pour le déjeuner si on s'organise bien, et ça ce n'est pas toujours le cas pour la plupart des pains. Je suis très contente d'avoir goûté le Dutch Crunch, mais j'ai maintenant envie de retourner à San Fransisco goûter le vrai Crunch (ce que je ne comprends pas, c'est que j'ai été plein de fois à San Fransisco, alors comment est-ce que je ne l'ai jamais goûté?)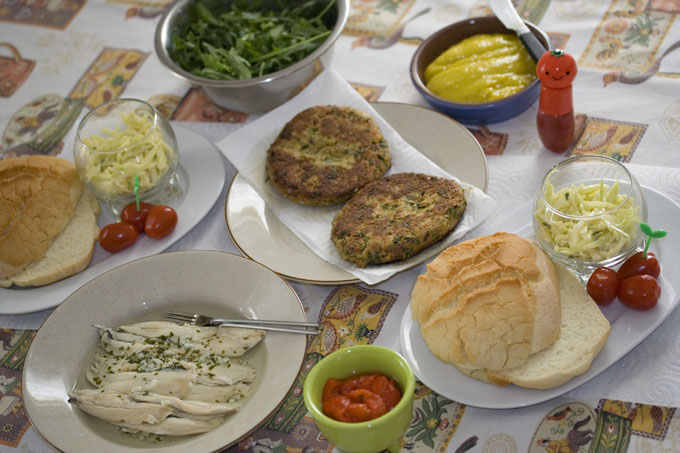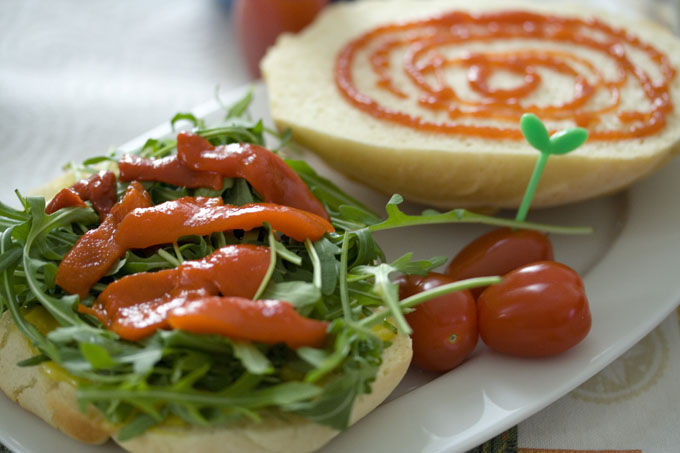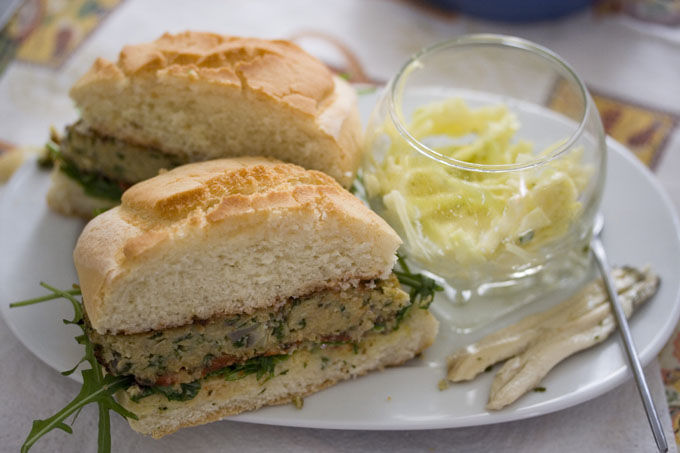 ALL THE RECIPES: I TOUTES LES RECETTES: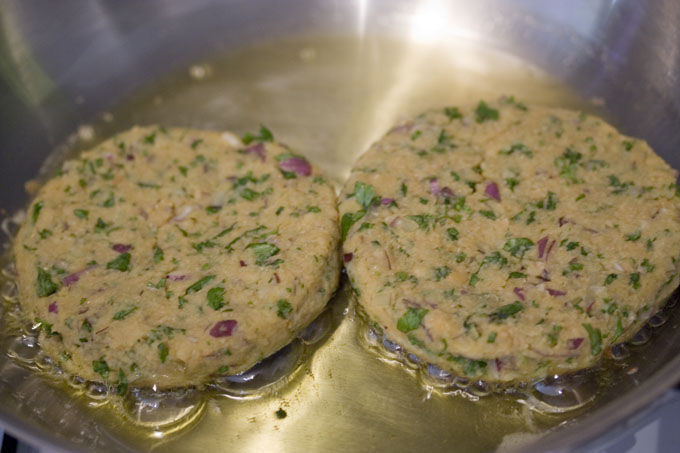 VEGGIE PATTIES (for 4 patties)
I used Heidi Swanson's recipe for the ultimate veggie burger, allthough I didn't follow her advice on why this makes for such a good burger. Thing is, I had my idea in my mind on what my sandwich was going to be like, I was just looking for a fallafel/veggie patty hybrid. I slightly changed the recipe according to what I had on hands, this version not being quite as healthy as the original.
- 1 1/2 cups canned garbanzo beans, drained and rinsed
- 2 large eggs
- pinch of fine-grain sea salt
- 1/2 red onion, chopped
- Grated zest of one untreated half lemon
- 1/3 cup chopped parsley
- 1/3 cup chopped fresh cilantro
- 1/2 cup toasted bread crumbs
- 1 tablespoon extra-virgin olive oil
➨ Combine beans, eggs and salt in a food processor and mix until still a little chunky. Transfer to a bowl and add the herbs, onion, zest and breadcrumbs. Reserve covered with saran wrap and in the fridge until ready to cook.
➨ Adjust the amount of moisture by adding either water, eggs or breadcrumbs. Don't be afraid to leave the mixture pretty moist.
➨ Form into 4 patties. Cook in a heavy skillet over medium-low heat for about fifteen minutes, turning them over at midpoint.


---
BURGERS AU POIS CHICHE (pour 4 pièces)
J'ai utilisé la recette du "ultimate veggie burger" de Heidi Swanson, mais je n'ai pas suivi ses conseils sur ce qui en fait un si bon burger (remplacer le pain par les "steak" de pois chiche). J'avais déjà ma p'tite idée de ce que je voulais pour mon sandwich, à savoir un hybride entre un veggie burger et un falafel. J'ai légèrement changé la recette, la mienne n'étant pas tout à fait aussi saine et diététique que l'originale.
- 350 ml de pois chiche en conserve ou en bocal, égoutés et rincés
- 2 gros œufs
- une pincée de sel
- 1/2 oignon rouge, émincé finement
- le zeste d'1/2 citron non traité
- 80 ml environ de persil grossièrement haché
- 80 ml environ de coriandre fraîche grossièrement hachée
- 120 ml de chapelure
- 1 CS d'huile d'olive
➨ Mixer les pois chiche, les œufs et le sel au mixeur, en gardant de la consistence et quelques morceaux. Mettre dans un bol avec le reste des ingrédients. Reserver au frais sous film plastique jusqu'à utilisation.
➨ Ajuster la consistance en ajoutant de l'eau, des œufs ou de la chapelure, sans avoir peur d'une pâte bien humide.
➨ Former 4 patties (normalement, un patty, c'est un steack haché). Cuire dans une poële à fond épais à feu moyen doux environ 15 minutes, en retournant à mi-temps.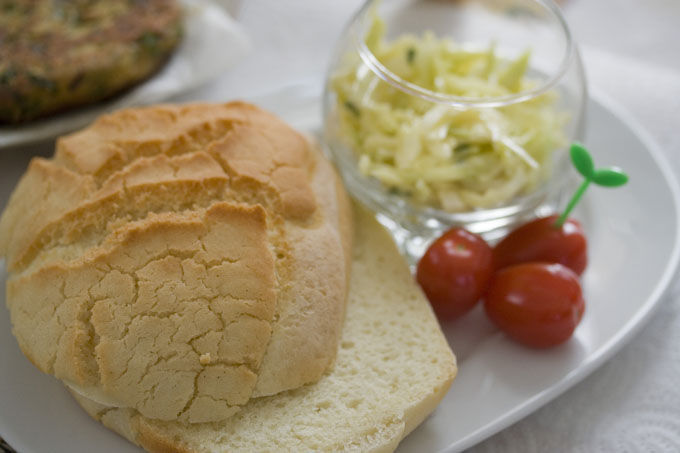 WHITE ROLLS recipe as provided
- 1 tablespoon (1 packet) (15 ml) (7 gm/ 1⁄4 oz) active dry yeast
- 1⁄4 cup (60 ml) warm water (105-110o F) (41-43°C) (No need to use a thermometer – it should feel between lukewarm and hot to the touch).
- 1 cup (240 ml) warm milk (105-110o F) (41-43°C) (We've tried both nonfat and 2%, with no noticeable difference)
- 11⁄2 tablespoons (221⁄2 ml) (20 gm/ 2⁄3 oz) sugar
- 2 tablespoons (30 ml) vegetable oil (plus additional olive or vegetable oil for greasing bowl during rising)
- 11⁄2 teaspoons (71⁄2 ml) (9 gm/1⁄3 oz) salt
- Up to 4 cups (960 ml) (600 gm/21oz) all purpose flour
➨ In the bowl of an electric mixer or large mixing bowl, combine yeast, water, milk and sugar. Stir to dissolve and let sit for about 5 minutes (The mixture should start to bubble or foam a bit and smell yeasty).
➨ Add in vegetable oil, salt and 2 cups of flour. Using the dough hook attachment or a wooden spoon, mix at medium speed until the dough comes together.
➨ Add remaining flour a quarter cup at time until the dough pulls away from the sides of the bowl (For us, this usually required an additional 11⁄2 to 2 cups of flour).
➨ Turn out onto a lightly floured surface and knead for about 4 minutes, until smooth and elastic.
➨ Place in a lightly greased bowl and cover with plastic wrap. Let rise for 1 hour, or until doubled (or more) in size.
➨ Once the dough has risen, turn it out onto a lightly floured surface and divide it into 6 equal portions (if you'd like to make rolls) or 2 equal portions (if you'd like to make a loaf) (using a sharp knife or a dough scraper works well). Shape each into a ball or loaf and place on a parchment-lined baking sheet (try not to handle the dough too much at this point).
➨ Cover with plastic wrap and let rise for 15 minutes while you prepare the topping.
➨ Coat the top of each roll or loaf with the topping as described above. While the original recipe
recommends letting them stand for 20 minutes after applying the topping, I got better results
by putting them directly into the oven.
➨ Once you've applied the topping, bake in a preheated moderately hot 380oF/190°C/gas mark 5 for 25-30 minutes, until well browned. Let cool completely on a wire rack before eating.


---
PAINS BLANCS (pour 6 pains, recette fournie)
- 1 sachet de levure de boulanger
- 60 ml d'eau tiède-chaude
- 240 ml de lait tiède-chaud
- 20 g de sucre
- 2 CS d'huile végétale
- 1,5 cc de sel
- jusqu'à 600 g de farine
Dans un grand bol, mélanger la levure, l'eau, le lait et le sucre. Mélanger et laisser reposer 5 minutes. Il doit y avoir des bulles ou de la mousse et l'odeur de levure.
Ajouter l'huile, le sel, et la moitié de la farine. Mélanger avec une cuiller en bois (ou avec les mains!!) jusqu'à ce que la pâte se tienne. Ajouter plus de farine, petit à petit jusqu'à ce que la pâte ne colle plus aux parois.
Abaisser sur une surface légèrement farinée et pétrir 4 minutes environ, jusqu'à obtention d'une pâte lisse et élastique.
Mettre dans un bol légèrement huilé, couvrir de film plastique, et laisser lever une heure ou jusqu'à ce que la pâte ait doublé de volume.
Abaisser à nouveau sur une surface légèrement farinée et découper en six parts égales à l'aide d'un couteau. Former des boules et placer sur une plaque couverte de papier sulfurisé. Ne plus toucher.
Couvrir de film plastique et laisser lever le temps de préparer le Dutch Crunch.
Couvrir les petits pains d'une bonne couche de Dutch Crunch, étaler avec les doigts.
Enfourner à 190°C pour 25-30 minutes ou jusqu'à ce que les pains aient bien doré.
Laisser refroidir sur une grille avant de déguster.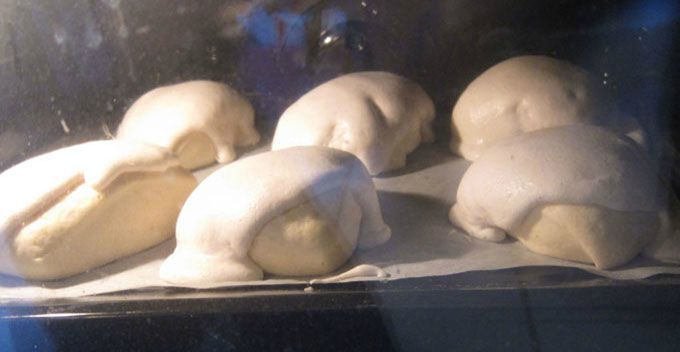 DUTCH CRUNCH TOPPING recipe as provided
Servings: This recipe should make sufficient topping for two 9x5 loaves (23cmx13cm) or 12 rolls. If you make only 6 rolls in the first soft white roll recipe, you can cut the topping recipe in half.
Note that you should not prepare the topping until the bread you've selected to bake is almost finished rising (~15 minutes from baking).
- 2 tablespoons (2 packets) (30 ml) (15 gm/1⁄2 oz) active dry yeast
- 1 cup (240 ml) warm water (105-115o F) (41-46°C)
- 2 tablespoons (30 ml) (30 gm/1 oz) sugar
- 2 tablespoons (30 ml) vegetable oil
- 1⁄2 teaspoon (21⁄2 ml) (3 gm) salt
- 11⁄2 cups (360 ml) (240 gm/81⁄2 oz) rice flour (white or brown; NOT sweet or glutinous rice flour) (increase by 1 cup or more for home-made rice flour)
➨ Combine all ingredients in a large bowl and beat with a whisk; beat hard to combine. The consistency should be like stiff royal icing – spreadable, but not too runny. If you pull some up with your whisk, it should drip off slowly. Add more water or rice flour as necessary. Let stand 15 minutes.
➨ Coat the top of each loaf or roll with a thick layer of topping. We tried coating it with a brush but it worked better just to use fingers or a spoon and kind of spread it around. You should err on the side of applying too much topping – a thin layer will not crack properly.
➨ Let stand, uncovered, for any additional time your recipe recommends. With the Soft White Roll, you can place the rolls directly into the oven after applying the topping. With the Brown Rice Bread, the loaves should stand for 20 minutes with the topping before baking.
➨ When baking, place pans on a rack in the center of the oven and bake your bread as you ordinarily would. The Dutch Cruch topping should crack and turn a nice golden-brown color.


---
CROUTE DUTCH CRUNCH
Cette recette est pour 12 petits pains, je n'avais pas vu, il faut normalement la diviser par deux, mais au moins j'ai eu une belle croute.
- 2 sachets de levure de boulanger
- 240 ml d'eau tiède-chaude
- 2 CS de sucre
- 2 CS d'huile végétale
- 3 g de sel
- 240 g de farine de riz (si vous la faites maison, ajouter encore 150g ou plus)
➨ Mélanger tous les ingrédients au fouet dans un grand bol. La consistence doit être celle d'un glaçage au sucre pour biscuits, étalable, mais pas trop liquide. Elle doit couler du fouet en ruban fin. Ajouter de l'eau ou de la farine de riz pour améliorer la consistence.
➨ Laisser reposer 15 minutes. Utiliser selon les besoins de la recette.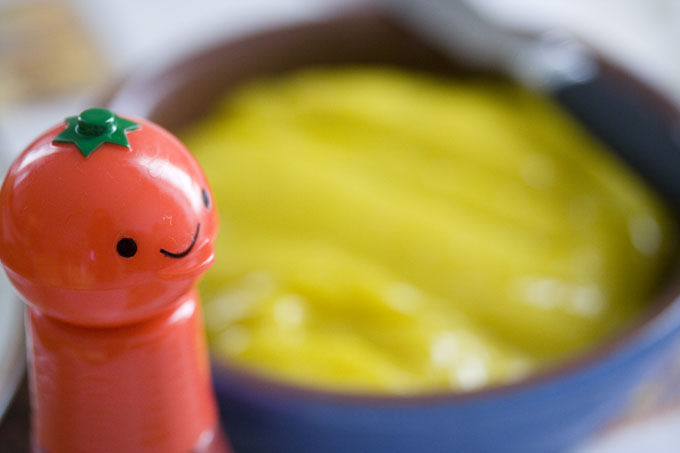 AIOLI

(to say "garlic aioli" is redundant, as aioli means garlic and oil in Provençal, a southern French regional language close to Catalan.) Recipe from the book Petites Leçons de Cuisine en Provence by Guy Gedda and Marie-Pierre Moine.
- 4 cloves garlic
- 2 egg yolks
- about 1 cup olive oil
- fine salt and mill pepper
➨ In a mortar, crush the garlic with a pinch of salt. Add a few grinds of pepper and the egg yolks. Turn pestle in circles for about two minutes to form a thick and firm dough. Let it rest for five minutes
➨ Add the olive oil drop by drop as you would for a mayonnaise. When the sauce begins to thicken, add a constant flow of olive oil, still turning, always in the same direction. The pestle should stand straight in the thick sauce. Do not go beyond this point or you will ruin your aioli/mayonnaise (know that you can always fix it, experience tells you when to stop!). Cover with saran wrap and chill until ready to use.


---
AIOLI
Recette tirée du livre Petites leçons de cuisine en Provence de Guy Gedda et Marie-Pierre Moine.
- 4 gousses d'ail
- 2 jaunes d'œufs
- 160 ml d'huile d'olive environ
- sel fin et poivre du moulin
➨ Dans un mortier, piler l'ail avec une pincée de sel. Ajouter les jaunes d'œufs et quelques tours de moulin à poivre. Tourner le pilon en rond pendant 2 minutes environ pour former une pâte epaisse et ferme. Laisser reposer 5 minutes.
➨ Ajouter l'huile d'olive goute à goute, comme pour une mayonnaise. Quand la sauce commence à prendre, ajouter l'huile en filet, toujours tournant dans le même sens, jusqu'à ce que le pilon se tienne debout dans la sauce. À ce moment, arréter net, au risque de casser l'émulsion (mais c'est toujours réparable au pire, et c'est l'expérience qui dicte quand s'arréter!).
➨ Couvrir de film plastique et reserver au frais jusqu'à utilisation.



---
---

SIMPLE COLESLAW

adapted from recipe in What's On The Stove blog. Unlike Sherry, I think coleslaw keeps pretty well, so don't be afraid to make a lot.
- 1/3 to 1/2 of a large green cabbage, shredded as thinly as possible
- 3 Tbsp aioli
- 2 Tbsp lemon juice
- Chives, roughly chopped
- salt and pepper
➨Combine all the ingredients and eat immediately or keep covered and chilled. Yes, it will bleed water, but nothing compared to your common slaw (unless you put a lo-o-o-o-o-o-t of salt!)


---
COLESLAW

adapté de la recette du blog What's On The Stove. Le coleslaw est une sorte de rémoulade de chou. Contrairement à Sherry, je pense que le coleslaw se garde très bien, donc ne pas hésiter à en faire beaucoup.
- 1/3 ou 1/2 chou vert (ou un mélange chou vert, chou rouge, ajouter carottes, etc)
- 3 CS d'aioli
- 2 CS de jus de citron
- de la ciboulette, grossièrement ciselée.
- sel et poivre.
➨Mélanger tous les ingrédients et manger immédiatement ou reserver couvert au frais.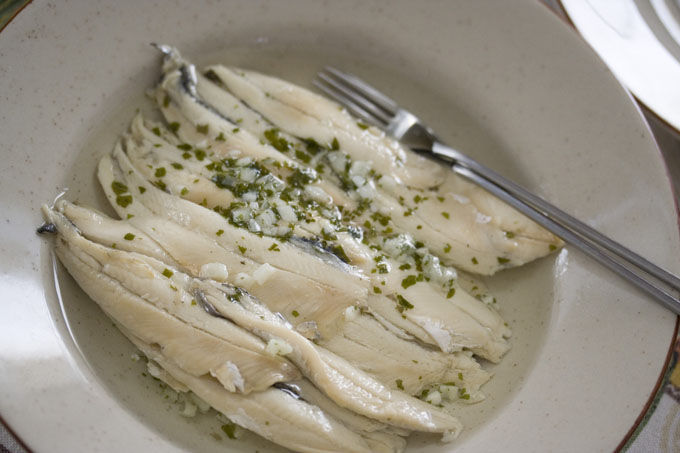 COLLIOURE ANCHOVIES WITH PERSILLADE ❘ ANCHOIS DE COLLIOURE EN PERSILLADE