27 juillet 2011
Jana of Cherry Tea Cakes was our July Daring Bakers' host and she challenges us to make Fresh Fraisiers inspired by recipes written by Elisabeth M. Prueitt and Chad Robertson in the beautiful cookbook Tartine.
Jana de Cherry Tea Cakes était notre hôte du mois de juillet pour les Daring Bakers et nous a défié de faire des fraisiers inspirés de recettes de Elisabeth M. Prueitt and Chad Robertson dans leur superbe livre Tartine.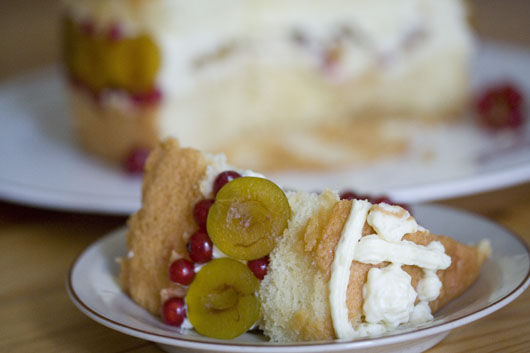 Okay, so I'm not a big fan of fraisier... It seems most months I wait impatiently to find out what the challenge will be, and most months, I think, hmph, m'kay at least it will be a good challenge... But then... note that I've never been a sweet tooth. The only thing I like in a fraisier are the strawberries. It's a good thing my boyfriend is here to harrass me: "Are you gonna make the fraisier yet, are you gonna make the fraisier yet, are you gonna make the fraisier yet?". He acted the same for baklava. And also said once "WHAT? there was a chocolate marquise and not only did you skip it, but you did'nt even tell me?"
What you don't know is that, every year, my dear lover one gets to eat a fraisier for his birthday. He has many favorite desserts, but strawberries are usually at their peak right about the time of his birthday. The season is long gone over here, allthough you can still find them. Apricots and peaches came early this year, and are not nearly as good as they were last year, but they're still good, we wait for them all year, after all, that and warm weather!
Soooo, knowing that a fraisier will be super sweet, no matter the recipe, I opted for red currants. I also put in mirabelle plums (cherry plums), which was actually a waste. They tasted so good on their own, and then were barely noticable in the finished cake. As always, since I made it m'self, I'm still pretty darn proud of m'self, and enjoyed my lovely dessert! Just as I figured, my dear one, like many a food blogger's other half, I'm sure, reacted: "WHAT? you're not using strawberries".
Bon, ben voilà, je ne suis pas la plus grande fan de fraisiers... Il semble que presque tous les mois j'attends impatiemment de découvrir le nouveau défi et presque chaque mois je me dis hmph, mouais, au moins ce sera un bon défi. Encore une fois, je n'ai jamais été très gourmande de sucré. La seule chose que j'aime dans le fraisier, ce sont les fraises. Heureusement que mon amoureux est là pour me rabacher chaque jour: "alors, tu le fais aujourd'hui, le fraisier, alors, tu le fais aujourd'hui, le fraisier, alors, tu le fais aujourd'hui, le fraisier?". Même histoire pour les baklavas. J'ai aussi eu droit à "QUOI? Il y avait une marquise au chocolat et non seulement tu ne l'as pas faite, mais en plus tu ne m'en as même pas parlé?"
Ce que vous ne savez pas, c'est que l'amoureux en question mange un fraisier tous les ans pour son anniversaire. Il a beaucoup de desserts préférés, mais les fraises sont à leur pic juste au moment de son anniversaire. La saison est largement passée par ici, toutefois on en trouve encore. Les abricots et les pêches étaient en avance cette année et ne sont pas aussi bons que l'an dernier. Mais ils sont bons quand-même, après tout, on les attend toute l'année, comme le beau temps!
Doooonc, sachant qu'un fraisier sera toujours super sucré, quelle que soit la recette, j'ai choisi des groseilles. J'ai aussi mis des mirabelles, ce qui s'est avéré être du gâchi. Elles étaient tellement bonnes nature alors qu'on les goutait à peine dans le dessert final. Comme toujours, comme c'est moi l'ai fait (na), je reste fière de moi et ai apprécié mon joli dessert. Et peut-être comme beaucoup d'autres blogueuses (-rs), mon autre moitié de dire: "QUOI?, tu ne le fais pas aux fraises".
The story in pictures:
L'histoire en roman photo:

Are you sure we are not making soufflé?
Vous êtes sûres qu'on ne fait pas un soufflé?

simple syrup, bitter almond flavored
sirop de sucre à l'extrait d'amande amère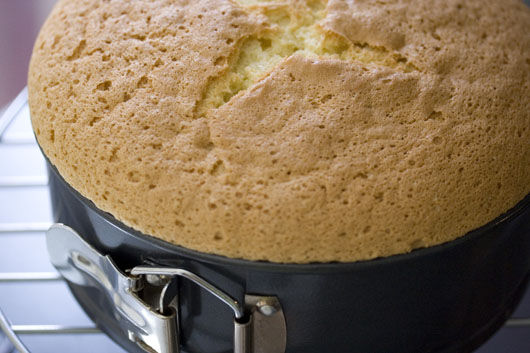 lookin' pretty good
ça s'annonce pas mal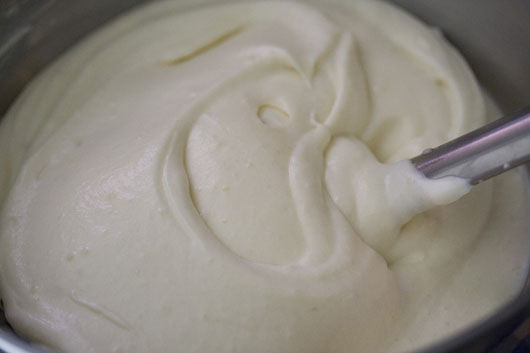 I really almost took a nap on this fluffy pillow!
J'ai vraiment voulu poser ma tête sur ce duvet pour faire une sièste!

Far from the required 2 lbs of fruit, how did that happen?
Loin du kilo de fruit qu'exigeait la recette, je ne sais pas comment c'est arrivé!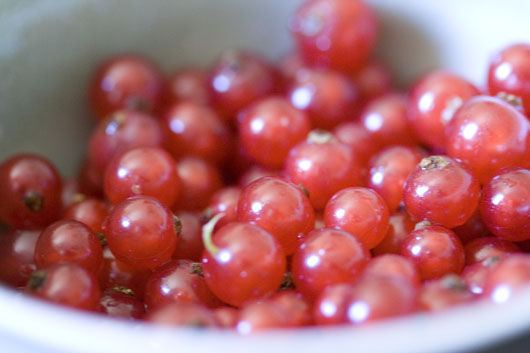 Hmghr, red currannnnnnnnnnts!... !... !...
Hmghr, groseeeeeeeeilles!... !... !...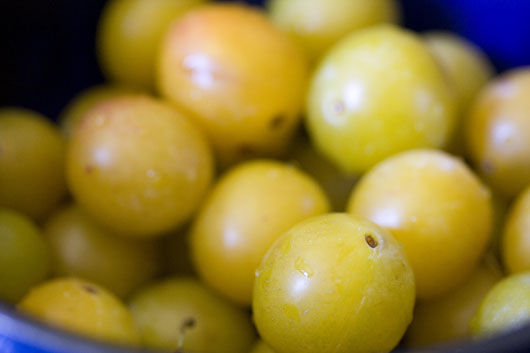 mirabelle plums
mirabelles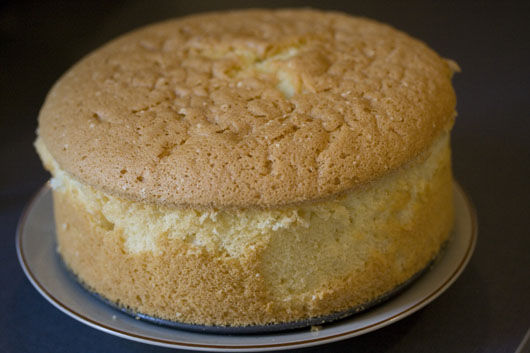 so that's a chiffon cake
alors c'est ça un gâteau mousseline

Oh my goodness, I don't think I'll be able to have a full layer of only cream!
Oups, je ne crois pas qu'il y aura la bande de crème, typique du fraisier!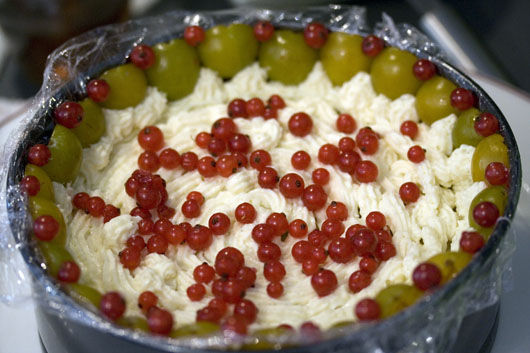 Fill it up and have some fun
Et on rempli, et on s'amuse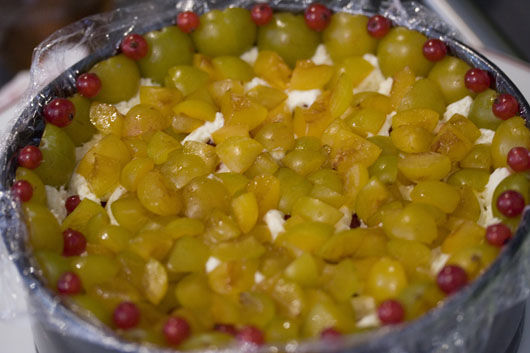 getting there
ça s'rapproche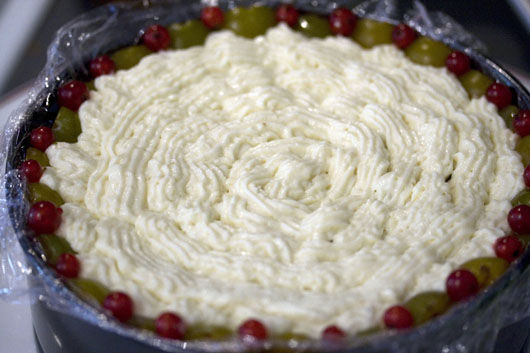 the last layer of cream...
une dernière couche de crème...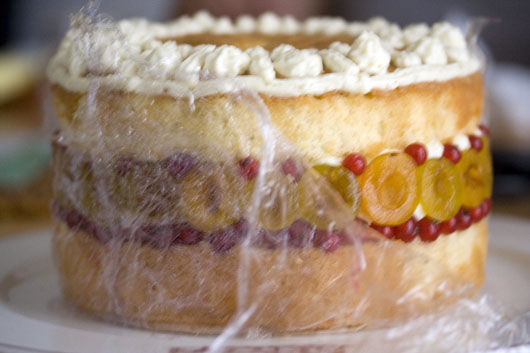 Oooooh.......
Ouuuuh.......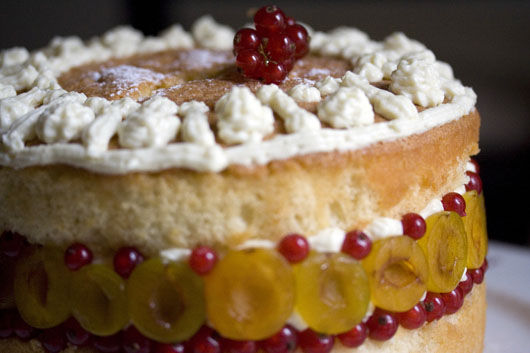 Aaaaaaaaaaah
Aaaaaaaaaaah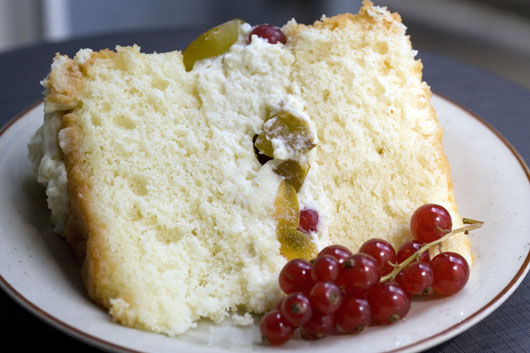 A few different views of the cake...
Différentes vues du gâteau...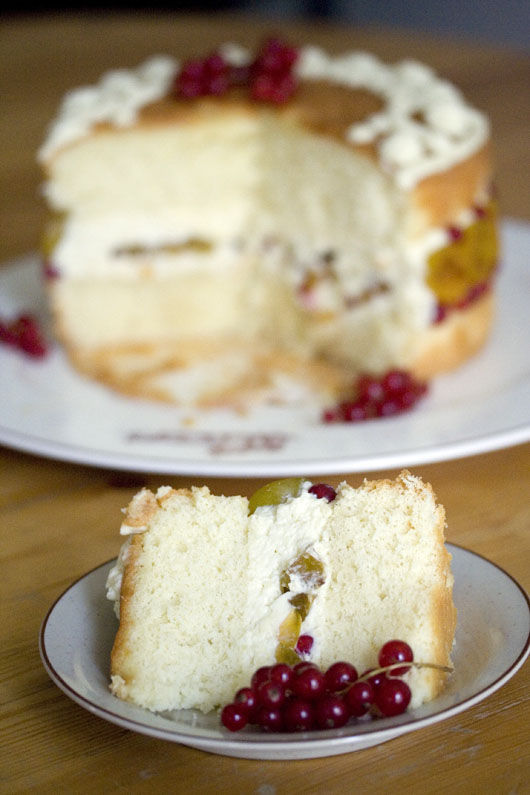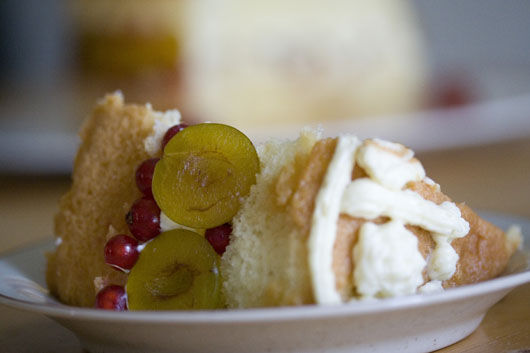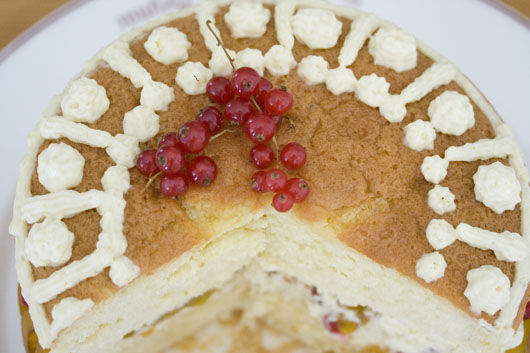 In the end, I'm really happy, but there really were'nt enough fruits, the required 2 lbs must be good, and the quantity of chiffon cake batter is too important. I would reduce it by 2/3, but the problem lies in reducing number of eggs. Or increase cream and fruits, but this recipe can already serve quite a number of people as is.
Finalement, je suis très heureuse, mais il n'y avait pas assez de fruits, le kilo de fruit que demandait la recette me parait bien, et la quantité de pâte pour le gâteau mousseline est trop importante, je la réduirait des deux tiers ce qui pose le problème de réduire les œufs. Sinon, augmenter la crème et les fruits, sauf que c'est déjà un gâteau qui nourrit bien sa tablée.
Here is the link to the original recipe
Voici le lien vers la recette originelle