27 juin 2011
Erica of Erica's Edibles was our host for the Daring Baker's June challenge. Erica challenged us to be truly DARING by making homemade phyllo dough and then to use that homemade dough to make Baklava.
As if making philo dough were'nt hard enough, now comes the difficult task of immortalising baklava in a photograph or two, writing all about this adventure, and then translating it into French. Oy.
My dear boyfriend grew up on north african pastries, he would eat them everyday day if he could. He was such a happy camper when I showed him this month's challenge! As for me, I never was much of a sweet tooth, but along with a cup of (sweetened with honey) green tea with mint, north african pastries are heavenly. I always imagine baklava as the king in this kingdom, but a macho one, heavy, dry, massive and overwhelming. As my boyfriend pointed out, most baklava you buy in pastry shops are dry and crumble apart as soon as you touch them, as they are probably made of frozen phyllo. He came home from a laborous day of work only to find me stressed out because I thought I would have time to finish my baklava AND prepare dinner and still find time to hang out with him. So far from it, I had to postpone the second baking of the dish untill the next day (and wait for another syrup-absorbing twenty-four hours before savoring, ugh...!).
I made twice the amount of dough, following Erica's advice. When I realized how much of it I cut off, thus making a lot of waste, the inside of my knuckles started hurting even more. I must be the only Daring Baker who does not own a proper rolling pin. Wine bottles usually work fine for me when I bake pies. This time around, I figured it would be wiser to use my minuscule rolling pin, normally used for ravioli, that I bought one day just because it was sooo cuuute! The advantage of it is that it is very thin, probably like the ones used for phyllo dough. The downside, it's length is of about 20 cm, or 8 inches, including handles!!! That being said, I managed to pick up a nice pace by the time I was about halfway through. And now that I've eaten a good portion of my very own baklava, I can proudly say that my phyllo sheets were pretty darn thin! Still, if I'm ever to make phyllo dough again, I will first go out of my way to find one of those beautifull long rolling pins, and then try to figure out where to store it...
Now, as for the design of the baklava, I was somehow inspired by this walnut baklava from the blog Cuisine à 4 mains. Not quite the same, you will say... Besides my lack of skills (and equipment), the other difference lies in the fact that I wanted to make cheesy, kitsch baklava. Why? Good question, dunno... So I picked up my bento food cutters and magically made music and love out of leftover phyllo. To go all the way, I made green mint tea that I served in my vintage Candy Anime mustard cup! The next day I made iced tea following a new technique, so gooooooood and refreshing! I will write a post on that only, since I made two other batches, I hope they live up to my expectations!
The whole baklava making process has been a series of approximations and mistakes (for example, I forgot to put the vinegar in the dough). Never have I had to censure my post so much, getting rid of all the "me, me, me" and "I'm so frustrated" and "my pix are horrible" Never has one of my Daring Bakers' posts been so much about me and my frustration, and because of all this, I will not share the exact recipe I used (yay, that's one less thing to write and translate!!).
Here is the link to the original recipe.
Erica de Erica's Edibles nous a accueillis pour le défi des Daring Bakers du mois de juin. Elle a décidé d'oser et de nous faire faire de la pâte phyllo et de l'utilliser pour faire des baklava.
Comme si faire de la pâte phyllo n'était pas déjà assez dur, il faut maintenant immortaliser l'affaire en une ou deux photos, raconter cette aventure et la traduire en Français!
Mon chéri a mangé des patisseries orientales toute son enfance, il pourrait en manger tous les jours. Il était comme un gosse quand je lui ai montré le défi de ce mois-ci! Moi, en revanche, je n'ai jamais trop été un bec sucré, mais avec un bon thé à la menthe (sucré au miel!), les patisseries orientales, c'est quand-même du tonnerre! Je pense toujours au baklava comme étant le chef de ce royaume, un peu macho sur les bords, lourd, sec, dense et intimidant. Comme me l'a fait remarqué mon chéri, beaucoup de baklava que l'on achète en pâtisserie sont secs et se désagrègent dès qu'on les touche, ils sont probablement faits de pâte phyllo surgelée! Il est rentré d'une dure journée de labeur, me trouvant en train de m'arracher les cheveux. J'ai bien cru pourtant que j'aurais le temps de finir mes baklava, préparer à dîner, et quand-même trouver le temps de lézarder avec lui. Loin du compte, j'ai repoussé la deuxième enfournée du plat au lendemain (et attendu encore vingt-quatre heures d'absorbtion de sirop avant de déguster...!).
J'ai suivi le conseil d'Erica et ai doublé la recette de la pâte. Quand j'ai réalisé la quantité de pâte en trop après l'avoir taillée, l'intérieur de mes mains m'a fait d'autant plus mal! Je dois être la seule Daring Baker à ne pas posséder de rouleau à pâtisserie convenable. Je me contente très bien de bouteilles de vin quand je fais des tartes. Cette fois-ci, j'ai utillisé mon minuscule rouleau à ravioli, celui que j'avais acheté parce qu'il était trop choupiii. Il a l'avantage d'être très fin, probablement comme les rouleaux à pâte phyllo. Mais il a l'inconvénient de ne mesurer qu'une vingtaine de centimètres, ou 8 pouces de long, poignées comprises!!! Ceci dit, mon rythme s'est soutenu au bout de quelques feuilles. Et maintenant que j'ai pu goûter à mes propres baklava, je peux dire que mes feuilles de phyllo étaient sacrément fines, quand-même! Mais si un jour l'envie me prend de refaire de la pâte phyllo, je chercherais d'abord à me dégoter un de ces magnifiques rouleaux... et à trouver un endroit où le ranger!
Pour le design du baklava, j'ai été en quelques sortes inspirée par le blog Cuisine à 4 mains et ses baklava aux noix. Pas tout à fait la même chose, me direz-vous. En plus de mes lacunes techniques (et du manque d'équipement), l'autre différence réside dans le fait que j'ai voulu que mes baklava soient du plus kitsch. Je ne saurais dire pourquoi. À l'aide donc de mes emporte-pièces à bento, j'ai transformé mes restes de pâte en amour et en musique. Pour y aller vraiment gaiement, j'ai fait du thé vert à la menthe que j'ai servi dans un authentique verre à moutarde Candy!!! Le lendemain, j'ai préparé du thé glacé suivant une nouvelle technique, c'était trop bon et j'en ai refait. J'y consacrerai un billet.
L'aventure des baklava a été une série d'approximations et d'erreurs (comme l'oubli du vinaigre dans la pâte). Je ne me suis jamais autant censurée, me débarrassant des "moi moi moi" et des "j'en ai marre" et des "mes photos sont atroces". Jamais un de mes billets pour les Daring Bakers aura traité autant de moi et de ma frustration. C'est pour cela que je ne partagerai pas la recette telle que je l'ai faite (ouais! un truc en moins à traduire!). Voici donc la recette originale.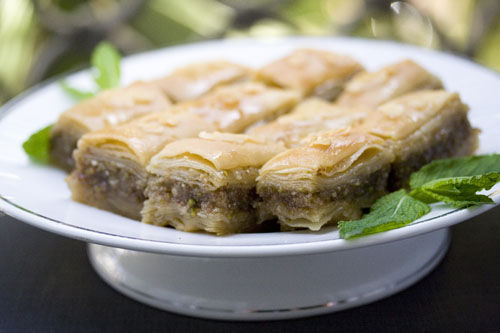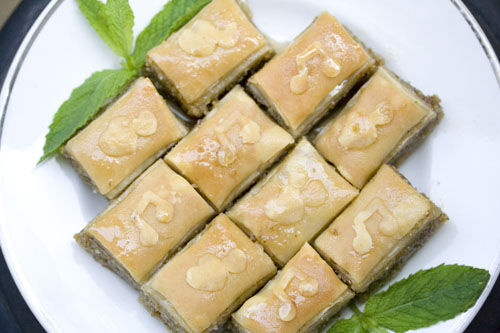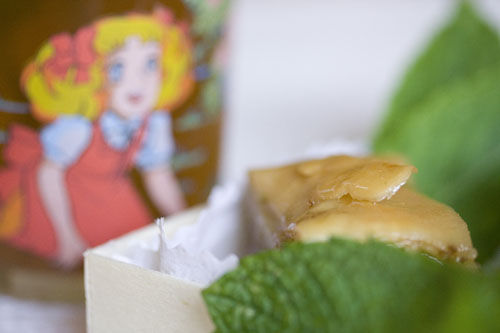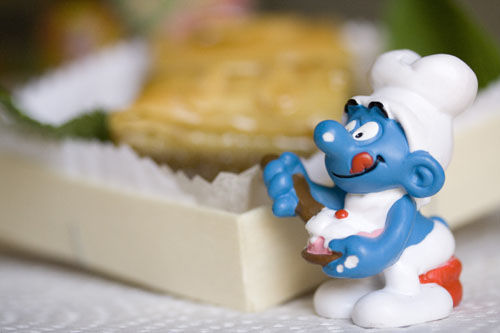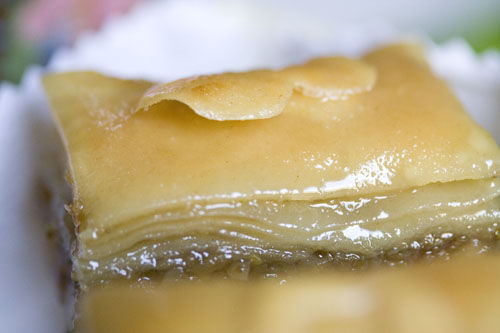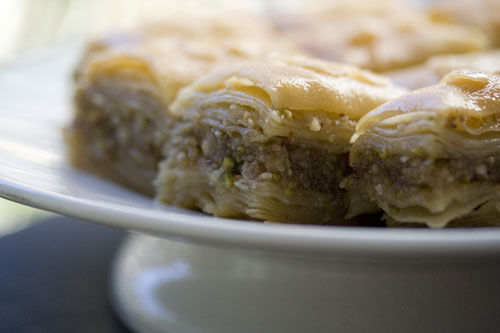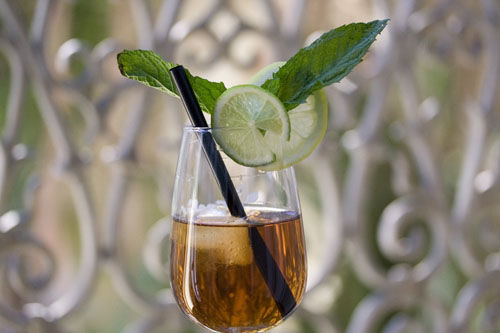 Okay, so the pictures are'nt so bad, but they are very far from what I had in mind, I have high expectations for my DB challenges.