30 janvier 2014
In English: Today, a build made for the challenge organized by friendsbricks.com. "Imagine you time-travel to your 10 year old self. Design a Lego Friends set you would have wanted to build and play".
When I saw the theme, I got an idea right away and knew exactly what my creation would look like. One month of building for this:
En français: Aujourd'hui, une création faite dans le cadre du défi organisé par le site friendsbricks.com. Il s'agit de faire un bond en arrière dans le temps et d'imaginer un set Lego que l'on aurait aimé avoir quand on avait dix ans.
À la vue du thème, j'ai tout de suite eu l'idée et je savais exactement à quoi aller ressembler l'ensemble. Un mois de construction pour en arriver à ça: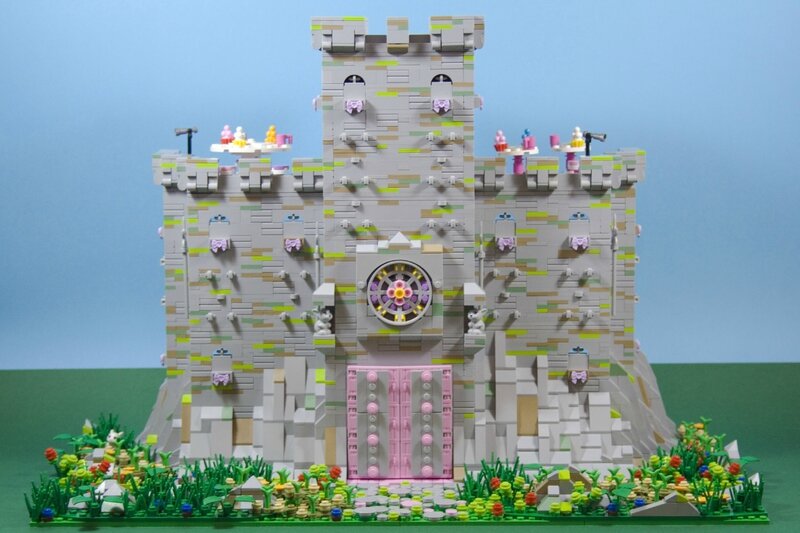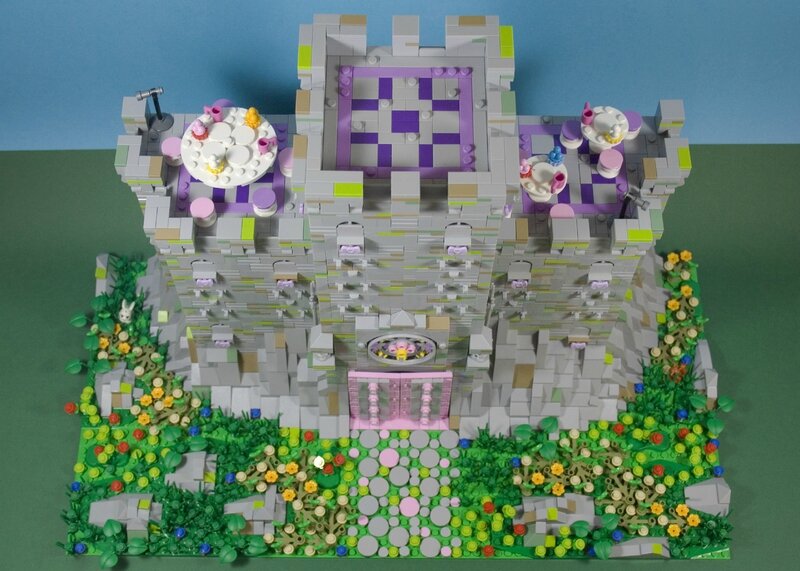 Here we have a pretty well preserved castle with, at it's foot, wild but resplendent greenery.The building houses Heartlake City's Museum of Modern Art.
Nous avons affaire à un château assez bien conservé avec au pied une verdure sauvage, mais resplendissante. Le bâtiment abrite le Musée d'Art Moderne de la ville de Heartlake où vivent nos cinq Friends bien aimées.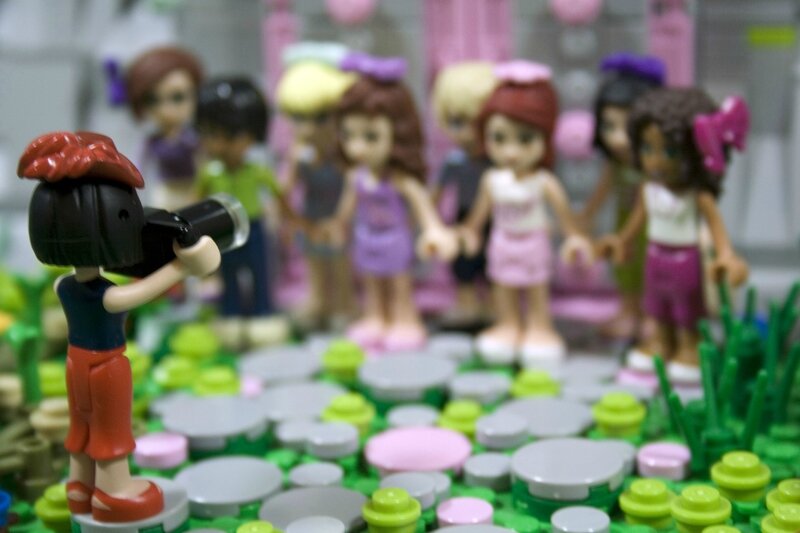 What's happening at the castle gate? The high school has organized an outing at thte museum. Anna, Olivia's mom, kindly offered to go along. She can't help taking pictures all the time, wouldn't want to miss any memorable moment!!
Voici ce qu'il se passe devant la porte du château. Au Lycée a été organisée une sortie au musée. Anna, la mère d'Olivia, a gentiment proposé d'accompagner les élèves. Elle ne peut s'empêcher de prendre des photos tout le temps, il ne faudrait surtout pas rater un moment mémorable!!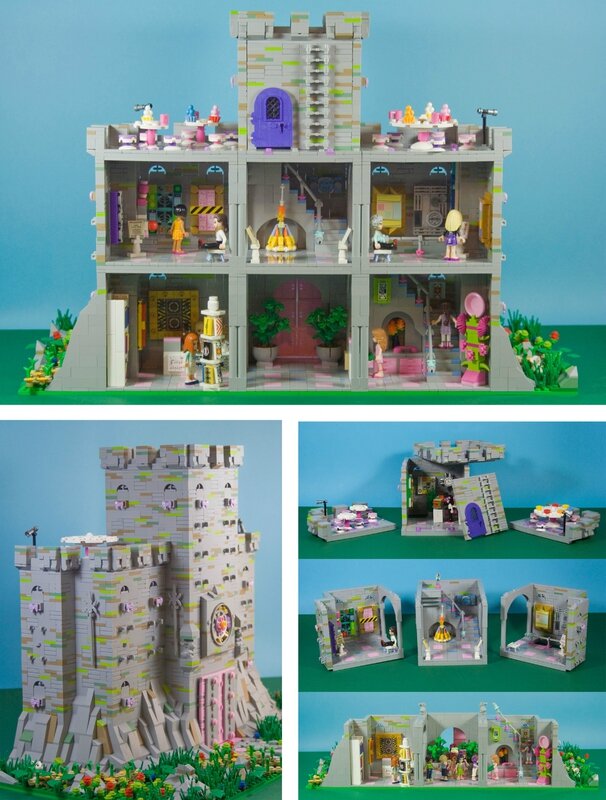 A few general photos of the museum. The first floor is in one piece, while the second and third are splittable into three separate modules.
Quelques photos générales du musée. Le rez-de-chaussée est en un bloc, tandis que les deux étages sont divisibles en trois modules séparés.
Details on the souvenir shop, right by the exit. And ,the front desk where our Friends are waiting for Ms. Stevens to by the tickets (already paid for in advance by the parents).
Détails sur la boutique de souvenirs, juste à côté de la sortie. Et le guichet d'accueil où les Friends attendent que Ms. Stevens achète les billets pour tout le monde (les parents ont payé d'avance à l'école).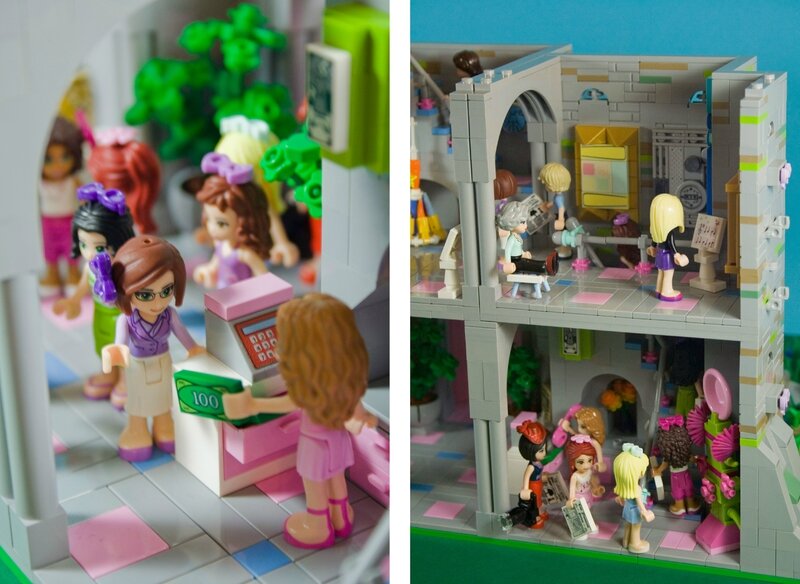 -"Nine tickets, please Let's find out what there is to see upstairs…
-That will be exatly 100 brick dollars"
(with the inflation, you know…)
"-Neuf billets, s'il vous plaît Il est temps de monter voir ce qu'il y a à l'étage…
- Ça fera 100 brick dollars tout rond"
(et oui, l'inflation… )

The kids are very interested in modern art! As Anna is still taking pictures, Ms. Stevens is chatting with the very nice security guard.
Les enfants sont très intéressés par l'art moderne! Tandis que Anna prends encore des photos, Ms. Stevens discute avec la très gentille agent de sécurité.

After a straining visit, nothing like a refreshment at the upper floor café overlooking Heartlake City. The kids have well behaved, they are each entitled to some ice cream.
Après une visite éprouvante, rien de tel qu'un petit rafraîchissement au café du dernier étage qui surplombe la ville de Heartlake. Les enfants se sont bien comportés, ils ont chacun droit à une glace.
And here is, not quite in order of appearance, our little story's cast, from left to right:
Anna, Matthew, Mia, Emma, Stephanie, Andrea, Olivia, Andrew and Ms. Stevens.
Et voici, non pas par ordre d'appartition mais presque, le casting de notre petite histoire, de gauche à droite:
Anna, Matthew, Mia, Emma, Stephanie, Andrea, Olivia, Andrew et Ms. Stevens.

And then: security guard n°1, front desk clerk, café waitress, souvenir shop vendor, security guard n°2.
And: Four anonymous museum visitors.
Et puis: Agent de sécurité n°1, hôtesse d'accueil, serveuse café, vendeuse de souvenirs, agent de sécurité n°2.
Et encore: Quatre visiteuses anonymes du musée.

And finally, some of the artwork we have more or less been able to glance at throughout our journey.
Et enfin, quelques unes des œuvres que l'on a pu plus ou moins appercevoir au cours de notre périple.