EN FRANÇAIS
Encore un changement de cap sur le blog. Aujourd'hui je me lance dans la review (=critique?) d'une boite de Lego. La raison étant que pour plusieurs raisons, ce set me plaît beaucoup. D'abord, il m'a ramenée en enfance de part sa jouabilité. Et puis du point de vue créatif, il offre des pièces pour le moins intéressantes. Vous comprendrez donc que cette review risque de ne pas être tout à fait objective. Les détails ci-dessous.
IN ENGLISH
Another deviation in the blogline. Today I'm trying out writing a review for a Lego set because for numerous reasons, I like the set a lot. First of all it's playability has taken me back to early childhood. And on a creative point of view, it has a lot of neat pieces to offer. Understand that this review will not be quite objective. Details to follow.

Set N° 41004 - Le Studio de musique et de danse de Stephanie - Stephanie's rehearsal stage
Gamme Lego Friends, 2013
prix conseillé de vente - retail price: $19,99
198 pièces pour ≈ $0,10096/p
1 minifig/minidoll
Box art, devant et derrière: Box art, front and back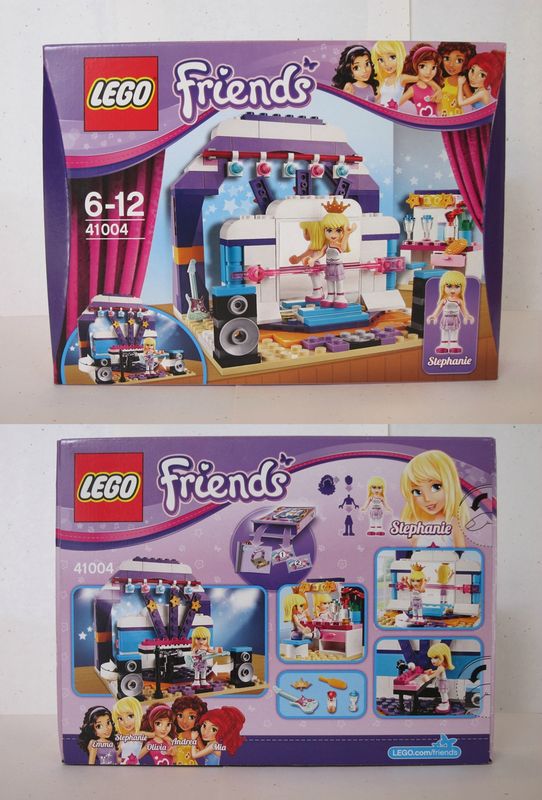 Contenu de la boite: deux sachet, une plaque 16x16, une feuille d'autocollants miroir (x2) et la notice. La prochaine fois je ferai attention au reflet dans le miroir!
Box content: two baggies, one 16x16 plate, a sticker sheet (x2) and instructions booklet. Next time I will be more carefull with the reflection in the mirror!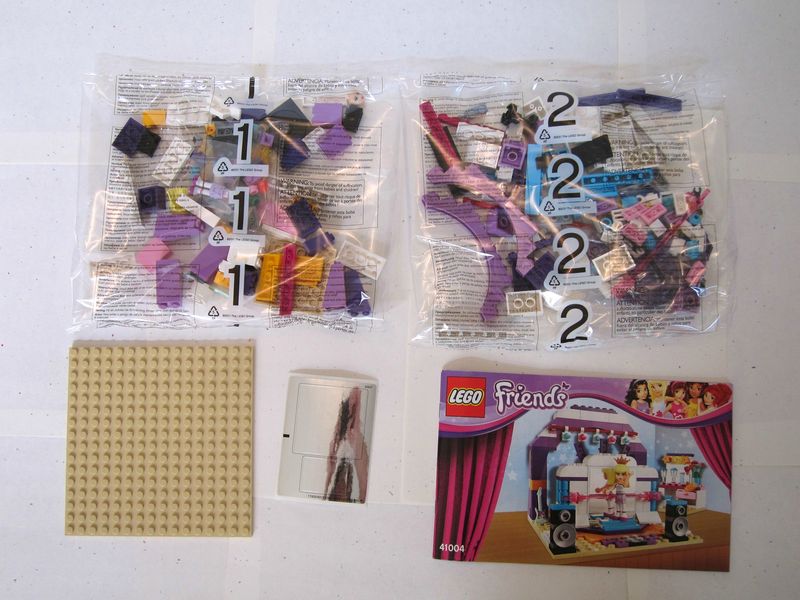 Commençons par ouvrir le sachet 1. Ci-dessous, le contenu suivi du détail du sachet interne. Je salive déjà de voir tout ce violet.
Let's begin by opening up bag n°1. First photo is the content, followed by content of the inner baggie. All the purple is already making my mouth water.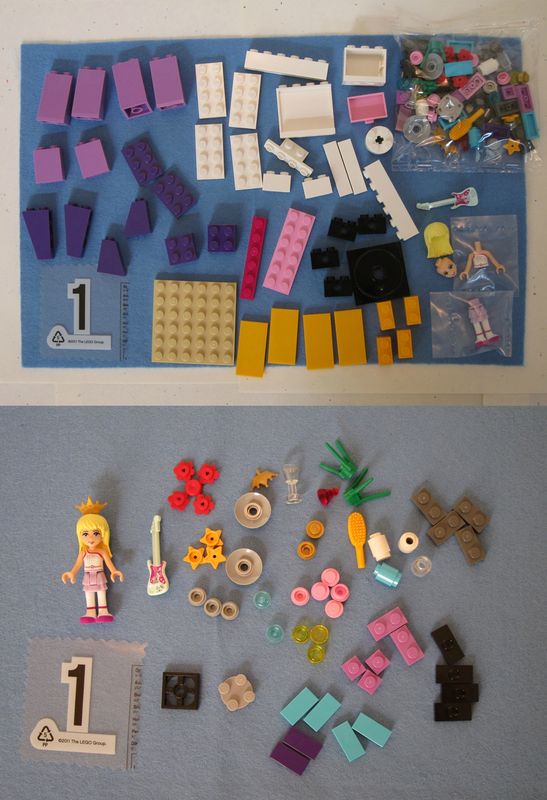 Le set contient une minidoll, Stephanie. C'est souvent le cas pour les plus petits sets. Là, en l'occurence, à part la Piscine de Heartlake City, ce set fait partie des plus gros de la première vague de 2013. Stephanie s'entraine donc toute seule.
Stephanie vue de plus près, avec sa guitare. C'est encore une guitare électrique, mais de forme inédite jusqu'à présent. J'étais une peu déçue du manque de variété de la garde robe de nos minidolls dans les deux premières vagues Friends. Pour 2013, même si les différences de couleur de peau de nos poupées gênent parfois pour personnaliser les tenues, The Lego Company a du décider de varier un peu les plaisirs. Je pense notamment à Mia en magicienne (41001), Emma en kimono (41002), Stephanie en maillot de foot (41011) et bien sûr nos amies en maillot de bain, dans la piscine (41008) et dans le set du scooter des mers (41000). Ici, Stephanie est donc plus ou moins en tutu:
Set contains one minidoll, Stephanie. It's often the case for smaller sets. Here, as it turns out, this is one of the larger sets of the first wave of 2013 Lego Friends, besides for Heartlake City pool.

A closer look at Stephanie, with her guitar. It's another electric guitar, but a new unreleased shape. I was a little disapointed at the lack of variety in our minidolls' wardrobes in the two first waves of Friends. In 2013, although differences in skin colour make it sometimes difficult to fully personalise their clothing, The Lego Company must have decided to shake things up. I'm thinking of Mia in her magician suit (41001), Emma in a kimono (41002), Stephanie in her soccer jersey (41011) and of course our friends in swimsuits, in the swimming pool (41008) andin the water scooter fun set (41000). Here, Stephanie is more or less wearing a tutu.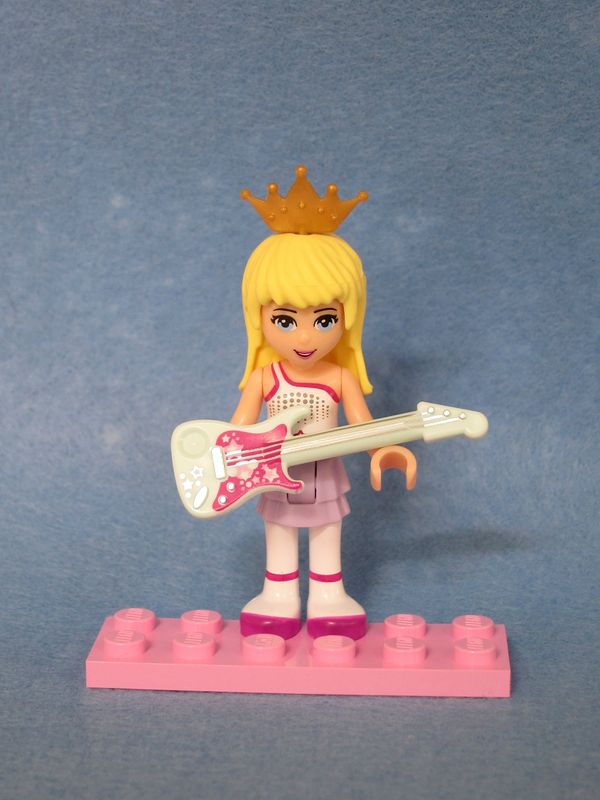 Nous commençons donc par la petite loge, une construction somme toute assez simple pour un résultat plutôt convainquant. Je tiens à préciser que les compagnies de jouets ont fait beaucoup d'effort pour les autocollants miroir par rapport à mon enfance. De mon temps, les reflets ressemblaient plus à du kaléidoscope!
We start with the little changing room, a rather simple construction for a pretty convincing result. I'd like to note that toy companies have made a real effort in the making of mirror stickers in comparison to what existed in my childhood. In the olden days, the reflections looked more like a kaleidoscope!

Le reste du premier sachet sert à commencer la construction de la base du studio. Voici ce qu'on obtient, avec déjà un nombre intéressant de spare parts. Les hauts-parleurs sont exactement les mêmes que ceux de la piscine de Heartlake City. Certaines pièces annoncent déjà la jouabilité. Ça risque de tourner!!
With the rest of the first bag, we start making the base of the rehearsal studio. This is what we get, with already a nice little number of spare parts. Loudspeakers are the exact same as the ones in the Heartlake City pool. Some pieces already announce playability. Looks like it's going to turn!!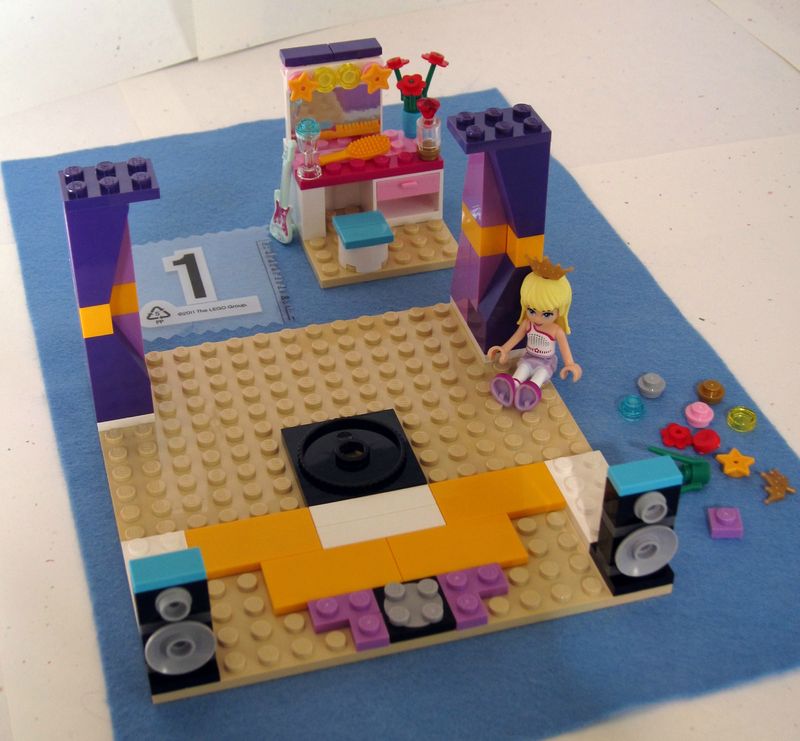 Le contenu du deuxième sachet avec encore une fois le détail du sachet interne. Beaucoup de violet, encore!
Content of bag n°2 and again, detail of the inner baggie. A lot of purple again!

Nous terminons la base du studio. Il manque encore un élément.
The studio base is finished. One element is still missing.

Voici l'estrade finie qui viendra habiller notre studio. D'un côté le studio de musique avec clavier, porte-micro et déco de star!! De l'autre, le studio de danse avec la barre contre le miroir, comme dans la vraie vie!! En termes de réalisme, les marches bleues devant le miroir doivent un peu gêner pour les entraînements!
Here is the finished stage that will conclude our studio. On one side, music studio with keyboard, mic holder and superstar decoration!! On the other side, dance studio with the bar against the mirror, just like in real life!! In reality, maybe the blue steps in front of the mirror come in the way during rehearsal!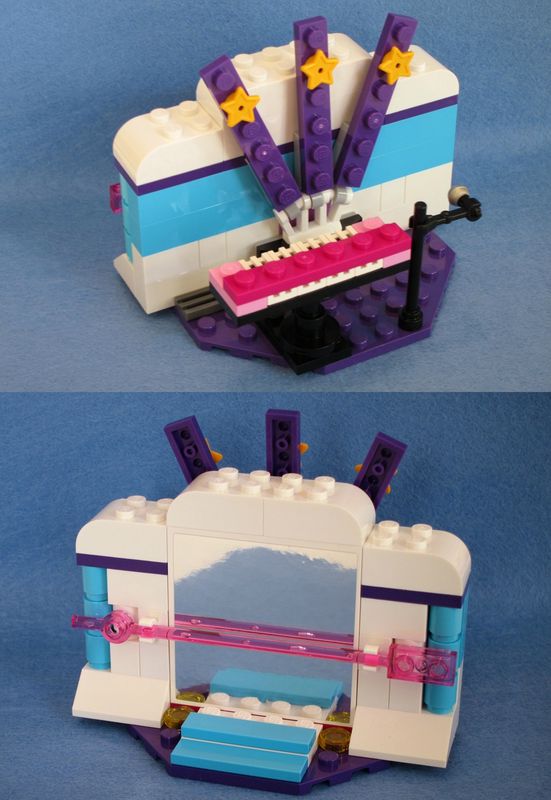 Ajoutons notre petite plaque violette à notre base et voici la dernière partie de la construction terminée, avec encore un nombre intéressant de spares.
Let's add our little purple plate to our base and here is the last of the construction. Another nice amount of spare parts.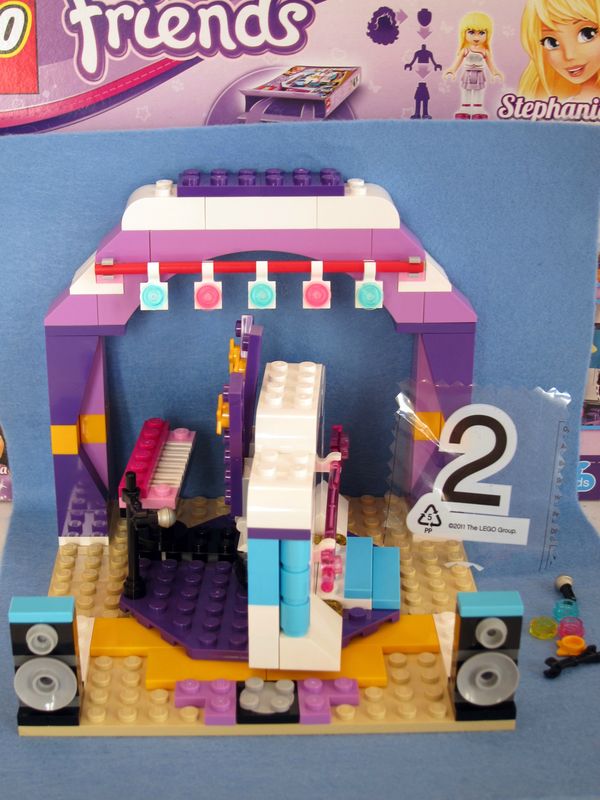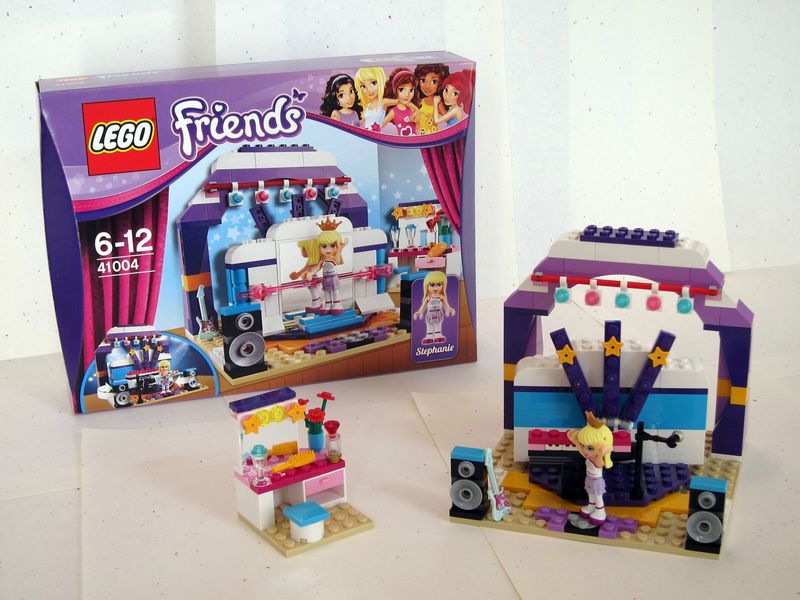 Parlons maintenant de la jouabilité. Une des raisons qui m'a poussée à écrire cette review est que je crois que j'aurais A-DO-RÉ ce set étant petite. Le studio qui peut être tantôt pour la musique, tantôt pour la danse, c'est génial. Et le fait que notre chère Stephanie puisse faire des pirouettes sur le devant de la scène me rappelle les anciennes boites à musique, de quoi largement faire rêver une petite fille.. Évidemment, le côté tournant est non sans rappeler les tourniquets et autre manèges de la gamme Fabuland, ce qui me ramène aussi en enfance, puisque c'est pile ma génération. Je ne compte pas les heures que j'ai pu passer à faire tourner, tourner, tourner encore, avec des personnages Playmobil, parfois, mais ça il faut pas le dire!
Let us now talk about playability. One of the reasons that lead me to write this review is that I think I would have LOVED this set as a child. The rehearsal studio that can be either for music or for dance is just great. And the fact that our dear Stephanie can spin around the front of the stage reminds me of old fashioned musical boxes, enough to make any little girl dream. Of course, the twirly whirly aspect also reminds me of the various merry-go-rounds that were available in the Fabuland line, which also takes me back to my childhood, since it is exactly my generation. I couldn't count the hours that I spent spinning, spinning and spinning some more, sometimes even with Playmobil characters, but shh, that's a secret!

Pour une petite mise en situation, j'ai invité Mia et Andrea à venir passer l'après-midi avec Stephanie. C'est plus drôle à plusieurs et comme dit plus haut, comme c'est une des plus grosses boites de la première vague Friends de 2013, c'est un peu dommage que Stephanie se retrouve toute seule. Mais c'est le cas pour la plupart des sets Friends, qui mettent en scène une des cinq minidolls dans son univers. Il faut donc acheter plusieurs boites pour que nos poupées aient des amies. Dans les sets qui contiennent plusieurs figurines, l'autre ou les autres sont toujours des personnages exclusifs à ce seul set: amies secondaires, parents, vétérinaire etc.
In order to set the scene a little, I invited over Mia and Andrea to spend the afternoon with Stephanie. The more the merrier and as I said before, since this is one of the larger sets in the first wave of 2013 Lego Friends, It is a pity that Stephanie winds up all by herself. But that is the case in most Friends sets. They usually portray one of the five main minidolls in her own surroundings. You thus need to buy several sets in order for our dolls to have other friends. In the sets that contain more than one figurine, the other(s) is/are always exclusive to that one set: secondary friends, parents, veterinary etc.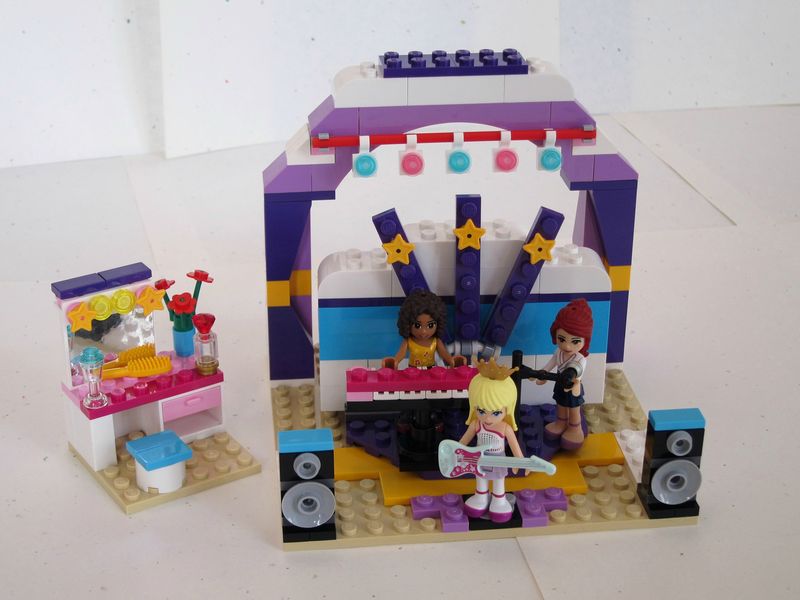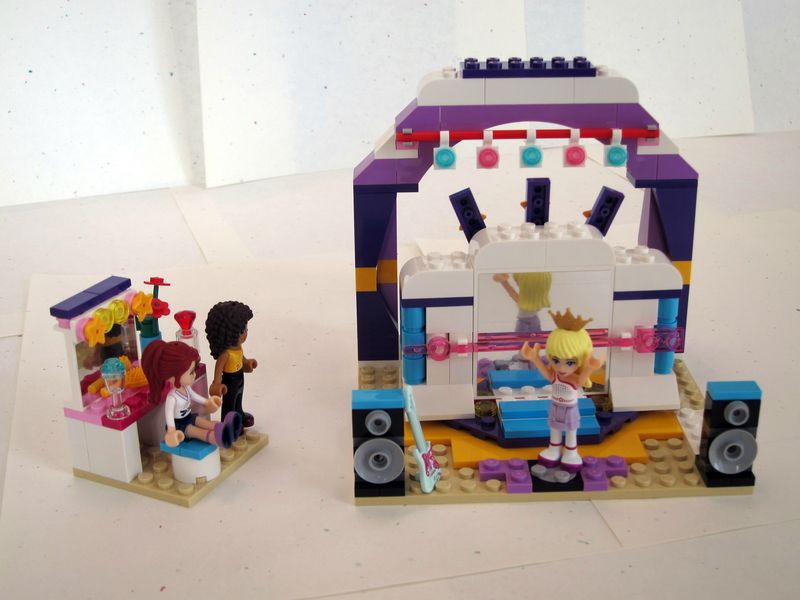 Maintenant, d'un point de vue de moc-euse, il est indéniable que ce set est très intéressant niveau pièces. Alors que la gamme Friends en général souffre de la réputation d'être trop colorée, trop flashy, trop girly, force est de constater que la plupart des sets sont en fait basés sur une dominante couleur blanche ou tan et ne contiennent finalement que très peu de pièces colorées, hormis les accessoires. Ici, il parait que ce set à lui tout seul contient 50% de toutes les pièces dark purple sorties à ce jour dans toutes les boites Friends. Je n'ai pas été vérifier, mais c'est la première fois que je vois autant de briques en tous genres dans les "couleurs Friends": medium lavender, dark purple, medium azure, bright pink, bright light orange. Il n'y a que le magenta qui reste très timide, pourtant c'est ma préférée. Je me vengerai cet été sur la voiture de sport d'Emma (41013).
Now, on a MOC-er point of view, this set in indeniably interesting for its parts. While the Friends line in general suffers the reputation of being too colourfull, too flashy, too girly, one must admit that most of the sets are in fact based on one dominant colour, usually white or tan, and in the end contain very little colourfull pieces, except for the accessories. Here apparently this set contains 50% of all the dark purple that came out in all of the Friends sets altogether. I haven't verified, but it is the first time I see so many bricks of all types in "Friends colours": medium lavender, dark purple, medium azure, bright pink, bright light orange. Only magenta remains very limited, and it's my favourite. I'll take revenge on Emma's sports car this summer (41013).

Les photos qui suivent sont juste pour montrer que même si le set est timide en magenta, TLC nous en offre quand-même une plate 1x6 qui se voit à peine dans le produit fini. C'est très léger, mais appréciable quand-même.
Following photos are just to show that even though this set is shy in magenta, TLC offers one 1x6 plate that barely shows in the finished product. It's not much, but still appreciated.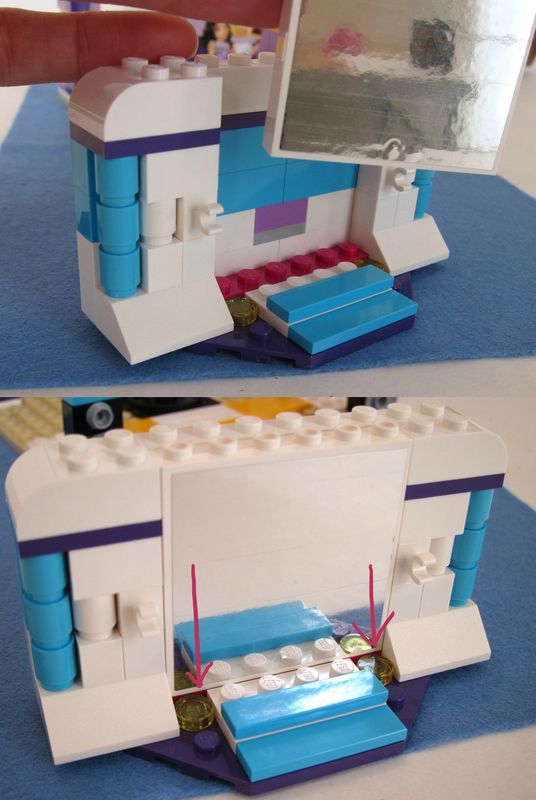 Si avec tout ça, je ne vous ai pas donné envie d'acheter le studio de Stephanie, c'est que vous n'aimez pas le violet (¬ .¬=)
Now with all that, if you still don't want to buy Stephanie's rehearsal studio, you must not be a big fan of purple (¬ .¬=)