26 juin 2012
Mandy of What The Fruitcake?! came to our rescue last minute to present us with the Battenberg Cake challenge! She highlighted Mary Berry's techniques and recipes to allow us to create this unique little cake with ease.


Don't judge a book by its cover. My cake has quite some much blush on the cheeks. I can't tell if it's really ugly or not bad for a first try. But it's pretty good. If you can forget about the ongoing heat. I took on the challenge and here goes: Rosewater and rasberry Battenberg cake! Don't overreact, folks, it sounds much better than it looks, or even tastes, for that matter. It's all my fault, for not taking the time to do things right. In this heat, turning the oven on was utter torture. My every move is currently in slow motion. Writing this text is exaustingly painfull. I am exagerating, though. A little bit. This cake in slightly cooler weather and with a cup of tea would probably be delighting. Just thinking about tea is making me hot. I know there are a few jealous people out there who are still waiting for the sun to appear with it's share of higher temperatures. I am truly sorry for you guys, I guess it's all or nothing.
The pink brown spongecake was coloured with actual (frozen, hem) rasberries, no food colouring in my house! But fresh berries like these red currants are better suited for decoration. And I would never have thought of a pink marzipan stripe in the middle there, but here in France, the kind that's easy to find is always tri-coloured: pink/white/green. I wasn't going to buy three packs just to get enough of the plain colour!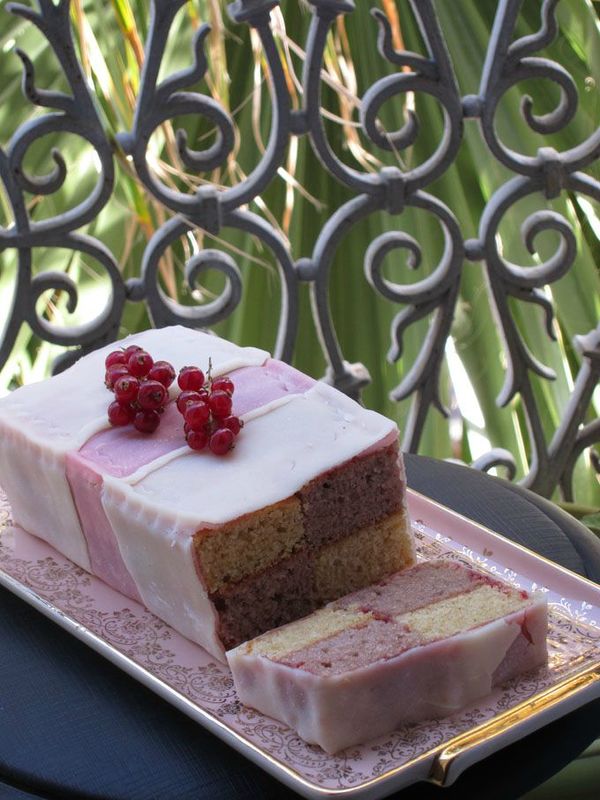 Pour une petite traduction, sachez que la chaleur ambiante a rendu ce défi assez dificile. Je ne rallumerai pas le four avant le mois d'octobre!! Le gâteau: des bandes de génoise aux amandes et à l'eau de rose dont la moitié a été colorée avec des framboises surgelées, soudées par de la confiture de framboise et enrobée de pâte d'amande. À déguster dans une pièce climatisée avec une tasse de thé. Ou attendre l'automne pour essayer la recette aux noix et au chocolat!!
27 mai 2012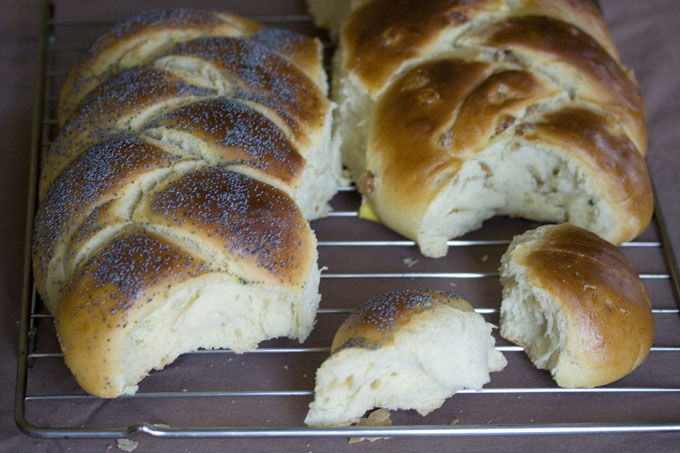 May's Daring Bakers' Challenge was pretty twisted – Ruth from The Crafts of Mommyhood challenged us to make challah! Using recipes from all over, and tips from "A Taste of Challah," by Tamar Ansh, she encouraged us to bake beautifully braided breads.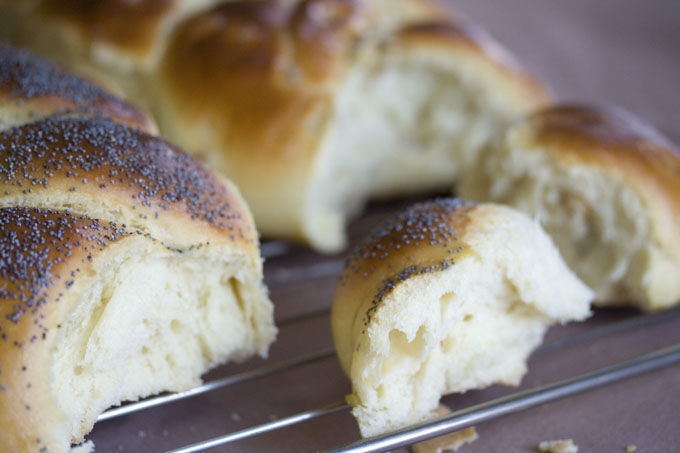 I now know why I became a Daring Baker in the first place.
I discovered the concept on the beautifull blog Rosa's yummy yums. Unfortunately I signed up as she stopped the challenges. Vanilla panna cotta with fiorentine cookies marked my beginning and was the only challenge for which I was able to compare our respectve works. I was never very interested in baking, nor were my mother, aunt or grandmother. My blog was still in draft mode (I think it will always be) and I read Rosa's musings on how the Daring Kitchen turned her onto baking. Glad to see a fellow non-baker whipping up beautifull and incredibly tasty looking items out of the oven, I decided to join in. I missed a few challenges and will forever feel guilt over it. Every time though, I had to make something that I never imagined I would try, ever. Panna cotta (ew, cream and gelatin!…), yeasted meringue coffee cake (yuuuuum!… ), povitica, fraisier, baklava to name a few…
Last March/April, as I witnessed every single food blog in the world showcasing something special for easter, I was about to go hang myself when I came upon the recipe for tcheurek (Armenian, tsoureki in Greek), an Orthodox Christian easter egg bread, all on another blog I love to read: Christelle is Flabbergasting. I was in awe, it looked as beautifull as it did yummy.
Instead of going ahead and making this here egg bread, I remembered that I have been wanting to make challah for many a year now, without ever taking the first step of looking for a suitable recipe. Now was the time, and after searching a little I found this recipe for challah on the blog smitten kitchen. I made it exactly as written and it turned out great, but the aesthetics left to be desired, I didn't get the braided bumps, the kind you want to immediately tear off the loaf. Here is a picture of what I made at the time, that obviously didn't make it to the blog.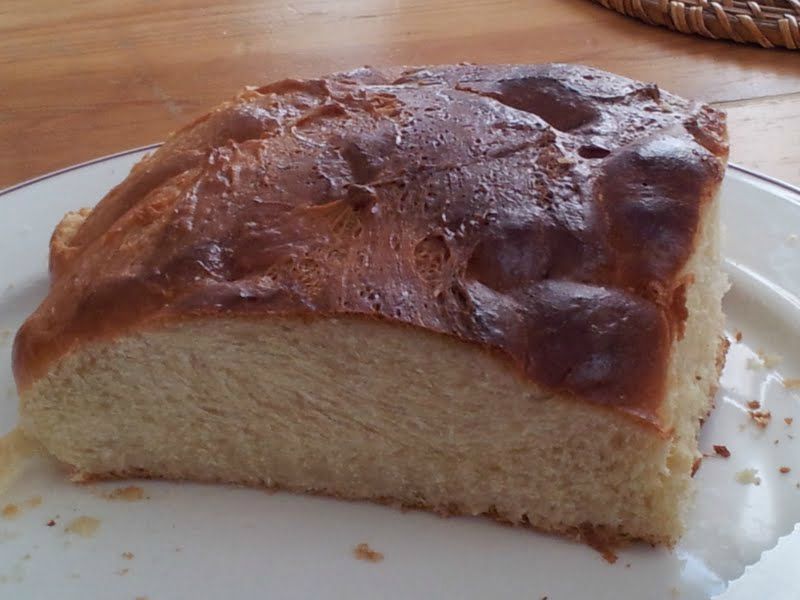 This time around, I guess you could say I have a little practice. Practice is good. It's what lets you get better at something. What I enjoy most in life is eating, cooking comes in second. And pastry items like challah can't be messed with!
As a kid I would go visit my American and jewish grandparents and we would ALWAYS have bagels and lox, cream cheese, coleslaw, rye bread and deli meats of pig and non-pig origins (…I know!). For breakfast, we would have toasted bagels dripping with butter ninety percent of the time. The rest of the time we would have cinnamon bread, a treat that reminded me a lot of the povitica we made with the Daring Bakers last october. I'm sure we had challah every once in a while. But unfortunately for challah, the other side of my family is French and good ol' brioche with an inch thick topping of nutella was where it's at. Or pain au chocolat, or pain au lait with a chocolate bar in the middle, or even baguette with a chocolate bar in the middle.Or just chocolate.
When I moved to the US with my mother as a teenager I missed my brioche (among other things). I missed it in the morning and I missed it after school. It was a hard move for me and since my mother regularly went to the deli around the corner, she would get cinnamon bread and challlah for her little girl. Nutella was very hard to find in the US in those days (not that long ago it seems!).
So challah for me is a kind of replacement for when you don't have brioche. But as I get older, and god knows how old I am, challah also seems like a treat that is not quite as sweet as brioche, and more subtle (that's when you know you're getting old).
And when your loafs are getting a little dry and old, don't panic, try a little French toast action, yum!
Following is the recipe I used, for two big loaves of honey white challah:
CHALLAH (HONEY WHITE)
Ingredients:
1½ cups (360 ml) warm water
1 tbsp. (15 g) (½ oz) sugar
2 tbsp. (18 g) (⅔ oz) dry active yeast
½ cup (120 ml) honey, or a mix of honey and agave syrup
1 tbsp. (15 ml) oil (olive oil in my case)
4 large eggs
1½ tsp (9 g) (⅓ oz) salt
5 cups (1,2 L) (700 g) (25 oz) all purpose flour, plus more as needed (up to 8 or 9 cups, or about 1 kg total)
1 beaten egg + water for egg wash
½ cup golden raisins, soaked in water for an hour or two (optional)
½ cup poppy seeds (optional)
Directions:
❧ In mixer bowl/large mixing bowl combine ½ cup warm water with the sugar and yeast. Allow to proof approximately 5 minutes until foamy.
❧ Add the remaining water to the yeast mixture, along with the honey, oil, eggs, salt and the five cups of flour. Knead by hand or with the mixer's dough hook until smooth, adding flour as needed. Knead for approximately ten minutes.
❧ Transfer dough to a clean oiled bowl, turn to coat. Cover bowl with a kitchen towel. Leave to rise in a warm place until doubled in size, about 1½ hrs.
❧ Punch down the dough, divide it into two sections. If using raisins, now is the time to add them to the dough. Use one half to make each loaf, shaped or braided as desired.
❧ Place loaves on parchment lined or greased baking sheets, cover with a towel, allow to rise 30 minutes.
❧ Preheat oven to 325 °F (170°C).
❧ Brush the tops of the poaves with egg wash. Sprinkle with poppy seeds if wanted.
❧ Bake loaves 30 to 40 minutes until done. Cool completely on wire racks.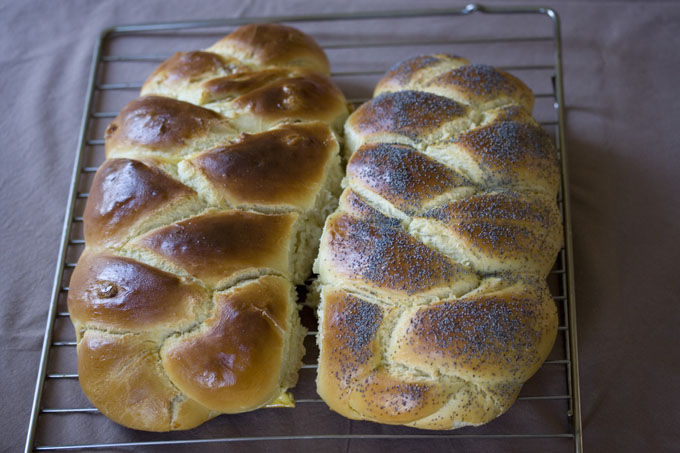 ---
---

Quel défi un peu tordu pour ce Daring Bakers du moi de mai! Ruth des Crafts of Mommyhood nous a défié de faire du pain challah! À l'aide de recettes d'un peu partout et des conseils du livre "A taste of Challah" de Tamar Ansh, elle nous a encouragés à faire de beaux pains tressées.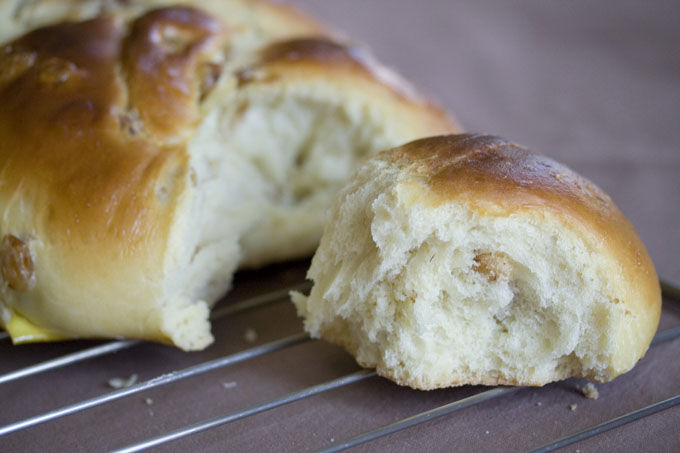 Je me rappelle maintenant de ce qui m'a poussé à devenir une Daring Baker.
J'ai découvert le concept sur le très joli blog Rosa's yummy yums. Malheureusement je me suis lancée quand elle a arrêté. Mes débuts ont été marqués par la panna cotta à la vanille avec ses petits biscuits florentins, le seul défi pour lequel j'ai pu comparer nos travaux respectifs. Je n'ai jamais été très interressée par la patisserie, comme ma mère, ma tante, ma grand-mère avant moi. Mon blog était encore en mode brouillon (et le sera sans doute toujours) alors que je lisais comment la Daring Kitchen avait convainque Rosa à la patisserie. Heureuse de découvrir ainsi une camarade de cœur, je décidai de m'inscrire. J'ai manqué quelques défis et me sentirai toujours coupable. Mais à chaque fois j'ai du confectioner quelque chose que je n'aurais sans doute jamais essayé. La panna cotta, le cake brioché et meringué, le povitica, le fraisier, les baklava pour en nommer quelques-uns…
En mars/avril dernier, alors que je remarquais que tous les blogs de cuisine sur terre proposaient quelque chose pour Pâcques, je m'apprêtais à aller me pendre quand je suis tombée sur la recette du tcheurek (en arménien, ou tsoureki en grec), une brioche de la pâcque orthodoxe, le tout sur un autre blog que j'aime beaucoup lire: Christelle is Flabbergasting. Elle avait l'air d'être aussi bonne qu'elle était belle.
Au lieu de me lancer dans la confecion la-dite brioche, je me suis souvenue que ça faisait bien plusieurs années que je voulais faire une challah, sans jamais entamer la première étape qui consiste à chercher une recette convenable. Le moment était donc venu et j'ai trouvé cette recette de challah sur le blog Smitten Kitchen. J'ai suivi la recette à la lettre et la brioche était très bonne, mais son physique laissait beaucoup à désirer. Il manquait les bosses de la tresse qu'on meurt d'envie d'arracher. Voici la seule photo rescapée qui n'a évidemment pas trouvé sa place dans cet humble blog.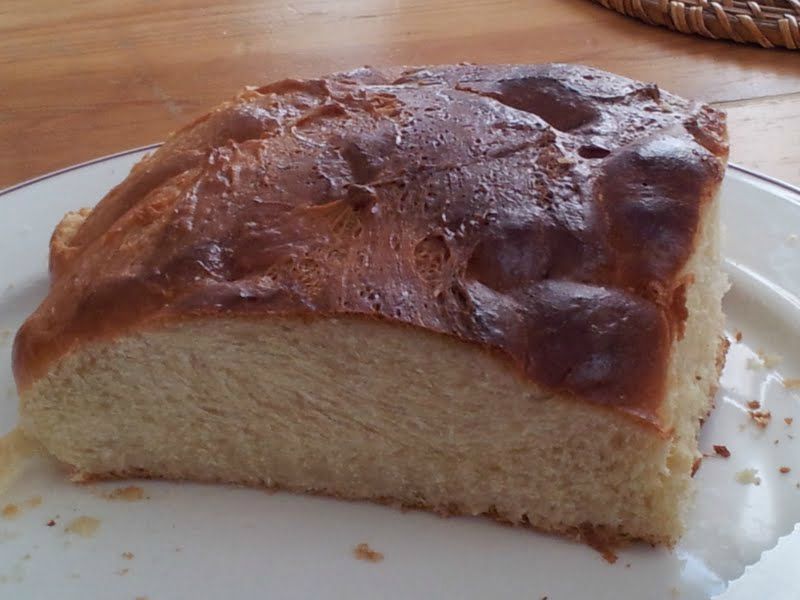 Cette fois-ci on peut dire que dire que j'ai un peu d'entrainement. C'est bien l'entrainement, c'est ce qui permet de s'améliorer. Ce que j'aime le plus dans la vie, c'est manger, cuisiner arrive en deuxième. Et on ne fait pas n'importe quoi avec la patisserie.
Enfant, j'allais rendre visite à mes grand-parents juifs et américains et nous mangions TOUJOURS des bagels avec des lox, du cream cheese, du coleslaw, du rye bread (là en l'occurence un pain blanc avec des graines de seigle), et des charcuteries issues de viande porcine ainsi que non-porcine (…oui, je sais!). Pour le petit déjeuner, on mangeait le plus souvent des bagels toastés dégoulinant de beurre. Le reste du temps on mangeait du cinnamon bread, ce que m'a beaucoup rappelé le povitica que l'on a fait avec les Daring Bakers en octobre dernier. Je pense que l'on mangeait de la challah de tems en temps. Malheureusement, l'autre moitié de ma famille est française, donc l'idéal, c'est une bonne vieille brioche avec une tonne de nutella dessus. Ou un pain au chocolat, ou un pain au lait avec une barre de chocolat, ou un morceau de baguette avec une barre de chocolat. Ou juste du chocolat.
La brioche me manquait beaucoup quand je suis partie aux US, adolescente et avec ma mère. Elle me manquait (ainsi que nombre d'autres choses) le matin et elle me manquait après l'école. Ça a été un déménagement difficile pour moi et comme ma Môman allait régulièrement au deli du coin de la rue, elle ramenait du cinnamon bread et de la challah pour sa fifille. À l'époque, le nutella était très dur à trouver aux États-Unis (y'a pas si longtemps que ça, on dirait).
Donc pour moi, la challah, c'est peu un remplacement de brioche. Mais en grandissant, et Dieu sait comme je suis vieille, je remarque que la challah est aussi un peu moins sucrée que la brioche, et un peu plus subtile (et c'est là que l'on constate qu'on se fait vieux!).

Et quand vos pains vous semblent vieux et rassis, pas de panique, essayez un bon vieux pain perdu!

S'ensuit la recette que j'ai utilisée, pour deux pains de honey white challah:
CHALLAH (HONEY WHITE):
Ingrédients:
1½ tasses (360 ml) d'eau chaude
1 C.S. (15 g) (½ oz) de sucre
2 C.S. (18 g) (⅔ oz) de levure de boulanger
½ tasse (120 ml) de miel, ou un mélange de miel et sirop d'agave
1 C.S. (15 ml) d'huile (huile d'olive pour moi)
4 gros œufs
1½ c.c. (9 g) (⅓ oz) de sel
5 tasses (1,2 L) (700 g) (25 oz) de farine (jusqu'à 8 ou 9 tasses, ou à peu près 1 kg total)
1 œuf battu + de l'eau pour badigeonner/dorer
½ tasses de raisins golden, réhydratés dans de l'eau chaude (optionel)
½ tasse de graines de pavot (optionel)
Déroulement de la recette:
❧ Dans un grand bol mélanger 1/2 tasse de l'eau chaude avec le sucre et la levure. Laisser reposer environ cinq minutes pour que le mélange soit mousseux.
❧ Ajouter au mélange le reste de l'eau ainsi que le miel, l'huile, les œufs le sel et les cinq tasses de farine. Pétrir à la main ou au robot en ajoutant de la farine au besoin et petit à petit, jusqu'à ce que la pâte soit souple et lisse, environ dix minutes.
❧ Mettre la boule de pâte dans un autre bol bien huilé et tourner la boule pour la recouvrir uniformément d'huile. Couvrir d'un linge propre. Laisser gonfler dans un endroit chaud jusqu'à qu'elle ait doublé de taille, soit environ une heure et demie.
❧ Donner quelques coups dans la pâte (ça a un nom, je ne me rappelle plus!:-(), La diviser en deux. Si vous mettez des raisins, c'est le moment de les ajouter. Former les pains comme vous le désirez, tressés en trois, quatre ou six lanières.
❧ Placer les pains sur une (deux normalement, mais on fait avec ce qu'on a et ça marche très bien!!) plaque recouverte de papier sulfurisé, couvrir d'un linge et laisser gonfler trente minutes de plus.
❧ Préchauffer le four à 170°C (325°F).
❧ Badigeonner généreusement les pains du mélange œuf/eau. Saupouder de graines de pavot si vous les utiliser.
❧ Cuire 30 à 40 minutes. Ils doivent être bien dorés. Laisser refroidir complètement sur une grille.


27 avril 2012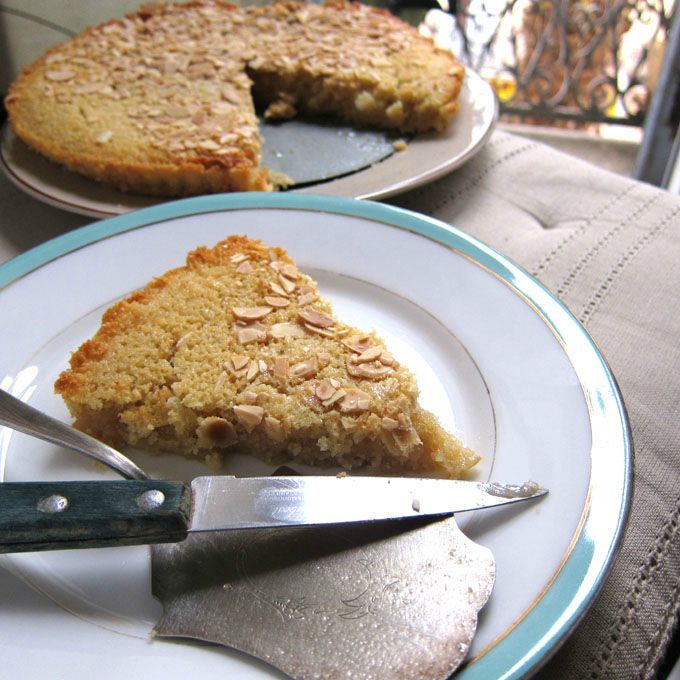 The Daring Bakers' April 2012 challenge, hosted by Jason at Daily Candor, were two Armenian standards: nazook and nutmeg cake. Nazook is a layered yeasted dough pastry with a sweet filling, and nutmeg cake is a fragrant, nutty coffee-style cake.
This month I litterally had to force myself to do the challenge. I haven't been posting a whole lot on my blog and I wonder what it's direction will turn out to be. The strange thing is that this challenge really made my mouth water and early on in the month I bought everything I needed to do both these recipes. I really thought I would do both because they both looked pretty tasty and I did not know of either. Unfortunately time flew by this month, which is a good thing, right? Doesn't time fly when you're having a good time? But my sour cream didn't have the good sense of waiting for me. When it was just a few days past it's expiration date I used some of it for some mussels "marinière" (mostly white whine and shallots) and tossed the rest, something I hate doing.
So today, I happilly looked through April's Daring Bakers' pdf, looked for the necessary ingredients for nazook, as I wanted to make those in priority, and sadly realized why I had bought sour cream in the first place! I didn't cry very long since I soon realized I had everything needed to make the Armenian nutmeg cake. Too bad it's not Aunt Aida's recipe as well. It seems the Commonsense Cookery Book leaves too much room for common sense, which was lacking in me today. Somehow, as I was making it, I knew something was wrong, but I just did not know what. Here goes the anecdote: when using a springform pan, even if you make a crust that covers the entire diameter of the pan, do not ever try to pour something liquid in it! I wonder if my oven would have become a sweet boiling swimming pool had I precooked the crust. I am just gratefull that my oven is easy to clean.
Also, the act of sticking of a knife or toothpick in the cake to check for doneness was completely overlooked by me and after letting it cool completely my other half and I ate a sweet but raw cake. It took both our common senses to decide to pop it back into the oven for a little bit, thus skipping the indigestion. What we had a little later on was something slightly overcooked, but deliciously caramelized. I used slivered almonds intead of walnuts.
I will not share the recipe this month since it was a bit of a failure for me, it will be available here after may 1st.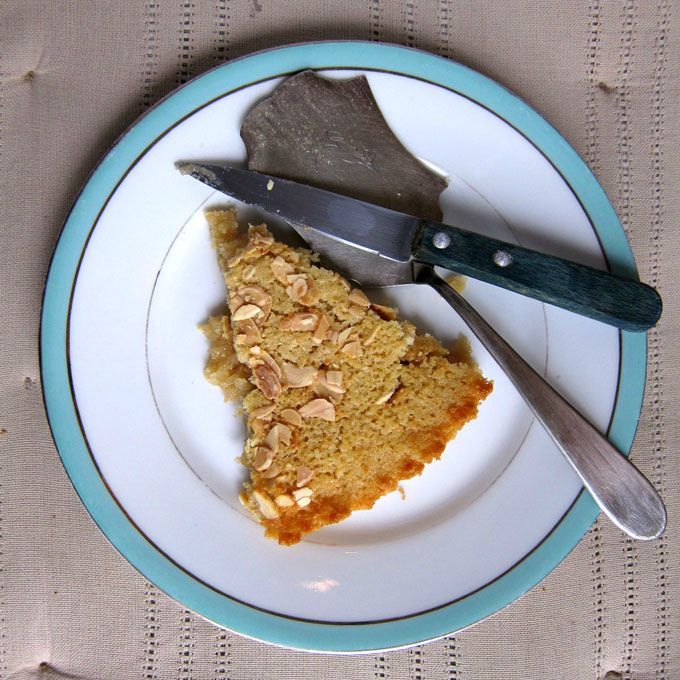 Le défi du mois d'avril des Daring Baker, dont l'hôte était Jason de Daily Candor, consistait en deux classiques arméniens: les nazook et le gâteau à la muscade.
Ce mois-ci j'ai vraiment dû me forcer pour faire le challenge. Je n'ai pas beaucoup posté sur mon blog ces temps-ci et je me demande un peu ce qu'en sera la direction. Ce qui est étrange est que ce défi m'a tout de suite fait saliver et j'ai très rapidement acheté le ncessaire pour faire les deux recettes. J'ai vraiment pensé que je ferais les deux puisqu'elles me faisaient toutes deux saliver et je n'en connaissais ni l'une ni l'autre. Mais le temps a filé ce mois-ci, je qui est une bonne chose, non? Le temps ne file-t-il pâs quand on s'amuse (anglicisme)? Ma crème fraîche n'a pas eu le bon sens de m'attendre. Quand la date de péremption a été dépassée de juste quelques jours j'en ai utilisé dans des moules marinières et jeté le reste, ce que j'ai horreur de faire.
Alors aujourd'hui j'ai gaiement jeté un œil au pdf du défi du mois d'avril, ai vérifié les ingrédients pour les nazook, comme je voulais les faire en priorité. J'ai alors compris pourquoi j'avais acheté de la crème fraîche! Je n'ai pas pleuré longtemps car j'avais tout pour faire le gâteau à la muscade. Dommage que la recette ne vienne pas aussi de Tante Aida. Je crois que le Commonsense Cookery Book (litéralement Livre de la cuisine du bon sens) laisse trop de place au bon sens, ce qui me manquait aujourd'hui. Alors que cuisinais je voyais bien que quelque chose clochait mais ne mettais pas le doigt dessus. Pour l'anecdote, dans l'utilisation d'un moule à fond amovible, ne jamais mettre un appareil liquide même si une pâte sépare le liquide du moule. Je me demande si mon four serait quand-même devenu une piscine bouillante si j'avais précuit la pâte. Heureusement mon four est plutô facile à nettoyer.
L'idée de vérifier la cuisson à l'aide d'un couteau ou d'un cure-dent m'a aussi complètement échapé. Après avoir laissé le gâteau refroidir complètement, mon autre moitié et moi-même avons mangé un gâteau sucré mais cru. Il nous aura fallu additioner nos bon sens pour avoir l'idée de remettre le gâteau au four et ainsi éviter l'indigestion. Ce qu'on a mangé un peu plus tard était un peu trop cuit mais délicieusement caramélisé. J'ai remplacé les noix par des amandes effilées.
Je ne partagerai pas la recette de mon echec ce mois-ci, mais elle sera disponible ici à partir du 1er mai.
27 mars 2012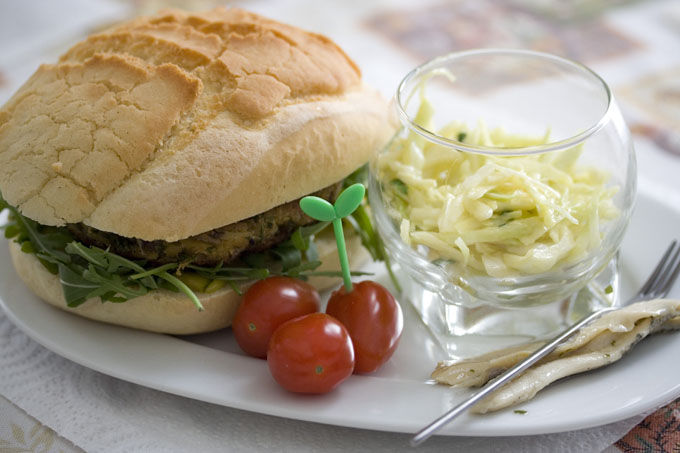 Sara and Erica of Baking JDs were our March 2012 Daring Baker hostesses! Sara & Erica challenged us to make Dutch Crunch bread, a delicious sandwich bread with a unique, crunchy topping. Sara and Erica also challenged us to create a one of a kind sandwich with our bread!


---
Sara et Erica de Baking JDs étaient nos hôtes Daring Bakers pour Mars 2012! Sara et Erica nous ont défiés de faire du pain Dutch Crunch, un délicieux pain à sandwich avec une croûte unique. Elles nous ont aussi défiés de créer un sandwich original avec notre pain!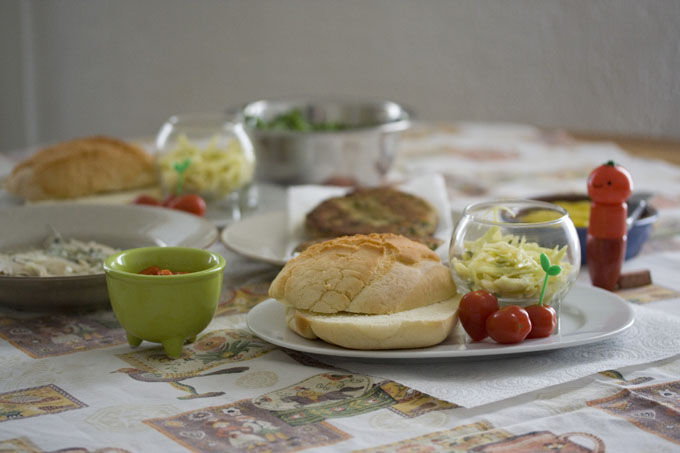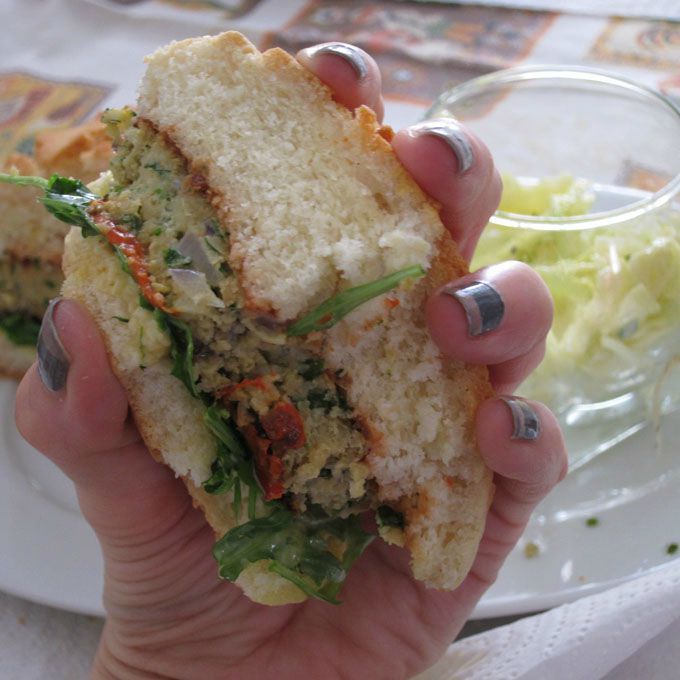 What a fantastic challenge! I am still not the daring bread baker, even though the Daring Kitchen has taught me that it really isn't that hard! (I skipped the sourdough challenge, I may have to make up for it eventually! Allthough I am so bad at watering my plants, I wonder how good I'll be at feeding my sourdough!!) I have been postponing this challenge for fear of lack of organisational skills. As if it were'nt enough trouble to make one yeasted dough, we had to add the double yeasted crunch too!! During this process of procrastination, I wrote down ideas of possible fillers. Was it going to be a BLT? Something of a Jambon-beurre (classic French ham and butter on fresh baguette)? A deli inspired pastrami/roast beef with pickles, relish and yellow mustard? How about some falafels? Yum! I'll go for falafels! After some research, I opted for a chickpea veggie patty. And then to figure out what else to stick in there! I also looked for what typically lies in a Dutch Crunch sandwich. As I feared, the possibilities are endless, but devil sauce seems to win'em all in Yelp reviews. I am unfamiliar with this sauce and couldn't find an exact definition or recipe, but figured it was a kind of creamy garlic sauce similar to aioli. Needless to say, aioli was on the menu.
Now for a quick review of the bread itself, well, I was a little disapointed for one simple reason: I strongly dislike the smell and taste of yeast, and this recipe calls for a lot of it, and not a whole lot of salt. After eating two rolls (on two seperate days), I just couldn't eat any more, I could smell it from miles away (er, let's just say a few feet away!) On the other hand, this is a pretty simple recipe for bread that you could eat at lunchtime if you organize well enough. And that's not usually true of most breads. I'm glad I got the chance to make and taste Dutch Crunch, now I can't wait to go back to San Fransisco to try the real thing! (I've been to SF many times, I can't believe I never tried the crunch!!).


---
Quel défi fantastique! Je ne suis toujours pas celle qui se risque à faire du pain, bien que la Daring Kitchen m'ait maintenant appris que ce n'est pas si sorcier! (J'ai loupé le défi du pain au levain, il va falloir que je me rattrape un de ces quatre, mais vu comme je prends soin de mes plantes vertes, je me demande si j'arriverai à alimenter mon levain tous les jours!) Par peur de manquer cruellement d'organisation je n'ai pas arrêté de repousser la réalisation de ce défi-ci. Comme si ce n'était pas déjà assez compliqué de faire une pâte à pain normale, il faut lui rajouter une croûte de farine de riz avec le double de levure! Pendant ce processus de procrastination j'ai écrit quelques idées de garnitures possibles. Est-ce que ça allait être un BLT (bacon, salade, tomate), un jambon-beurre, un sandwich au pastrami ou au roastbeef typique des deli américains, avec de gros cornichons, de la relish et de la moutarde jaune? Et pourquoi pas des falafel? Hmmm! Va pour les falafel! À la suite de quelques recherches, j'optai pour des burgers végétariens au pois chiche. Et je verrai bien ce que je mets avec! J'ai aussi regardé ce qui se met typiquement dans un Dutch Crunch sandwich. Comme prévu, les possibilités sont infinies, mais la "devil sauce" semble remporter les suffrages dans les avis de Yelp.com. Je ne connais pas vraiment cette sauce mais elle semble être une sauce crémeuse à l'ail similaire à l'aioli. Donc, ben, aioli au menu.
Maintenant je vais faire une petite critique du pain en lui-même. J'ai été un peu déçue pour une raison très simple: je supporte très mal l'odeur et le goût très fort de levure. Dans cette recette, il y en beaucoup, et très peu de sel. Après avoir mangé deux pains (sur deux jours), je n'en pouvais plus, je sentais l'odeur de levure à des kilomètres à la ronde (ok, quelques mètres à la ronde!!). Mais je dois avouer que c'est une recette de pain très simple que l'on peut déguster pour le déjeuner si on s'organise bien, et ça ce n'est pas toujours le cas pour la plupart des pains. Je suis très contente d'avoir goûté le Dutch Crunch, mais j'ai maintenant envie de retourner à San Fransisco goûter le vrai Crunch (ce que je ne comprends pas, c'est que j'ai été plein de fois à San Fransisco, alors comment est-ce que je ne l'ai jamais goûté?)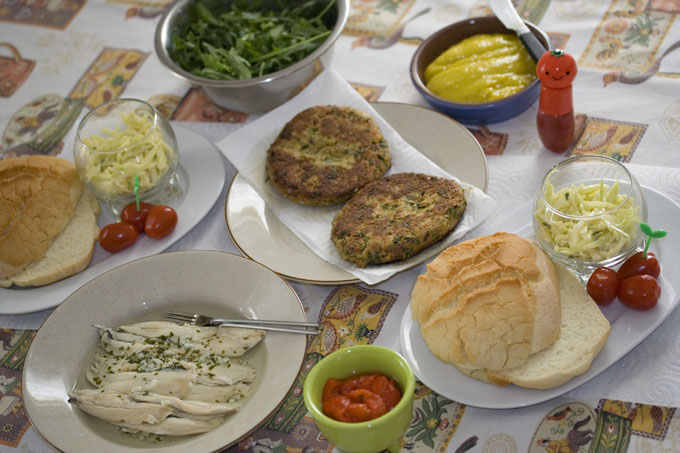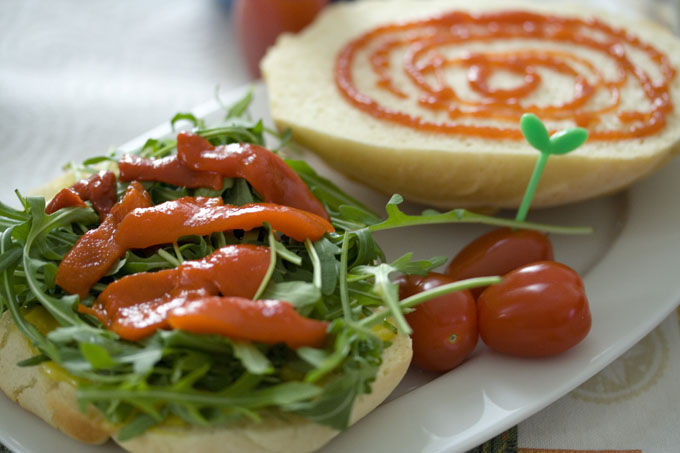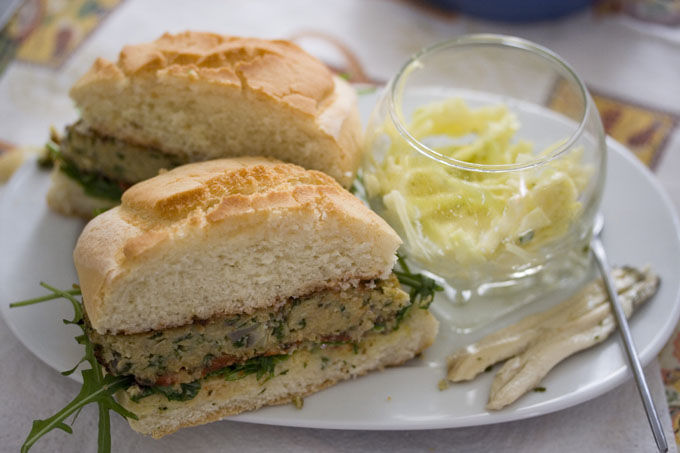 ALL THE RECIPES: I TOUTES LES RECETTES: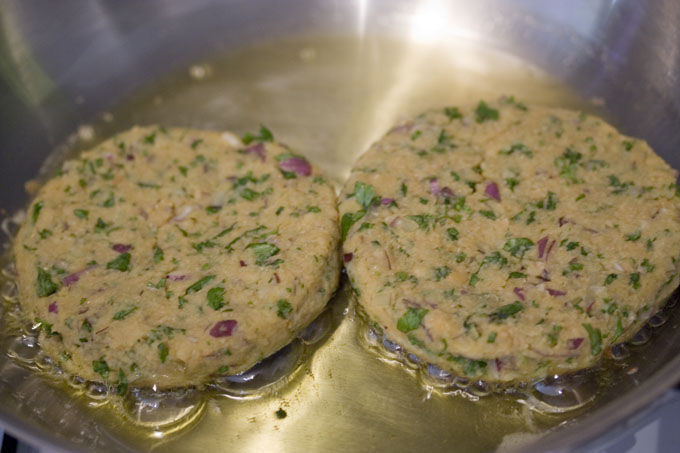 VEGGIE PATTIES (for 4 patties)
I used Heidi Swanson's recipe for the ultimate veggie burger, allthough I didn't follow her advice on why this makes for such a good burger. Thing is, I had my idea in my mind on what my sandwich was going to be like, I was just looking for a fallafel/veggie patty hybrid. I slightly changed the recipe according to what I had on hands, this version not being quite as healthy as the original.
- 1 1/2 cups canned garbanzo beans, drained and rinsed
- 2 large eggs
- pinch of fine-grain sea salt
- 1/2 red onion, chopped
- Grated zest of one untreated half lemon
- 1/3 cup chopped parsley
- 1/3 cup chopped fresh cilantro
- 1/2 cup toasted bread crumbs
- 1 tablespoon extra-virgin olive oil
➨ Combine beans, eggs and salt in a food processor and mix until still a little chunky. Transfer to a bowl and add the herbs, onion, zest and breadcrumbs. Reserve covered with saran wrap and in the fridge until ready to cook.
➨ Adjust the amount of moisture by adding either water, eggs or breadcrumbs. Don't be afraid to leave the mixture pretty moist.
➨ Form into 4 patties. Cook in a heavy skillet over medium-low heat for about fifteen minutes, turning them over at midpoint.


---
BURGERS AU POIS CHICHE (pour 4 pièces)
J'ai utilisé la recette du "ultimate veggie burger" de Heidi Swanson, mais je n'ai pas suivi ses conseils sur ce qui en fait un si bon burger (remplacer le pain par les "steak" de pois chiche). J'avais déjà ma p'tite idée de ce que je voulais pour mon sandwich, à savoir un hybride entre un veggie burger et un falafel. J'ai légèrement changé la recette, la mienne n'étant pas tout à fait aussi saine et diététique que l'originale.
- 350 ml de pois chiche en conserve ou en bocal, égoutés et rincés
- 2 gros œufs
- une pincée de sel
- 1/2 oignon rouge, émincé finement
- le zeste d'1/2 citron non traité
- 80 ml environ de persil grossièrement haché
- 80 ml environ de coriandre fraîche grossièrement hachée
- 120 ml de chapelure
- 1 CS d'huile d'olive
➨ Mixer les pois chiche, les œufs et le sel au mixeur, en gardant de la consistence et quelques morceaux. Mettre dans un bol avec le reste des ingrédients. Reserver au frais sous film plastique jusqu'à utilisation.
➨ Ajuster la consistance en ajoutant de l'eau, des œufs ou de la chapelure, sans avoir peur d'une pâte bien humide.
➨ Former 4 patties (normalement, un patty, c'est un steack haché). Cuire dans une poële à fond épais à feu moyen doux environ 15 minutes, en retournant à mi-temps.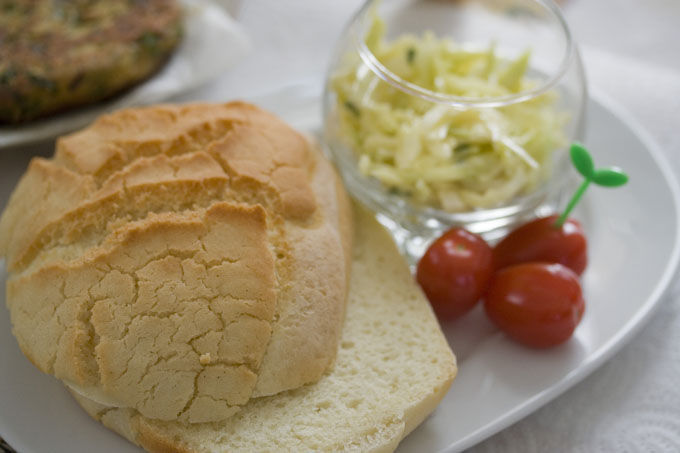 WHITE ROLLS recipe as provided
- 1 tablespoon (1 packet) (15 ml) (7 gm/ 1⁄4 oz) active dry yeast
- 1⁄4 cup (60 ml) warm water (105-110o F) (41-43°C) (No need to use a thermometer – it should feel between lukewarm and hot to the touch).
- 1 cup (240 ml) warm milk (105-110o F) (41-43°C) (We've tried both nonfat and 2%, with no noticeable difference)
- 11⁄2 tablespoons (221⁄2 ml) (20 gm/ 2⁄3 oz) sugar
- 2 tablespoons (30 ml) vegetable oil (plus additional olive or vegetable oil for greasing bowl during rising)
- 11⁄2 teaspoons (71⁄2 ml) (9 gm/1⁄3 oz) salt
- Up to 4 cups (960 ml) (600 gm/21oz) all purpose flour
➨ In the bowl of an electric mixer or large mixing bowl, combine yeast, water, milk and sugar. Stir to dissolve and let sit for about 5 minutes (The mixture should start to bubble or foam a bit and smell yeasty).
➨ Add in vegetable oil, salt and 2 cups of flour. Using the dough hook attachment or a wooden spoon, mix at medium speed until the dough comes together.
➨ Add remaining flour a quarter cup at time until the dough pulls away from the sides of the bowl (For us, this usually required an additional 11⁄2 to 2 cups of flour).
➨ Turn out onto a lightly floured surface and knead for about 4 minutes, until smooth and elastic.
➨ Place in a lightly greased bowl and cover with plastic wrap. Let rise for 1 hour, or until doubled (or more) in size.
➨ Once the dough has risen, turn it out onto a lightly floured surface and divide it into 6 equal portions (if you'd like to make rolls) or 2 equal portions (if you'd like to make a loaf) (using a sharp knife or a dough scraper works well). Shape each into a ball or loaf and place on a parchment-lined baking sheet (try not to handle the dough too much at this point).
➨ Cover with plastic wrap and let rise for 15 minutes while you prepare the topping.
➨ Coat the top of each roll or loaf with the topping as described above. While the original recipe
recommends letting them stand for 20 minutes after applying the topping, I got better results
by putting them directly into the oven.
➨ Once you've applied the topping, bake in a preheated moderately hot 380oF/190°C/gas mark 5 for 25-30 minutes, until well browned. Let cool completely on a wire rack before eating.


---
PAINS BLANCS (pour 6 pains, recette fournie)
- 1 sachet de levure de boulanger
- 60 ml d'eau tiède-chaude
- 240 ml de lait tiède-chaud
- 20 g de sucre
- 2 CS d'huile végétale
- 1,5 cc de sel
- jusqu'à 600 g de farine
Dans un grand bol, mélanger la levure, l'eau, le lait et le sucre. Mélanger et laisser reposer 5 minutes. Il doit y avoir des bulles ou de la mousse et l'odeur de levure.
Ajouter l'huile, le sel, et la moitié de la farine. Mélanger avec une cuiller en bois (ou avec les mains!!) jusqu'à ce que la pâte se tienne. Ajouter plus de farine, petit à petit jusqu'à ce que la pâte ne colle plus aux parois.
Abaisser sur une surface légèrement farinée et pétrir 4 minutes environ, jusqu'à obtention d'une pâte lisse et élastique.
Mettre dans un bol légèrement huilé, couvrir de film plastique, et laisser lever une heure ou jusqu'à ce que la pâte ait doublé de volume.
Abaisser à nouveau sur une surface légèrement farinée et découper en six parts égales à l'aide d'un couteau. Former des boules et placer sur une plaque couverte de papier sulfurisé. Ne plus toucher.
Couvrir de film plastique et laisser lever le temps de préparer le Dutch Crunch.
Couvrir les petits pains d'une bonne couche de Dutch Crunch, étaler avec les doigts.
Enfourner à 190°C pour 25-30 minutes ou jusqu'à ce que les pains aient bien doré.
Laisser refroidir sur une grille avant de déguster.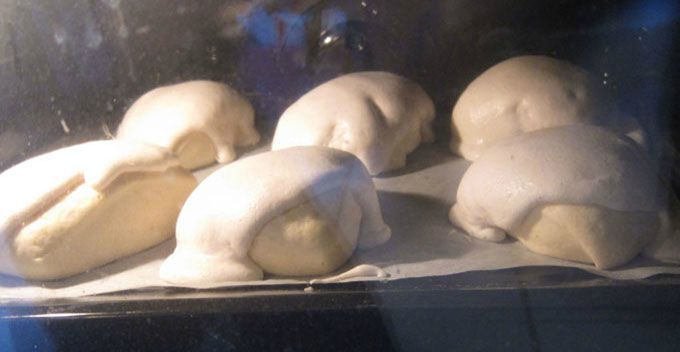 DUTCH CRUNCH TOPPING recipe as provided
Servings: This recipe should make sufficient topping for two 9x5 loaves (23cmx13cm) or 12 rolls. If you make only 6 rolls in the first soft white roll recipe, you can cut the topping recipe in half.
Note that you should not prepare the topping until the bread you've selected to bake is almost finished rising (~15 minutes from baking).
- 2 tablespoons (2 packets) (30 ml) (15 gm/1⁄2 oz) active dry yeast
- 1 cup (240 ml) warm water (105-115o F) (41-46°C)
- 2 tablespoons (30 ml) (30 gm/1 oz) sugar
- 2 tablespoons (30 ml) vegetable oil
- 1⁄2 teaspoon (21⁄2 ml) (3 gm) salt
- 11⁄2 cups (360 ml) (240 gm/81⁄2 oz) rice flour (white or brown; NOT sweet or glutinous rice flour) (increase by 1 cup or more for home-made rice flour)
➨ Combine all ingredients in a large bowl and beat with a whisk; beat hard to combine. The consistency should be like stiff royal icing – spreadable, but not too runny. If you pull some up with your whisk, it should drip off slowly. Add more water or rice flour as necessary. Let stand 15 minutes.
➨ Coat the top of each loaf or roll with a thick layer of topping. We tried coating it with a brush but it worked better just to use fingers or a spoon and kind of spread it around. You should err on the side of applying too much topping – a thin layer will not crack properly.
➨ Let stand, uncovered, for any additional time your recipe recommends. With the Soft White Roll, you can place the rolls directly into the oven after applying the topping. With the Brown Rice Bread, the loaves should stand for 20 minutes with the topping before baking.
➨ When baking, place pans on a rack in the center of the oven and bake your bread as you ordinarily would. The Dutch Cruch topping should crack and turn a nice golden-brown color.


---
CROUTE DUTCH CRUNCH
Cette recette est pour 12 petits pains, je n'avais pas vu, il faut normalement la diviser par deux, mais au moins j'ai eu une belle croute.
- 2 sachets de levure de boulanger
- 240 ml d'eau tiède-chaude
- 2 CS de sucre
- 2 CS d'huile végétale
- 3 g de sel
- 240 g de farine de riz (si vous la faites maison, ajouter encore 150g ou plus)
➨ Mélanger tous les ingrédients au fouet dans un grand bol. La consistence doit être celle d'un glaçage au sucre pour biscuits, étalable, mais pas trop liquide. Elle doit couler du fouet en ruban fin. Ajouter de l'eau ou de la farine de riz pour améliorer la consistence.
➨ Laisser reposer 15 minutes. Utiliser selon les besoins de la recette.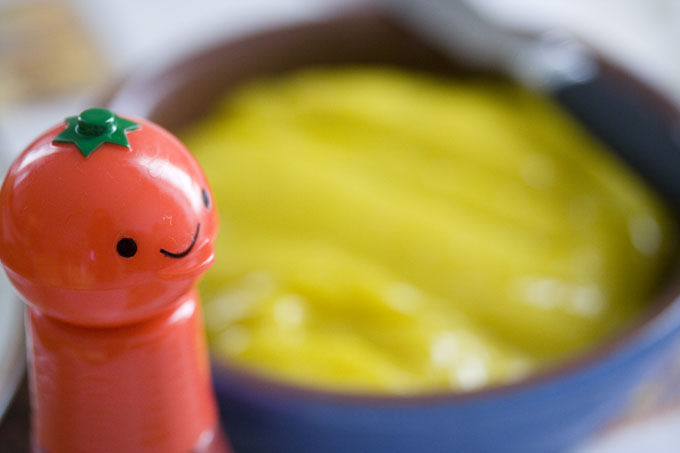 AIOLI

(to say "garlic aioli" is redundant, as aioli means garlic and oil in Provençal, a southern French regional language close to Catalan.) Recipe from the book Petites Leçons de Cuisine en Provence by Guy Gedda and Marie-Pierre Moine.
- 4 cloves garlic
- 2 egg yolks
- about 1 cup olive oil
- fine salt and mill pepper
➨ In a mortar, crush the garlic with a pinch of salt. Add a few grinds of pepper and the egg yolks. Turn pestle in circles for about two minutes to form a thick and firm dough. Let it rest for five minutes
➨ Add the olive oil drop by drop as you would for a mayonnaise. When the sauce begins to thicken, add a constant flow of olive oil, still turning, always in the same direction. The pestle should stand straight in the thick sauce. Do not go beyond this point or you will ruin your aioli/mayonnaise (know that you can always fix it, experience tells you when to stop!). Cover with saran wrap and chill until ready to use.


---
AIOLI
Recette tirée du livre Petites leçons de cuisine en Provence de Guy Gedda et Marie-Pierre Moine.
- 4 gousses d'ail
- 2 jaunes d'œufs
- 160 ml d'huile d'olive environ
- sel fin et poivre du moulin
➨ Dans un mortier, piler l'ail avec une pincée de sel. Ajouter les jaunes d'œufs et quelques tours de moulin à poivre. Tourner le pilon en rond pendant 2 minutes environ pour former une pâte epaisse et ferme. Laisser reposer 5 minutes.
➨ Ajouter l'huile d'olive goute à goute, comme pour une mayonnaise. Quand la sauce commence à prendre, ajouter l'huile en filet, toujours tournant dans le même sens, jusqu'à ce que le pilon se tienne debout dans la sauce. À ce moment, arréter net, au risque de casser l'émulsion (mais c'est toujours réparable au pire, et c'est l'expérience qui dicte quand s'arréter!).
➨ Couvrir de film plastique et reserver au frais jusqu'à utilisation.



---
---

SIMPLE COLESLAW

adapted from recipe in What's On The Stove blog. Unlike Sherry, I think coleslaw keeps pretty well, so don't be afraid to make a lot.
- 1/3 to 1/2 of a large green cabbage, shredded as thinly as possible
- 3 Tbsp aioli
- 2 Tbsp lemon juice
- Chives, roughly chopped
- salt and pepper
➨Combine all the ingredients and eat immediately or keep covered and chilled. Yes, it will bleed water, but nothing compared to your common slaw (unless you put a lo-o-o-o-o-o-t of salt!)


---
COLESLAW

adapté de la recette du blog What's On The Stove. Le coleslaw est une sorte de rémoulade de chou. Contrairement à Sherry, je pense que le coleslaw se garde très bien, donc ne pas hésiter à en faire beaucoup.
- 1/3 ou 1/2 chou vert (ou un mélange chou vert, chou rouge, ajouter carottes, etc)
- 3 CS d'aioli
- 2 CS de jus de citron
- de la ciboulette, grossièrement ciselée.
- sel et poivre.
➨Mélanger tous les ingrédients et manger immédiatement ou reserver couvert au frais.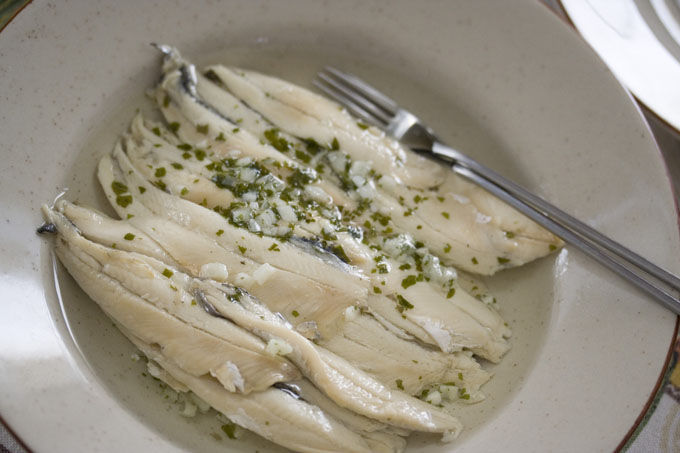 COLLIOURE ANCHOVIES WITH PERSILLADE ❘ ANCHOIS DE COLLIOURE EN PERSILLADE
27 février 2012
The Daring Bakers' February 2012 host was – Lis! Lis stepped in last minute and challenged us to create a quick bread we could call our own. She supplied us with a base recipe and shared some recipes she loves from various websites and encouraged us to build upon them and create new flavor profiles.
L'hôte du défi des Daring Bakers du mois de février 2012 était – Lis! Lis est intervenue à la dernière minute pour nous défier de créer des "quick breads" à notre image [la traduction de quick bread pourrait être le sujet d'une thèse ou d'un doctorat, il s'agit d'un type de gâteau réalisé avec de la levure chimique, la référence étant faite à la levée, au gonflage qui se fait pendant la cuisson, contrairement au pain, qu'il soit au levain ou à la levure de boulanger, pour lequel un temps de repos est nécessaire à la levée. Cependant, "gâteau" serait une traduction bien trop simpliste]. Elle nous a fourni une recette de base et a partagé des recettes de différents sites qu'elle aime et nous a encouragé de nous appuyer dessus pour créer de nouveaux archétypes de goût (oui, là, niveau traduction, je m'enflâme un peu).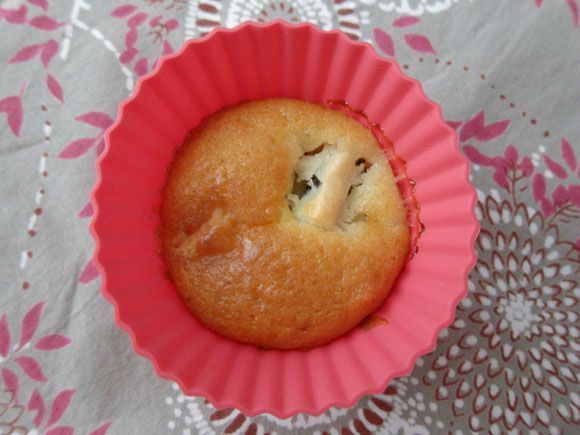 Yet another month of simple baking! Give thanks to the all purpose flour! Or to Lis whom I don't know, but she sure is funny when she explains the dos and don'ts of quick breads! A non baker who manages to co-keep a huge community busy with the Daring Kitchen, even as things of life throw spanners in her works (I'm trying to make mine an expression I've never heard before, bear in mind, I'm a native French speaker).
Encore un mois de simple boulange! (ce mois-ci, la traduction, ce n'est pas trop ça!!) Prions pour la sainte farine blanche (là, vraiment, j'improvise)! Ou pour Lis que je ne connais pas, mais elle est bien marrante quand elle explique le pourquoi du comment des quick breads (traduction plus qu'approximative)! Une non pâtissière qui co-mène une communauté importante avec la Daring Kitchen, même lorsque les choses de la vie lui mettent des bâtons dans les roues.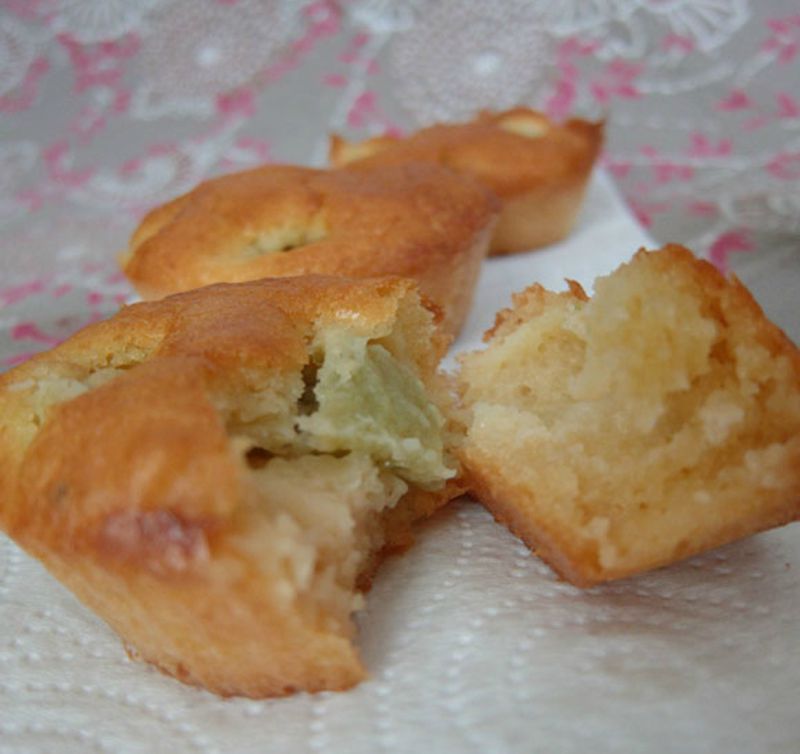 Last month, the scones/biscuits, were the perfect treat to put me back on a baking track, so to celebrate my first year as a daring baker (and a big birthday, but that's none of your business!!!!!), I went wild with my quick breads. (Again, since I'm French, when I hear quick bread, I have to think for a second and make sure we're not talking about sweeetbreads and vice versa!!) No offense, Lisa, as much as I enjoyed reading your pdf, I studied my way through various recipes, on the web and on my bookshelf.
Le mois dernier, les scones/biscuits étaient la parfaite gourmandise pour me remettre dans le bain de la pâtisserie, donc pour célebrer l'anniversaire de mes un an de Daring Bakers (et un anniversaire important, mai ça, ce ne sont pas vos oignons!!!!!), je me suis enflamée avec ces quick breads. Sans vouloir vexer Lisa, j'ai eu beau lire avec grand plaisir son pdf, j'ai étudié d'autres possibilités de recettes, sur le net et dans mes bouquins.
One of the rules to follow was that the quick breads were to be prepared in less than thirty minutes. Not to be taken too seriously, but still… In any event, the chocolate muffins were made in about twenty Rachel Ray minutes. The kiwi in even less time.
Une des règles à respecter était que les quick breads soient préparés en moins de trente minutes. Règle à ne pas trop prendre au sérieux, mais bon… Au final, les muffins au chocolat ont été faits en vingt minutes, façon Rachel Ray. Ceux au kiwi, en moins de temps.

And now for the duel: double chocolate on one side, and kiwi-white chocolate on the other!
Place au duel: double chocolat d'un côté, et kiwi-chocolat blanc de l'autre!


The chocolate was as decadent as it sounds. I used the recipe for Chocolate muffins on the Joy of Baking website. Instead of buttermilk, I added a little lemon juice to the regular milk and let it sit while I prepared the rest of my ingredients. Instead of the baking powder/baking soda mix, I used one packet of Alsa chemical baking powder. And I put 200g of dark chocolate that I cut up with a knife, and was a tadbit disapointed that most of it melted in the cooking process. When I think muffins, I think double chocolate, there is just no way around it. And this recipe is pretty darn good!
Ceux au chocolat sont aussi gourmands que n'importe quel dessert au chocolat!!!! J'ai utilisé la recette des chocolate muffins du site Joy of Baking. À la place du babeurre (lait fermenté), j'ai mis un peu de citron dans du lait demi-écrémé et laissé reposé le temps de préparer le reste des ingrédients. Au lieu d'un mélange de bicarbonate de soude et de levure chimique, j'ai mis un sachet de levure chimique. Et une tablette de 200g de chocolat noir coupé au couteau, qui, à mon grand regret ont presque entièrement fondu à la cuisson. Quand je pense muffin, je pense d'emblée double chocolat et c'est tout c'est comme ça. Et cette recette est assez bonne!!!
For the kiwi-white chocolate, I used a recipe from the book 750g de plaisir - Gourmandises.
For 9 small muffins or six big ones:
2 kiwis
75g of white chocolate
1 egg
30 g of butter
2 tablespoons milk (I didn't have heavy cream, so I replaced it with milk and added a little butter!!)
5 cl heavy cream
5 tablespoons flour
1/2 packet baking powder
2 tablespoons brown sugar (the recipe calls for "vergeoise", a dark sugar made from beets)
Pour les kiwi-chocolat blanc, j'ai utilisé une recette du livre 750g de plaisir - Gourmandises.
Pour 9 petits muffins ou six grands:
2 kiwis
75g de chocolat blanc
1 œuf
30g de beurre
2 CS de lait (je n'avais pas de crème, donc j'ai mis du lait et ajouté un peu de beurre)
5 cl de crème entière
5 CS de farine
1/2 sachet sachet de levure chimique
2 CS de vergeoise, ou, à défaut, de la cassonade
Preheat the oven to 180°C
Peel the kiwis, cut in quarters and then in three. Perfect size: not too chunky, not too small. Break the white chocolate in little pieces.
Melt the butter and let cool a little.
In a large bowl, mix the flour, baking powder and sugar. In a smaller bowl, mix the melted butter, milk, cream and egg.
Mix the dry and wet ingredients together without overmixing. Add the kiwi and white chocolate.
Fill the muffin tins to two thirds. Cook for 12 to 15 minutes, depending on the size.
Préchauffer le four à 180°C
Éplucher les kiwis, les couper en quartiers puis en trois. À mon avis, c'est la taille parfaite, pas trop p'tit, pas trop grand! Couper le chocolat blanc en petit morceaux.
Faire fondre le beurre et le laisser refroidir un peu.
Dans un saladier, mélanger la farine, la levure et le sucre. Dans un plus petit bol, mélanger le beurre fondu, le lait, la crème et l'œuf.
Mélanger les ingrédients liquides et secs sans trop travailler l'appareil. Ajouter le kiwi et le chocolat blanc.
Remplir les moules au deux tiers. Cuire 12 à 15 minutes, selon la taille.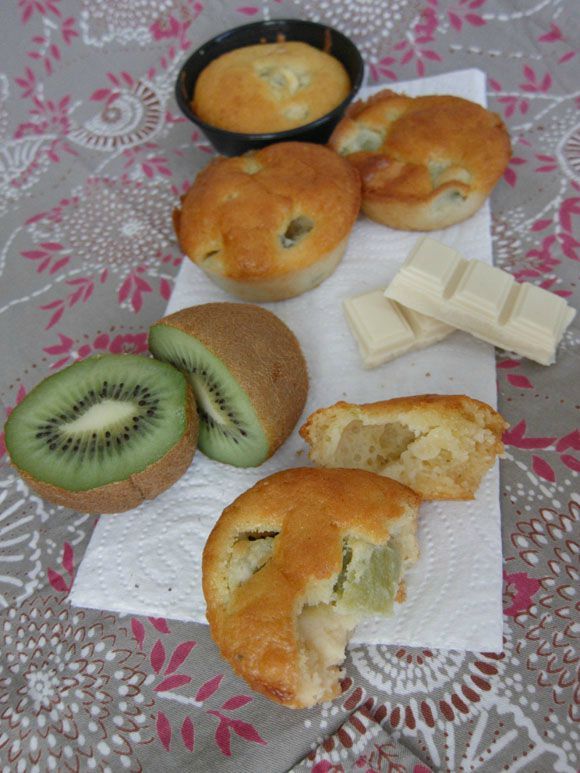 27 janvier 2012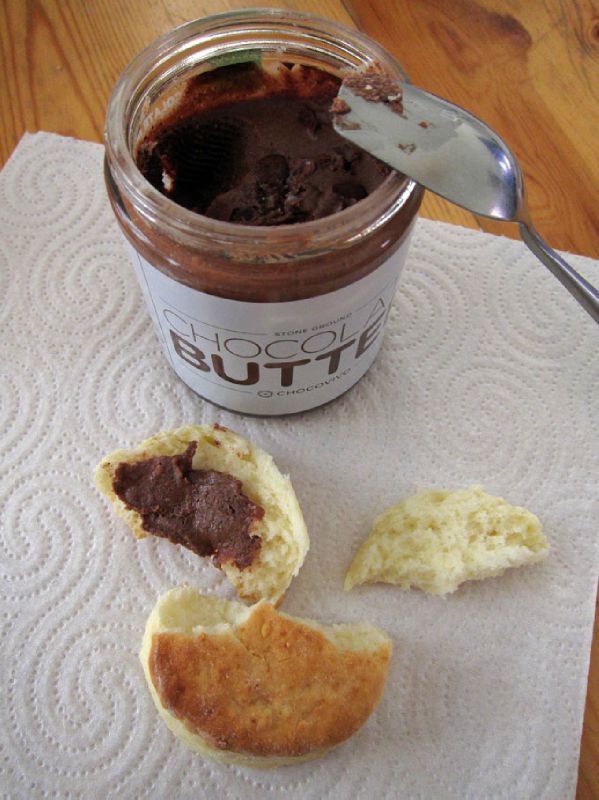 Audax Artifex was our January 2012 Daring Bakers' host.. Aud worked tirelessly to master light and fluffy scones (a/k/a biscuits) to help us create delicious and perfect batches in our own kitchens!
So I would like to start by thanking Audax for challenging us to bake something relatively simple in this post-holiday time of unkept resolutions. I didn't wait untill January to think to myself that I should be more serious about making the pastries every month. So today, I gladly present my little scones, I will call them biscuits (or maybe even bisquits) (as the anglophone part of me is from California), that were easy enough to make to let me worry about other resolution-type issues.
I only made one batch, and made it as simple as can be. But now I know how easy and fast it is to have them on my table, so the most important part is done (now I kinda wanna make what Americans call scones, otherwise known as rock cakes). I really had no idea about the denominations of these teatime delights, and was a little shocked at my ignorance, but am now aware what to look for in non American English language websites! Again, thank you Audax.
Audax Artifex était notre hôte des Daring Bakers pour le mois de Janvier 2012. Aud s'est donné à fond pour masteriser un scone (ou biscuit pour les américains) à la fois léger et moelleux pour nous aider à créer de parfaites et délicieuses fournées dans nos propres cuisines!
J'aimerais commencer en remerciant Audax de nous défier de préparer quelque chose de relativement simple en ces temps post-fêtes de résolutions non tenues. Je n'ai pas attendu le mois de janvier pour me dire que je devrais être plus sérieuse dans la réalisation de mes défis mensuels. Alors aujourd'hui, je présente fièrement mes petits scones que j'appellerai "bicuits" ou encore bisquits (ma moitié anglophone vient de Californie), qui étaient juste assez simples à réaliser pour me permettre de penser à d'autres types de résolutions.
Je n'ai fait qu'une fournée et l'ai faite aussi simple que possible. Maintenant que je sais à quel point c'est facile et rapide de les avoir sur ma table, le plus dur est fait (maintenant j'ai envie de faire ce que les Américains appellent des scones et que les autres anglophones appellent rock cakes). Je n'avais réellement aucune idée de ces histoires de dénomination et fus pour le moins choquée de mon ignorance, mais maintenant je sais quoi chercher dans des sites anglophones non américains! Encore merci, Audax.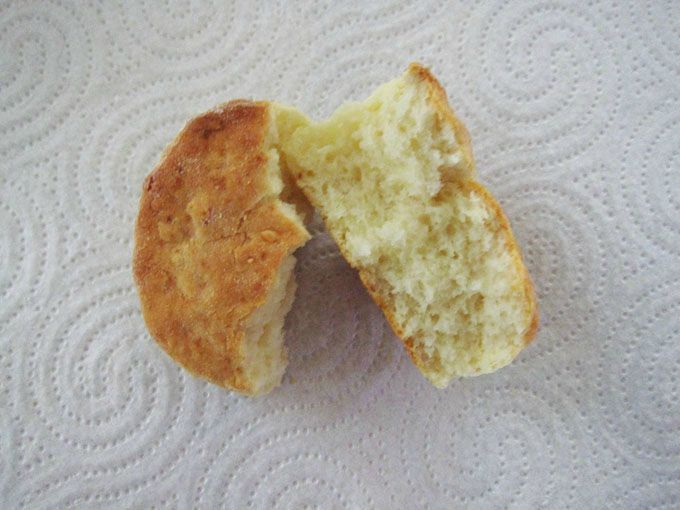 I made the recipe exactly as is, my new habit lately. I'm still quite the daring baker (in my dreams!!). Rather than focusing on nutritional balance, I try to focus on white balance and exposure. Have this simple treat with an exquisite chocolate/almond spread or home made or cottage industry jam.
J'ai réalisé la recette telle quelle, ma nouvelle habitude ces derniers temps. [je vais maintenant tenter de traduire des jeux de mots] Plutôt que de penser à la balance nutritionelle, je me dirige plutôt sur la balance des blancs et l'exposition. [Non, décidémént, en Français, c'est beucoup moins drôle] Mangez cette simple gourmandise avec un festin de chocolat et amandes à tartiner ou avec une confiture maison ou artisanale.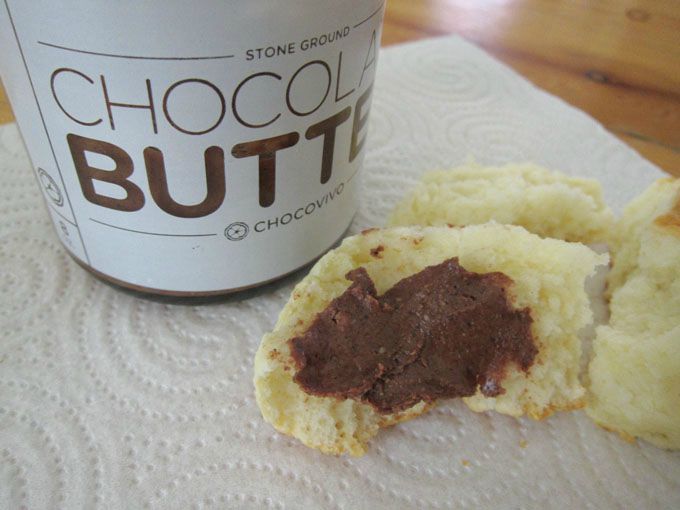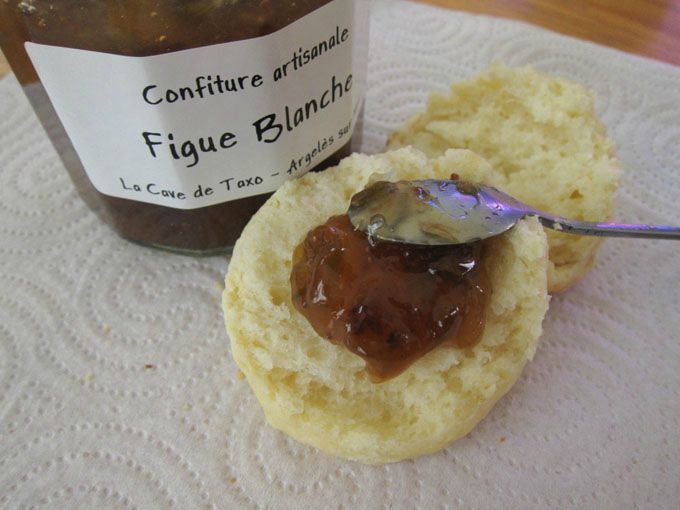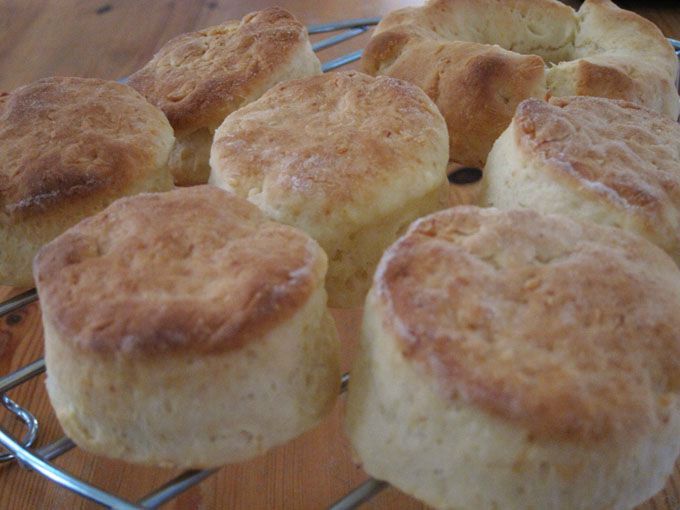 Basic Scones (a.k.a. Basic Biscuits) recipe:

Servings: about eight 2-inch (5 cm) scones or five 3-inch (71⁄2 cm) scones Can be doubled
Ingredients
1 cup (240 ml) (140 gm/5 oz) plain (all-purpose) flour
2 teaspoons (10 ml) (10 gm) (1/3 oz) fresh baking powder
1⁄4 teaspoon (11⁄4 ml) (11⁄2 gm) salt
2 tablespoons (30 gm/1 oz) cold grated butter (or a combination of lard and butter)
Approximately 1⁄2 cup (120 ml) cold milk (Optional 1 tablespoon milk, for glazing the tops of the scones)
Directions:
1. Preheat oven to very hot 475°F/240°C/gas mark 9.
2. Triple sift the dry ingredients into a large bowl. (If your room temperature is very hot
refrigerate the sifted ingredients until cold.)
3. Rub the frozen grated butter (or combination of fats) into the dry ingredients until it resembles
very coarse bread crumbs with some pea-sized pieces if you want flaky scones or until it
resembles coarse beach sand if you want tender scones.
4. Add nearly all of the liquid at once into the rubbed-in flour/fat mixture and mix until it just
forms a sticky dough (add the remaining liquid if needed). The wetter the dough the lighter
the scones (biscuits) will be!
5. Turn the dough out onto a lightly floured board, lightly flour the top of the dough. To achieve
an even homogeneous crumb to your scones knead very gently about 4 or 5 times (do not press too firmly) the dough until it is smooth. To achieve a layered effect in your scones knead very gently once (do not press too firmly) then fold and turn the kneaded dough about 3 or 4 times until the dough has formed a smooth texture. (Use a floured plastic scraper to help you knead and/or fold and turn the dough if you wish.)
6. Pat or roll out the dough into a 6 inch by 4 inch rectangle by about 3⁄4 inch thick (151⁄4 cm by 10 cm by 2 cm thick). Using a well-floured 2-inch (5 cm) scone cutter (biscuit cutter), stamp out without twisting six 2-inch (5 cm) rounds, gently reform the scraps into another 3⁄4 inch (2 cm) layer and cut two more scones (these two scones will not raise as well as the others since the extra handling will slightly toughen the dough). Or use a well-floured sharp knife to form squares or wedges as you desire.
7. Place the rounds just touching on a baking dish if you wish to have soft-sided scones or place the rounds spaced widely apart on the baking dish if you wish to have crisp-sided scones. Glaze the tops with milk if you want a golden colour on your scones or lightly flour if you want a more traditional look to your scones.
8. Bake in the preheated very hot oven for about 10 minutes (check at 8 minutes since home ovens at these high temperatures are very unreliable) until the scones are well risen and are lightly coloured on the tops. The scones are ready when the sides are set.
9. Immediately place onto cooling rack to stop the cooking process, serve while still warm.
Basic Scones (a.k.a. Basic Biscuits) recette:
Pour environ 8 scones de 5cm (2 pouces) ou 5 scones de 7 ou 8 cm (3 pouces)
Ingrédients
140 g de farine
2 cc de levure chimique (10 g, ≈ 1 sachet)
1/4 cc de sel fin
2 noisettes (30 g) de beurre froid (ou un mélange de beurre et de saindoux)
environ 120 ml de lait (+ 1 CS pour dorer le dessus, optionel)
Préparation
1. Préchauffer le four à 475°C (chaud chaud!!)
2. Passer la farine, la levure et le sel trois fois au tamis (pour aerer et pour bien mélanger)
3. Malaxer le beurre du bout des doigts dans le mélange d'ingrédients secs jusqu'à obtention d'une consistance de chapelure épaisse si vous voulez des scones friables ou de sable épais si vous voulez des scones moelleux.
4. Ajouter presque tout le lait d'une traite et mélanger jusqu'à obtention d'une pâte collante (rajouter du lait si besoin). Plus la pâte sera humide, plus les scones seront légers.
5. Abaissez la pâte sur une surface légèrement farinée. Farinez aussi légèrement le dessus du pâton. Pétrir rapidement sans trop appuyer puis plier la pâte et pétrir trois ou quatre fois jusqu'à ce que la pâte soit lisse.
6. Étaler la pâte avec les doigts pour obtenir un rectangle d'environ 15x10 cm sur 2cm d'épaisseur. Fariner un emporte-pièce de 5cm de diamètre et découper environ six ronds. Remanier les déchets de découpe pour faire les deux ronds restants (ces deux scones ne seront pas aussi légers et moelleux).
7. Placez les ronds près les uns des autres et qui se touchent pour avoir des côtés moelleux, ou plus espacés pour avoir des côtés croustillants.
8. Enfourner environ dix minutes, en vérifiant la cuisson au bout de huit minutes, on ne sait jamais. Ils doivent avoir bien levé et le dessus doit être légèrement coloré.
9. Les mettre à refroidir sur une grille, servir encore chaud.
27 octobre 2011
The Daring Baker's October 2011 challenge was Povitica, hosted by Jenni of The Gingered Whisk. Povitica is a traditional Eastern European Dessert Bread that is as lovely to look at as it is to eat!
Le défi du mois d'octobre des Daring Bakers était le povitica, accueilli par Jenni, de The Gingered Whisk. Le Povitica est un pain sucré traditionnel d'Europe de l'est qui est aussi agréable à regarder qu'à manger!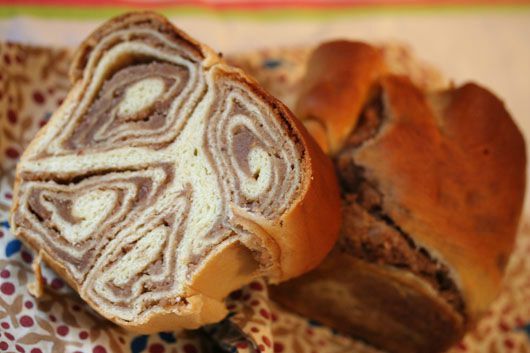 Not that I want to excuse myself for the long absence here, I have to mention this, since, part of the obligations of being a Daring Baker is to talk about the experience of making the challenge dessert. I was lucky enough to go on an amazing trip in August after which I had a lot of trouble getting back into my little routine. Even cooking, that I love, became a chore. Not to mention posting recipes... I witnessed a few months of Daring Bakers, drooled over them, but did'nt manage to motivate myself. In October, I even feared being kicked out of the community. That's me, never finishing things that I start. Or I fix a limit to reach, and when I do reach it, I'm too exausted to go beyond. At least, I've completed a whole year and wish to continue.
Sans vouloir m'excuser de mon absence prolongée, je me dois d'aborder ce sujet puisqu'une partie du devoir de membre de la Daring Kitchen est de parler des sentiments et des expériences relatifs à la fabrication du défi du mois. J'ai eu la chance de faire un super voyage au mois d'aout après lequel j'ai eu un mal fou à me remettre à ma petite routine. Même cuisiner, mon plus grand plaisir, est devenu une corvée. Alors poster des recettes, vous imaginez... J'ai vu défiler plusieurs mois de Daring Bakers, j'en ai eu l'eau à la bouche, mais dur dur de se motiver. Au mois d'octobre, j'ai même eu peur d'être radiée de la communauté. Oui, je suis à cheval sur les principes, moi. On n'a le droit de manquer que deux défis dans l'année. Si on y regarde bien, c'est exactement au bout d'un an de blog que je me suis arrêtée. C'est bien moi, ça. À ne jamais terminer les choses que j'entame. Ou alors je me fixe une limite, et quand je l'atteint, je suis essoufflée et ne vais pas plus loin. Au moins, j'ai fait une année complète, et je ne compte pas m'arrêter là!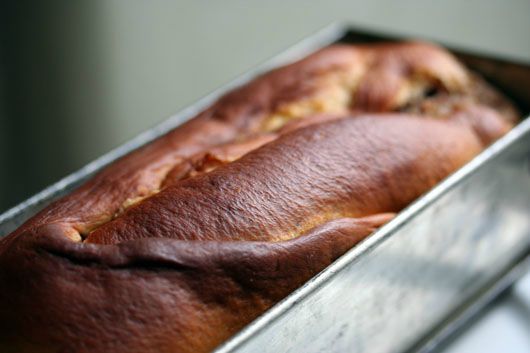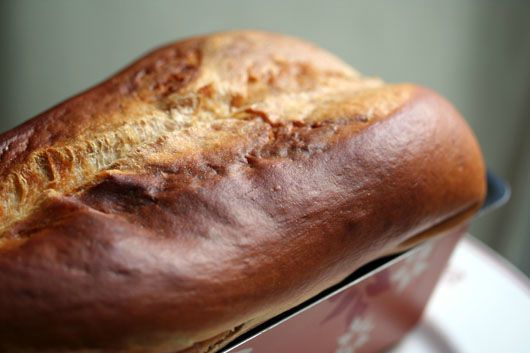 I did'nt know povitica. It's a Croatian chrismas cake, allthough it's origins are debateble. Since I never tasted it, I could'nt say if mine was authentic. What I can say though, is that is was quite good! But above all, it reminded me of the cinnamon bread my grand-mother would buy at Nate'n'Al deli in Los Angeles for breakfast, that and bagels, of course! It would'nt be so surprising that jewish eastern European recipes ressemble their christian cousins.
Je ne connaissais pas le povitica. D'ailleurs, peu de sites en français en parlent. C'est un gâteau de noël d'origine croate, quoique l'origine se discute. Ne l'ayant jamais goûté, je ne saurai dire si ma préparation est authentique. Ce que je peux affirmer, c'est qu'il est drôlement bon! Surtout, il m'a rappelé le cinnamon bread que ma grand-mère achetait au deli Nate'n'Al à Los Angeles pour notre petit déjeuner, ça et les bagels, bien sûr! Il ne serait pas étonnant que les recettes juives d'Europe de l'est ressemblent à leurs cousines chrétiennes.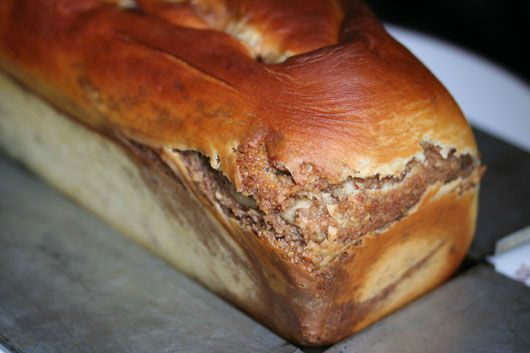 This recipe is both tedious, and not that complicated. It took me more time to make it than I expected, but with a little practice and method, it should be done in a short afternoon.
Cette recette est à la fois fastidieuse et pas si compliquée que ça. Il m'en a mit plus de temps à la faire que ce que j'avais prévu, mais avec de l'entrainement, de la méthode et la force du poignet, on doit pouvoir l'exécuter en une petite après-midi.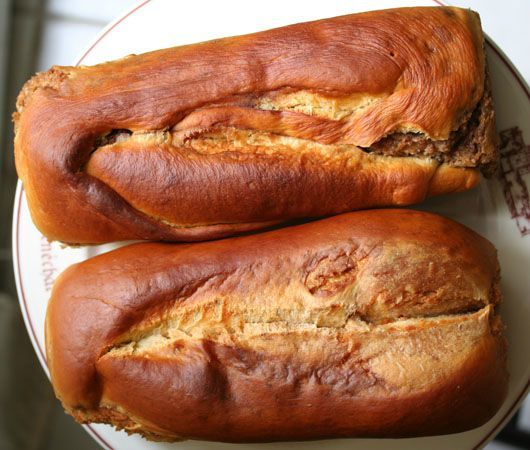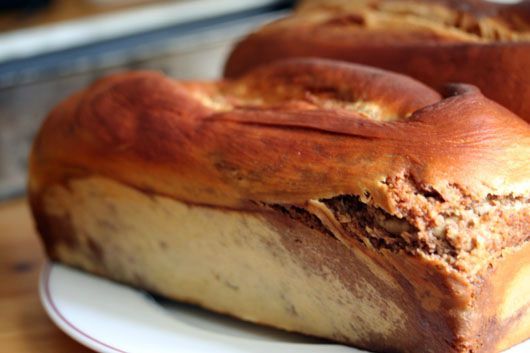 What is true for the Daring Kitchen is also true for most recipes. I would rather follow it as it is in order to fully comprehend it, so as to change it int he future. I was'nt about to lay astray and innovate, but not having enough walnuts for both breads, I had to. Of course, replacing walnuts with almonds is'nt exatcly the definition of creativity... And, with coffee, cinnamon, cocoa and vanilla, it's hard to tell the difference. The difference was in the consistency. Let me explain. In the first bread I put a paste made of 80% fresh walnuts that I ground and 20% whole almond, also ground. The other paste was made of 80% almond powder (store bought packet) and 20% whole almonds that I ground. I did'nt realise how many walnuts were needed for this cake! I had to raid my cupboard! In the end, the industrial almond powder makes a much smoother paste, the other one being dryer.
Ce qui est vrai pour les défis de la Daring Kitchen est aussi vrai pour la plupart des recettes. Je préfère les suivre à la lettre pour bien les comprendre, quitte à les modifier dans le futur. Je n'avais donc pas dans l'idée de sortir de mon sentier battu pour innover, mais n'ayant pas assez de noix pour mes deux pains, j'y fus obligée. Vous me direz, remplacer les noix par des amandes, ce n'est pas la définition même de la créativité... D'ailleurs, avec le café, la cannelle, le cacao, la vanille, on ne fait guère plus la différence. La différence s'est faite au niveau de la consistance. Je m'explique. Le premier pain contient une pâte faite de 80% de noix en coque que j'ai concassées et de 20% d'amandes entières, également concassées. La pâte de l'autre est faite de 80% d'amandes en poudre (sachet) et de 20% d'amandes entières que j'ai concassées. Je ne m'étais pas rendue compte de la quantité astronomique de noix nécessaires à la confection de ce gâteau!! J'ai du dévaliser mon placard! En résultat, la poudre d'amande industrielle rend une pâte beaucoup plus onctueuse, l'autre étant plus sèche.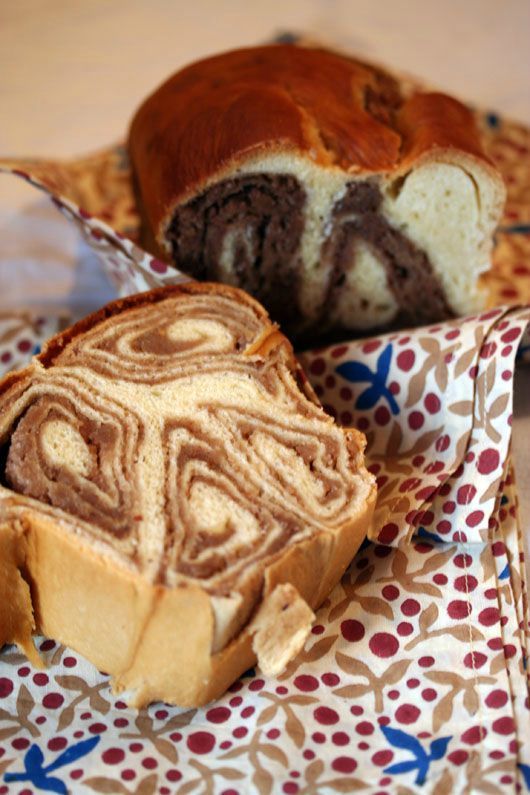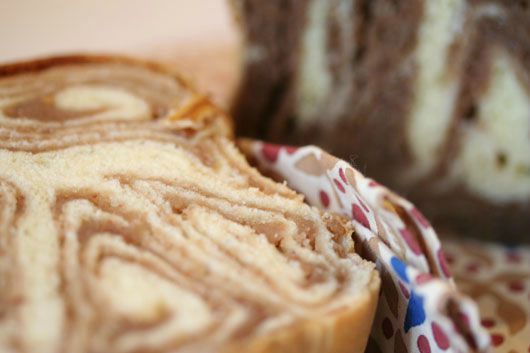 Ingredients for 2 loafs (over 2 pound each!):
To activate the yeast:
1 teaspoon sugar
1/2 teaspoon all purpose flour
1/4 cup (60 ml) warm water
1 tablespoon (7 G) dry yeast
For the dough:
1 cup (240 ml) milk
6 tablespoons (85 g) sugar
1?5 teaspoons salt
2 large eggs
1/4 cup (60 g) butter, melted
4 cups (560 g) all purpose flour
For the filling:
3,5 cups (560 g) ground english walnuts
1/2 cup (120 ml) milk
1/2 cup (115 g) butter
1 egg, beaten
1/2 teaspoon vanilla extract
1 cup (225 g) sugar
1/2 teaspoon cocoa powder
1/2 teaspoon cinnamon
For the topping:
1/4 cup (60 ml) cold strong coffee
1 tablespoon (14 g) sugar
melted butter
Directions:
To activate the yeast:
In a small bowl, stir sugar, flour and yeast into warm water and cover with plastic wrap. Allow to stand five minutes.
To make the dough:
In a medium saucepan, heat the milk up to just before boiling. Allow to cool to about 110°F/43°C.
In a large bowl, mix milk, sugar and salt until combined.
Add the beaten eggs, yeast mixture, melted butter and about 1/4 of the flour.
Blend thoroughly and slowly add remainig flour, mixing well until dough starts to clean the bowl. You may not use all the flour.
Turn dough onto floured surface and knead, gradually adding flour if needed, until smooth and does not stick. Be carefull not to add too much flour, as you knead, it will smooth out and get less sticky.
Divide the dough into two equal pieces. Place in two lightly oiled bowls, cover loosely with plastic wrap and a kitchen towel. Let rise an hour and a half or until doubled in size.
To make the filling:
In a large bowl mix together the ground walnuts, sugar, cinnamon and cocoa.
Heat the butter and milk too boiling.
Pour the liquid over the nut mixture.
Add vanilla and eggs and mix thoroughly.
Allow to stand at room temperature.
If mixture thickens, add some warm milk.
To roll the dough:
Spread a clean sheet over dining table. Sprinkle lightly with flour.
Place the dough on the sheet and rool the dough out with a rolling pin, starting in the middle and working your way out, until it measures roughly 10x12 inches (25x30 cm).
Spoon a bit of melted butter on top.
Stretch out the with your hands from the center until it is very thin. Pick up the dough from the table once in a while to make sure it does'nt stick and to stretch even more.
It should be so thin that you see the print or pattern on the cloth.
To assemble loafs:
Spoon filling evenly over dough, leaving about a half inch on the borders.
Lift the edge of the cloth and roll the dough like a jelly roll.
Gently lift the rope, and place it into a greased pan in the shape of a U, the ends in the pan. Fold it again in two, in order to have two rows of two swirls.
Repeat rolling and assembling with the other loaf.
Brush the top of each loaf with the coffee mixture (coffe + sugar).
Cover lightly with plastic wrap and allow to rest about 15 minutes.
Preheat oven to 350°F/180°C. Remove plastic wrap and place breads in heated oven about 15 minutes.
Turn down oven to 300°F/150°C and bake for an additional 45 minutes, or until done. If loaves get too brown, you may cover them with aluminum foil.
Remove bread from oven and brush with melted butter. Allow to cool on a wire rack for a half-hour.
It is best to wait until the next day to slice and enjoy, that is, if you have the patience!!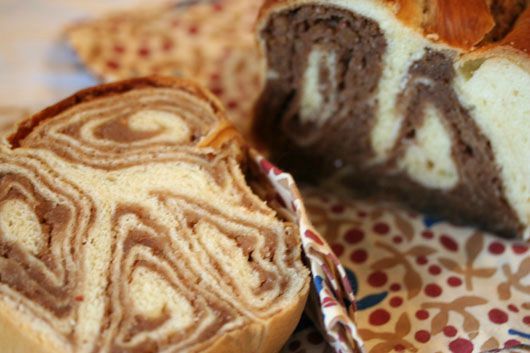 Ingrédients pour 2 pains (de plus d'un kilo chacun!):
pour activer la levure:
1 cc de sucre
1/2 cc de farine
60 ml d'eau chaude
1 CS de levure de boulanger
pour la pâte:
240 ml de lait
6 CS (85 g) de cassonade
1,5 cc de sel
2 gros œufs
60 g de beurre, fondu
560 g de farine
pour la farce:
560 g de noix entières, concassées
120 ml de lait
115 g de beurre
1 œuf, battu
1/2 cc d'extrait de vanille
225 g de sucre
1/2 cc de cacao en poudre
1/2 cc de cannelle en poudre
pour dorer les pains:
60 ml de café fort, froid
1 CS de sucre
du beurre fondu
Méthode de fabrication:
Pour activer la levure:
Dans bol, mélanger le sucre, la farine et la levure dans l'eau chaude et couvrir de film plastique. Laisser reposer 5 minutes.
Pour faire la pâte:
Dans une casserole, chauffer le lait sans le faire bouillir, le laisser refroidir à 43°C.
Dans un bol, mélanger le lait, le sucre et le sel jusqu'à dissolution. Ajouter les œufs battus, la levure, le beurre fondu et un quart de la farine. Bien mélanger puis ajouter le reste de la farine petit à petit, jusqu'à ce que la pâte commence à se détacher du bol. Peut-être n'utilliserez-vous pas toute la farine.
Mettre la pâte sur un plan de travail et pétrir, en ajoutant éventuellement de la farine, jusqu'à ce la pâte soit lisse et ne colle pas. Attention à ne pas ajouter trop de farine, même si la pâte colle encore un peu, elle se lissera à force de pétrir.
Diviser la pâte en deux, mettre les deux boules dans deux bols légèrement huilés, couvrir grossièrement de film plastique et d'un torchon par dessus. Laisser lever une heure et demie, ou jusqu'à ce que la pâte ait doublé de volume.
Pour faire la farce:
Dans un grand bol, mélanger les noix, le sucre, la cannelle et le cacao.
Faire bouillir ensemble le lait et le beurre, verser le liquide sur le mélange aux noix. Ajouter les œufs et la vanille et bien mélanger.
Réserver à température ambiante. Si l'appareil s'épaissit, ajouter du lait chaud.
pour rouler la pâte:
Mettre une grande pièce de tissus sur un grand plan de travail (table à manger). Fariner légèrement.
Placer la première boule de pâte et l'étaler avec un rouleau, en commençant par le milieu et en travaillant vers l'extérieur, jusqu'à ce qu'elle mesure environ 25x30 cm.
Mettre un peu de beurre fondu et continuer d'étaler la pâte avec les mains. Soulever la pâte de temps en temps pour vérifier qu'elle ne colle pas et pour l'étaler encore un peu, comme on pourrait le faire avec une pâte à pizza.
La pâte doit être très fine, on doit pouvoir voir les motifs du tissus au travers.
Pour assembler les gâteaux:
Étaler la crème aux noix sur la pâte en laissant un petit centimètre à l'extérieur.
Rouler la pâte à l'aide du tissus, ça se fait tout seul, mais veiller quand-même à bien serrer, pour éviter les bulles d'air.
Plier la corde obtenue en deux, mettre les bouts dans un moule beurré, puis replier en deux de manière à former deux étages de deux rouleaux.
Répéter le roulage de la pâte et l'assemblage pour l'autre boule de pâte et le reste de la crème aux noix. Mettre dans un deuxième moule.
À l'aide d'un pinceau, enduire les pains de la mixture de café ( café fort + sucre)
Couvrir les deux pains de film plastique et laisser reposer un bon quart d'heure.
Chauffer le four à 180°C. Enlever le plastique et enfourner les deux gâteaux 15 minutes.
Baisser le four à 150°C et cuire encore 45 minutes, ou jusqu'à ce que la lame d'un couteau en sorte propre. (couvrir d'aluminium si les pains ont l'air de brûler)
Sortir les pains du four, les enduire de beurre fondu avec un pinceau. Les laisser refroidir une petite demi-heure avant de les démouler. Le mieux est d'attendre le lendemain pour les couper, mais pour ça, il faut de la patience. C'est pour ça qu'il vaut mieux prévoir de les faire l'après-midi que le matin, l'attente parait moins longue et les rêves plus sucrés!!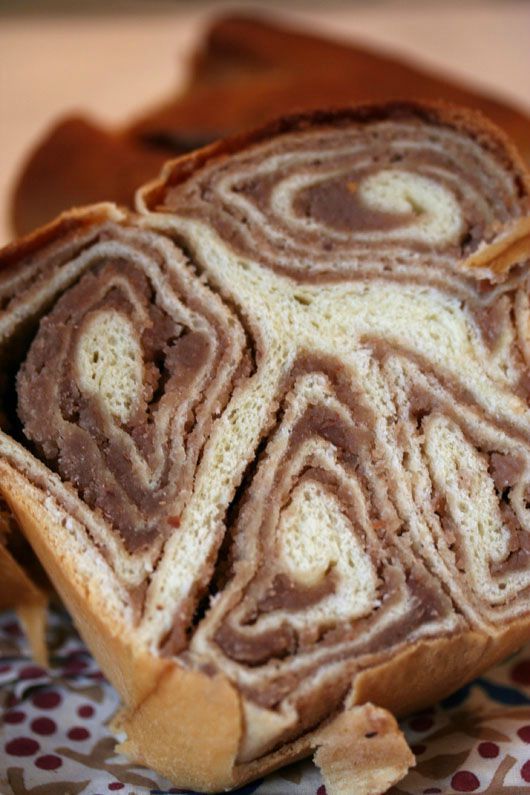 27 juillet 2011
Jana of Cherry Tea Cakes was our July Daring Bakers' host and she challenges us to make Fresh Fraisiers inspired by recipes written by Elisabeth M. Prueitt and Chad Robertson in the beautiful cookbook Tartine.
Jana de Cherry Tea Cakes était notre hôte du mois de juillet pour les Daring Bakers et nous a défié de faire des fraisiers inspirés de recettes de Elisabeth M. Prueitt and Chad Robertson dans leur superbe livre Tartine.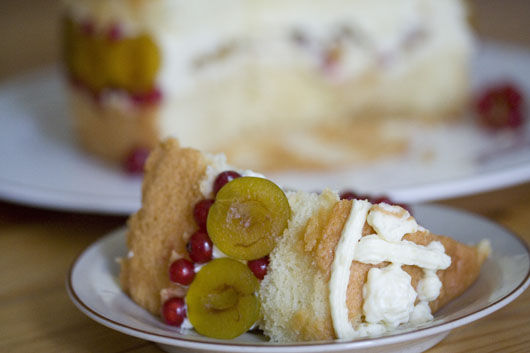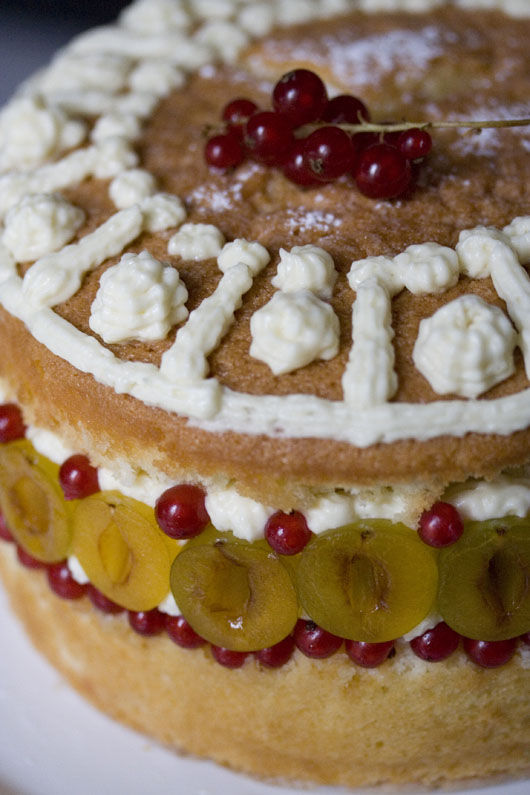 Okay, so I'm not a big fan of fraisier... It seems most months I wait impatiently to find out what the challenge will be, and most months, I think, hmph, m'kay at least it will be a good challenge... But then... note that I've never been a sweet tooth. The only thing I like in a fraisier are the strawberries. It's a good thing my boyfriend is here to harrass me: "Are you gonna make the fraisier yet, are you gonna make the fraisier yet, are you gonna make the fraisier yet?". He acted the same for baklava. And also said once "WHAT? there was a chocolate marquise and not only did you skip it, but you did'nt even tell me?"
What you don't know is that, every year, my dear lover one gets to eat a fraisier for his birthday. He has many favorite desserts, but strawberries are usually at their peak right about the time of his birthday. The season is long gone over here, allthough you can still find them. Apricots and peaches came early this year, and are not nearly as good as they were last year, but they're still good, we wait for them all year, after all, that and warm weather!
Soooo, knowing that a fraisier will be super sweet, no matter the recipe, I opted for red currants. I also put in mirabelle plums (cherry plums), which was actually a waste. They tasted so good on their own, and then were barely noticable in the finished cake. As always, since I made it m'self, I'm still pretty darn proud of m'self, and enjoyed my lovely dessert! Just as I figured, my dear one, like many a food blogger's other half, I'm sure, reacted: "WHAT? you're not using strawberries".
Bon, ben voilà, je ne suis pas la plus grande fan de fraisiers... Il semble que presque tous les mois j'attends impatiemment de découvrir le nouveau défi et presque chaque mois je me dis hmph, mouais, au moins ce sera un bon défi. Encore une fois, je n'ai jamais été très gourmande de sucré. La seule chose que j'aime dans le fraisier, ce sont les fraises. Heureusement que mon amoureux est là pour me rabacher chaque jour: "alors, tu le fais aujourd'hui, le fraisier, alors, tu le fais aujourd'hui, le fraisier, alors, tu le fais aujourd'hui, le fraisier?". Même histoire pour les baklavas. J'ai aussi eu droit à "QUOI? Il y avait une marquise au chocolat et non seulement tu ne l'as pas faite, mais en plus tu ne m'en as même pas parlé?"
Ce que vous ne savez pas, c'est que l'amoureux en question mange un fraisier tous les ans pour son anniversaire. Il a beaucoup de desserts préférés, mais les fraises sont à leur pic juste au moment de son anniversaire. La saison est largement passée par ici, toutefois on en trouve encore. Les abricots et les pêches étaient en avance cette année et ne sont pas aussi bons que l'an dernier. Mais ils sont bons quand-même, après tout, on les attend toute l'année, comme le beau temps!
Doooonc, sachant qu'un fraisier sera toujours super sucré, quelle que soit la recette, j'ai choisi des groseilles. J'ai aussi mis des mirabelles, ce qui s'est avéré être du gâchi. Elles étaient tellement bonnes nature alors qu'on les goutait à peine dans le dessert final. Comme toujours, comme c'est moi l'ai fait (na), je reste fière de moi et ai apprécié mon joli dessert. Et peut-être comme beaucoup d'autres blogueuses (-rs), mon autre moitié de dire: "QUOI?, tu ne le fais pas aux fraises".
The story in pictures:
L'histoire en roman photo: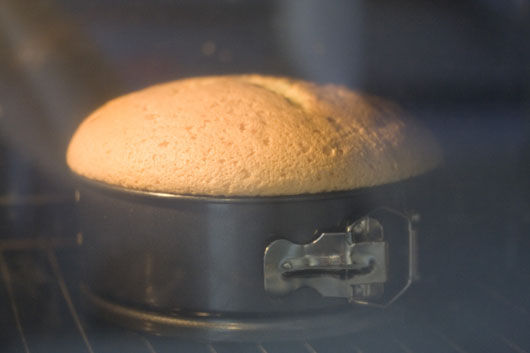 Are you sure we are not making soufflé?
Vous êtes sûres qu'on ne fait pas un soufflé?

simple syrup, bitter almond flavored
sirop de sucre à l'extrait d'amande amère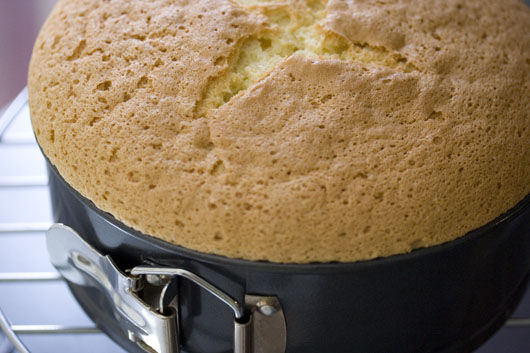 lookin' pretty good
ça s'annonce pas mal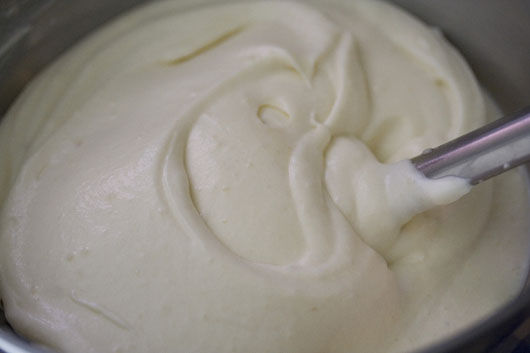 I really almost took a nap on this fluffy pillow!
J'ai vraiment voulu poser ma tête sur ce duvet pour faire une sièste!

Far from the required 2 lbs of fruit, how did that happen?
Loin du kilo de fruit qu'exigeait la recette, je ne sais pas comment c'est arrivé!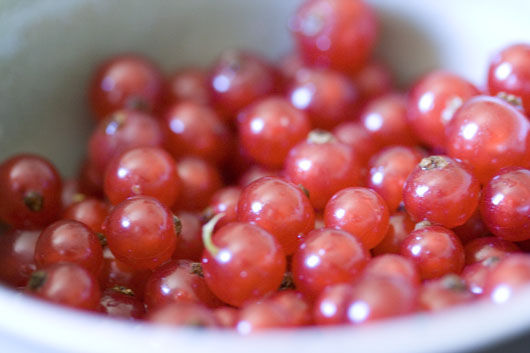 Hmghr, red currannnnnnnnnnts!... !... !...
Hmghr, groseeeeeeeeilles!... !... !...

mirabelle plums
mirabelles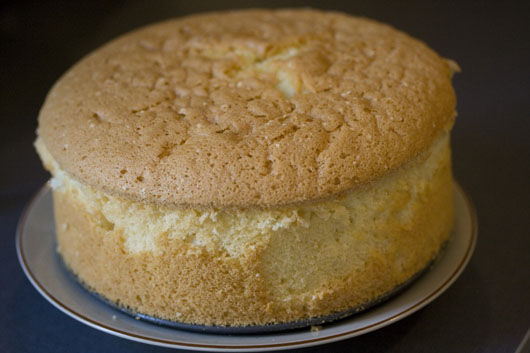 so that's a chiffon cake
alors c'est ça un gâteau mousseline

Oh my goodness, I don't think I'll be able to have a full layer of only cream!
Oups, je ne crois pas qu'il y aura la bande de crème, typique du fraisier!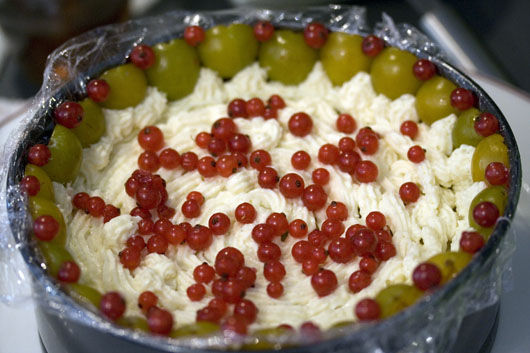 Fill it up and have some fun
Et on rempli, et on s'amuse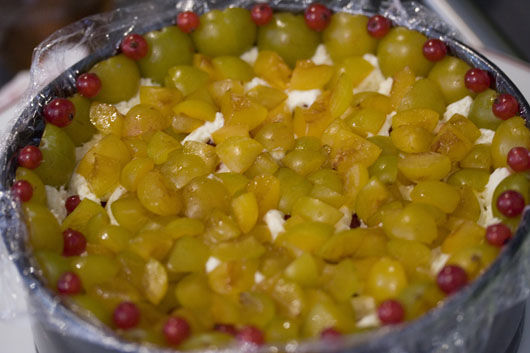 getting there
ça s'rapproche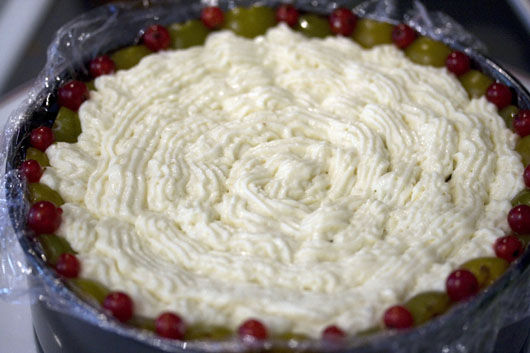 the last layer of cream...
une dernière couche de crème...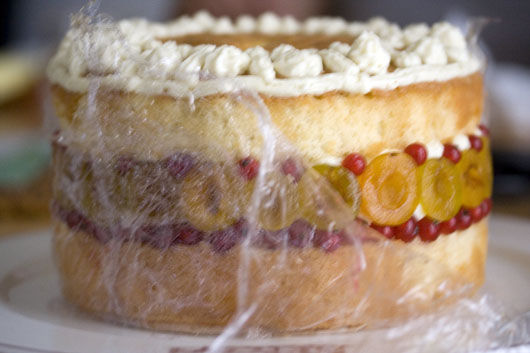 Oooooh.......
Ouuuuh.......

Aaaaaaaaaaah
Aaaaaaaaaaah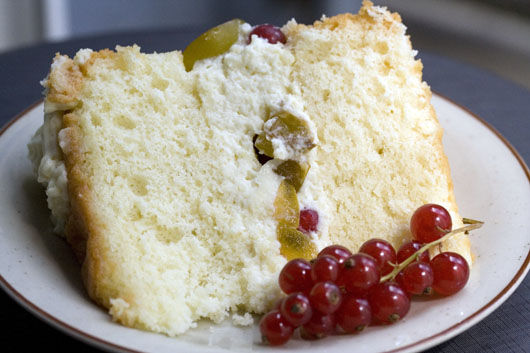 A few different views of the cake...
Différentes vues du gâteau...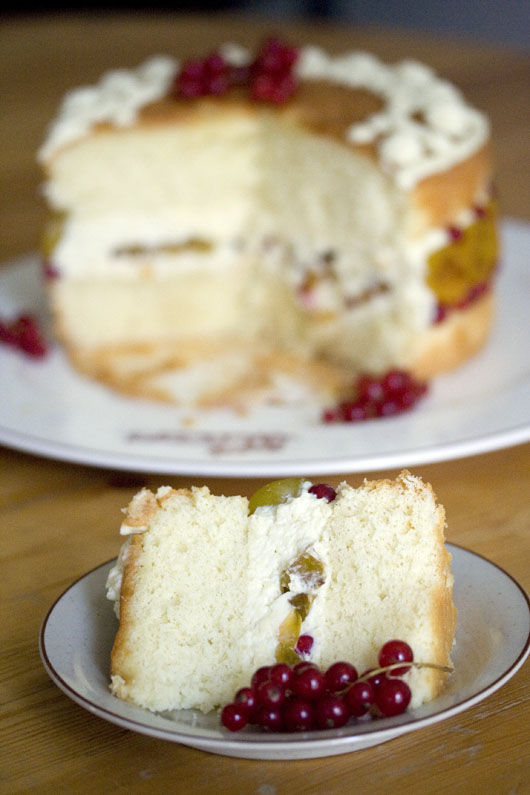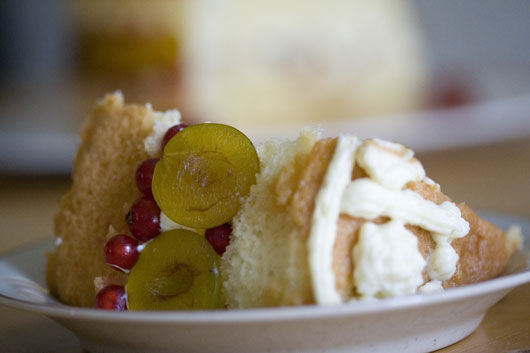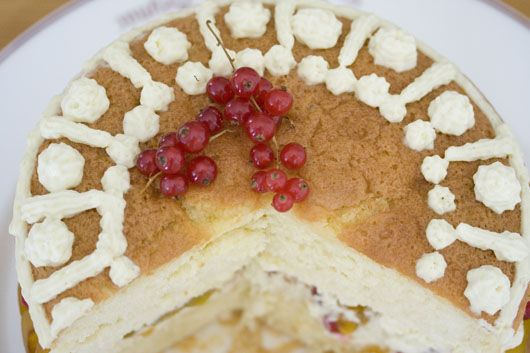 In the end, I'm really happy, but there really were'nt enough fruits, the required 2 lbs must be good, and the quantity of chiffon cake batter is too important. I would reduce it by 2/3, but the problem lies in reducing number of eggs. Or increase cream and fruits, but this recipe can already serve quite a number of people as is.
Finalement, je suis très heureuse, mais il n'y avait pas assez de fruits, le kilo de fruit que demandait la recette me parait bien, et la quantité de pâte pour le gâteau mousseline est trop importante, je la réduirait des deux tiers ce qui pose le problème de réduire les œufs. Sinon, augmenter la crème et les fruits, sauf que c'est déjà un gâteau qui nourrit bien sa tablée.
Here is the link to the original recipe
Voici le lien vers la recette originelle
27 juin 2011
Erica of Erica's Edibles was our host for the Daring Baker's June challenge. Erica challenged us to be truly DARING by making homemade phyllo dough and then to use that homemade dough to make Baklava.
As if making philo dough were'nt hard enough, now comes the difficult task of immortalising baklava in a photograph or two, writing all about this adventure, and then translating it into French. Oy.
My dear boyfriend grew up on north african pastries, he would eat them everyday day if he could. He was such a happy camper when I showed him this month's challenge! As for me, I never was much of a sweet tooth, but along with a cup of (sweetened with honey) green tea with mint, north african pastries are heavenly. I always imagine baklava as the king in this kingdom, but a macho one, heavy, dry, massive and overwhelming. As my boyfriend pointed out, most baklava you buy in pastry shops are dry and crumble apart as soon as you touch them, as they are probably made of frozen phyllo. He came home from a laborous day of work only to find me stressed out because I thought I would have time to finish my baklava AND prepare dinner and still find time to hang out with him. So far from it, I had to postpone the second baking of the dish untill the next day (and wait for another syrup-absorbing twenty-four hours before savoring, ugh...!).
I made twice the amount of dough, following Erica's advice. When I realized how much of it I cut off, thus making a lot of waste, the inside of my knuckles started hurting even more. I must be the only Daring Baker who does not own a proper rolling pin. Wine bottles usually work fine for me when I bake pies. This time around, I figured it would be wiser to use my minuscule rolling pin, normally used for ravioli, that I bought one day just because it was sooo cuuute! The advantage of it is that it is very thin, probably like the ones used for phyllo dough. The downside, it's length is of about 20 cm, or 8 inches, including handles!!! That being said, I managed to pick up a nice pace by the time I was about halfway through. And now that I've eaten a good portion of my very own baklava, I can proudly say that my phyllo sheets were pretty darn thin! Still, if I'm ever to make phyllo dough again, I will first go out of my way to find one of those beautifull long rolling pins, and then try to figure out where to store it...
Now, as for the design of the baklava, I was somehow inspired by this walnut baklava from the blog Cuisine à 4 mains. Not quite the same, you will say... Besides my lack of skills (and equipment), the other difference lies in the fact that I wanted to make cheesy, kitsch baklava. Why? Good question, dunno... So I picked up my bento food cutters and magically made music and love out of leftover phyllo. To go all the way, I made green mint tea that I served in my vintage Candy Anime mustard cup! The next day I made iced tea following a new technique, so gooooooood and refreshing! I will write a post on that only, since I made two other batches, I hope they live up to my expectations!
The whole baklava making process has been a series of approximations and mistakes (for example, I forgot to put the vinegar in the dough). Never have I had to censure my post so much, getting rid of all the "me, me, me" and "I'm so frustrated" and "my pix are horrible" Never has one of my Daring Bakers' posts been so much about me and my frustration, and because of all this, I will not share the exact recipe I used (yay, that's one less thing to write and translate!!).
Here is the link to the original recipe.
Erica de Erica's Edibles nous a accueillis pour le défi des Daring Bakers du mois de juin. Elle a décidé d'oser et de nous faire faire de la pâte phyllo et de l'utilliser pour faire des baklava.
Comme si faire de la pâte phyllo n'était pas déjà assez dur, il faut maintenant immortaliser l'affaire en une ou deux photos, raconter cette aventure et la traduire en Français!
Mon chéri a mangé des patisseries orientales toute son enfance, il pourrait en manger tous les jours. Il était comme un gosse quand je lui ai montré le défi de ce mois-ci! Moi, en revanche, je n'ai jamais trop été un bec sucré, mais avec un bon thé à la menthe (sucré au miel!), les patisseries orientales, c'est quand-même du tonnerre! Je pense toujours au baklava comme étant le chef de ce royaume, un peu macho sur les bords, lourd, sec, dense et intimidant. Comme me l'a fait remarqué mon chéri, beaucoup de baklava que l'on achète en pâtisserie sont secs et se désagrègent dès qu'on les touche, ils sont probablement faits de pâte phyllo surgelée! Il est rentré d'une dure journée de labeur, me trouvant en train de m'arracher les cheveux. J'ai bien cru pourtant que j'aurais le temps de finir mes baklava, préparer à dîner, et quand-même trouver le temps de lézarder avec lui. Loin du compte, j'ai repoussé la deuxième enfournée du plat au lendemain (et attendu encore vingt-quatre heures d'absorbtion de sirop avant de déguster...!).
J'ai suivi le conseil d'Erica et ai doublé la recette de la pâte. Quand j'ai réalisé la quantité de pâte en trop après l'avoir taillée, l'intérieur de mes mains m'a fait d'autant plus mal! Je dois être la seule Daring Baker à ne pas posséder de rouleau à pâtisserie convenable. Je me contente très bien de bouteilles de vin quand je fais des tartes. Cette fois-ci, j'ai utillisé mon minuscule rouleau à ravioli, celui que j'avais acheté parce qu'il était trop choupiii. Il a l'avantage d'être très fin, probablement comme les rouleaux à pâte phyllo. Mais il a l'inconvénient de ne mesurer qu'une vingtaine de centimètres, ou 8 pouces de long, poignées comprises!!! Ceci dit, mon rythme s'est soutenu au bout de quelques feuilles. Et maintenant que j'ai pu goûter à mes propres baklava, je peux dire que mes feuilles de phyllo étaient sacrément fines, quand-même! Mais si un jour l'envie me prend de refaire de la pâte phyllo, je chercherais d'abord à me dégoter un de ces magnifiques rouleaux... et à trouver un endroit où le ranger!
Pour le design du baklava, j'ai été en quelques sortes inspirée par le blog Cuisine à 4 mains et ses baklava aux noix. Pas tout à fait la même chose, me direz-vous. En plus de mes lacunes techniques (et du manque d'équipement), l'autre différence réside dans le fait que j'ai voulu que mes baklava soient du plus kitsch. Je ne saurais dire pourquoi. À l'aide donc de mes emporte-pièces à bento, j'ai transformé mes restes de pâte en amour et en musique. Pour y aller vraiment gaiement, j'ai fait du thé vert à la menthe que j'ai servi dans un authentique verre à moutarde Candy!!! Le lendemain, j'ai préparé du thé glacé suivant une nouvelle technique, c'était trop bon et j'en ai refait. J'y consacrerai un billet.
L'aventure des baklava a été une série d'approximations et d'erreurs (comme l'oubli du vinaigre dans la pâte). Je ne me suis jamais autant censurée, me débarrassant des "moi moi moi" et des "j'en ai marre" et des "mes photos sont atroces". Jamais un de mes billets pour les Daring Bakers aura traité autant de moi et de ma frustration. C'est pour cela que je ne partagerai pas la recette telle que je l'ai faite (ouais! un truc en moins à traduire!). Voici donc la recette originale.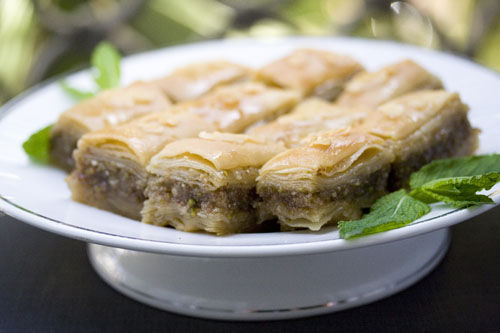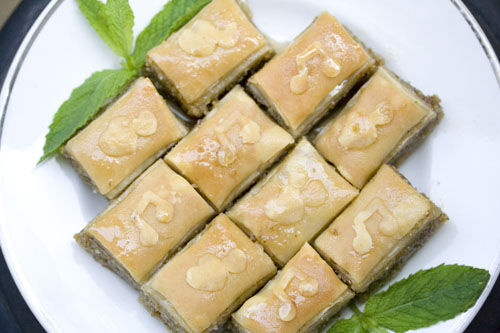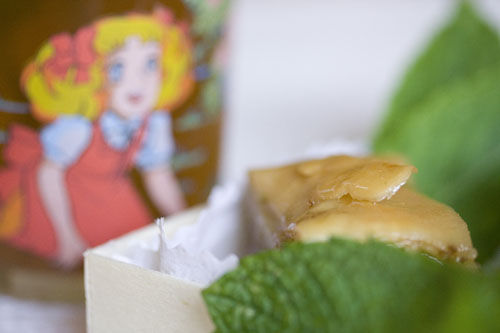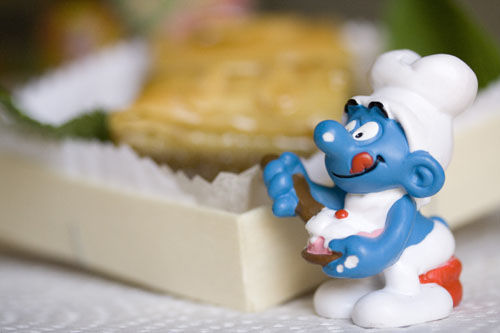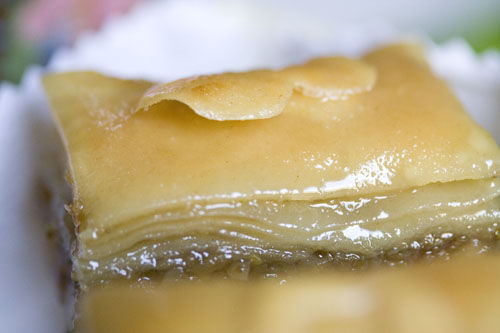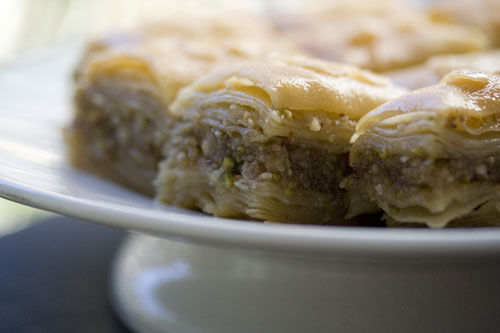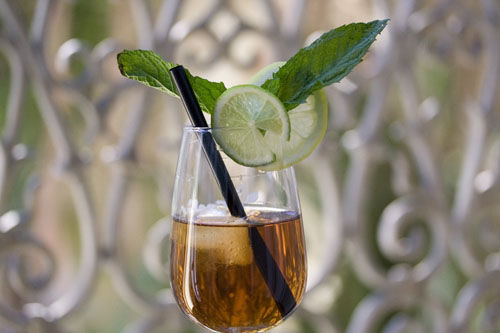 Okay, so the pictures are'nt so bad, but they are very far from what I had in mind, I have high expectations for my DB challenges.
27 avril 2011
The April 2011 Daring Bakers' challenge was hosted by Evelyne of the blog Cheap Ethnic Eatz. Evelyne chose to challenge everyone to make a maple mousse in an edible container. Prizes are being awarded to the most creative edible container and filling, so vote on your favorite from April 27th to May 27th at http://thedaringkitchen.com!
Le défi du mois d'avril 2011 des Daring Bakers est présenté par Evelyne du blog Cheap Ethnic Eatz. Elle invite tout le monde à faire une mousse au sirop d'érable dans un contenant comestible. Des prix seront attribués aux contenants les plus créatifs, donc votez du 27 avril au 27 mai sur thedaringkitchen.com!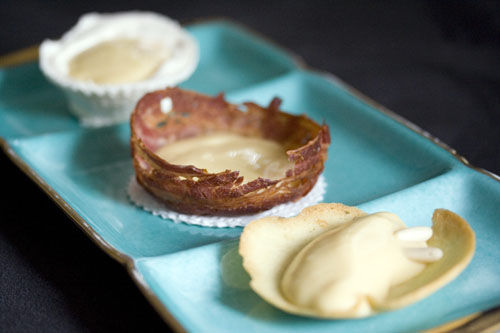 Challenge québécois, français oblige pour débuter mon histoire. La traduction en anglais viendra ensuite.
Voici qui m'a causé tant de surprises et de rebondissement! Des sentiments contradictoires, ou contraires.
Je n'ai pas fait une énorme découverte en voyant le sirop d'érable venir arroser le bacon. Et ce, non parce que j'ai voyagé au Québec ou cotoyé des Canadiens, mais plutôt parce que j'ai vu nombre d'Asiatiques, et, je crois, plus particulièrement des Coréens, mettre systématiquement du sirop d'érable sur des galettes de sarrazin bretonnes.
Oui, dans une autre vie, j'ai fait des crêpes en Californie.
Ceci dit, si ça me révoltait à l'époque, ça me dégoûte toujours aujourd'hui.
Le défi en ses termes proposait d'imaginer tout un tas de contenants comestibles pour accueillir la mousse d'érable, et de participer à un concours par la même occasion. Mon idée originale est, je crois, dans le cup en meringue. J'ai aussi essayé de faire des tuiles et ai décidé que c'est la dernière (et la première) fois que j'utillise une recette de la brigande Mrs Martha Stuart. Non seulement elle représente ce que je ne veux pas être, mais surtout sa recette était floue, difficile à suivre. Quand on a une telle renommée on a l'obligation d'éditer des recettes concises et ne pas se fo%tre de la g%eule du monde.
Si mes tuiles n'ont pas trop mal tournées, c'est que soixante pour cent de la recette vient de mon instinct et de ma tête.
For a challenge coming strait from Quebec, I had to start my story in French. Here is the English version.
To a post full of provocations and surprises! Contradictory, or contrary, feelings.
It was'nt so surprising to see bacon bathing in maple syrup. That, not because I travelled to Quebec or hung out with many Canadians. In fact, I saw many Asians, specifically Koreans, I believe, consistently adding maple syrup to Brittany buckwheat crêpes (a savory specialty from Northwestern France)
Yes. In another life, I made these back in California.
I would feel outraged at the time, now I just find it disgusting.
The rules of this month's challenge were to imagine all kinds of edible containers to accomodate the maple syrup mousse, and we were invited to participate in a competition as well. I believe my original idea is in the meringue cup. I also tried making tuiles, which led me to assert that it was surely the last time (and the first) that I would use one of the fraudster Martha Stuart's recipes! Not only does she represent what I hope never to be, but her recipe also turned out to be very vague and difficult to follow. Someone renowned as she is is obliged to publish concise recipes and stop trying to f... with us. If my tuiles turned out okay, it's mostly because of instinct and because I used my head.
Venons en maintenant à la star de ce billet. Suspense... J'ai estimé impensable de ne pas réaliser les cups de bacon. Déjà, malgrès mon dégoût, je dois admettre que c'est le produit phare, après l'érable, bien-sûr, qui a inspiré Evelyne pour ce défi du mois d'Avril. Je dois le respecter. Ensuite, on ne s'appelle pas des darings bakers pour rien! (bon, moi, je suis toute nouvelle, hein...) Il ne s'agit pas juste d'oser réaliser des pièces montées d'un mètre de haut, mais aussi d'utilliser de la charcuterie dans un dessert quand il le faut!
Alors voilà, je vais tâcher de trouver un ordre cohérent et d'être claire dans ma recette.
And now to this post's highlight...It was impossible for me to imagine not making the bacon cups. Even though I find quite disgusting the idea of mixing it with sweets, I have to respect the fact that it is what inspired Evelyne for this month's challenge, along with maple syrup. And we are not daring bakers for nothing (well of course, I'm still pretty new here, right...) To dare is not just to make complicated desserts, it it also to put fr..k'n bacon in your sweets!
So here goes, I will try to write things in a coherant order and to be clear in my instructions.
Tout d'abord, la mousse au sirop d'érable:
Je commence par la recette de la mousse car c'est LA seule vraie recette du défi, mais il vaut mieux s'occuper d'abord de ses contenants si ces derniers seront comestibles.
First off, the maple syrup mousse:
I'm starting with the mousse because it is the only common item to the challengers, and a real recipe. But it will be wise to start by making the containers, if they are to be edible.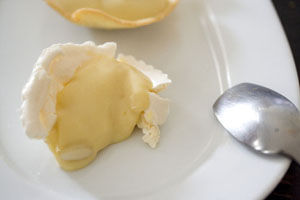 240 ml de sirop d'érable

4 jaunes d'œuf

7 g ou un sachet de gélatine

360ml de crème entière à chantilly
Faire bouillir le sirop et retirer du feu.
Battre les jaunes d'œuf dans un bol et incorporer petit à petit un peu du sirop sans brouiller les œufs. Ajouter ce mélange au reste du sirop.
Mettre 60 ml de crème dans un bol, saupoudrer de gélatine et laisser reposer 5 minutes. Chauffer au bain-marie jusqu'à ce que la gélatine soit bien dissoute.
Battre le mélange dans le premier appareil au sirop. Laisser reposer en donnant un petit coup de fouet de temps en temps jusqu'à ce que le mélange ait la consistance d'un blanc d'œuf cru, à peu près une heure.
Battre le reste de la crème en chantilly ferme et l'incorporer à l'appareil au sirop. Réfrigérer au moins 1 heure.
Diviser entre les contenants.
240 ml pure maple syrup
4 egg yolks
7g gelatine (one package)
360 ml whipping cream
Bring the maple syrup to a boil and remove from heat.
Whisk the egg yolks in a bowl and add some of the syrup little by little, whithout curdling the eggs. Add the yolk mixture to the rest of the syrup.
In a bowl, sprinkle 60 ml of whipping cream with the gelatine and let stand 5 minutes. Heat over simmering water (or in microwave) untill gelatine is fully dissolved.
Whisk the cream mixture into the syrup mixture and set aside.
Whisk occasionally untill the mixture has the consistency of a raw egg white, about one hour.
Whip the remaining cream. Stir 1/4 of the whipped cream into the maple syrup mixture. Fold in the
remaining cream and refrigerate for at least an hour.
Remove from the fridge and divide equally among your edible containers.
Pour les cups de meringue (J'ai utillisé la recette fournie dans le défi):

1 blancs d'œuf

55 g de sucre
J'ai utillisé deux œufs pour 110 g de sucre, ce qui m'a donné une petite vingtaine de cups, beaucoup trop à mon goût. Certaines ont fini dans la poubelle.
Préchauffer le four à 150°C. Battre l'œuf jusqu'à ce qu'il soit ferme. Ajouter le sucre petit à petit et continuer de battre jusqu'à ce que le mélange soit rigide et brillant.
À l'aide d'une poche à douille ou d'un sac de congélation percé, chemiser (si on peut dire) des moules à muffin. cf photo de gauche ci-dessus. Ne pas hésiter à en mettre beaucoup, la meringue, en se contractant à la cuisson, peut former des trous.
Enfourner et baisser immédiatement le four à 130°. Cuire 45 minutes.
Éteindre le four et laisser les meringues sécher dedans plusieurs heures.
J'avais préparé tout un arsenal pour démouler mes meringues, mais j'ai bien vu au premier coup de couteau que cela n'allait pas être possible. Meringues collantes!! Je n'ai donc pas utilisé mon arsenal, mais ai mis mes meringues au congélateur plusieurs heures, et là, miracle, avec tout de même l'aide de la pointe d'un couteau, elles se sont démoulées toutes seules. Le plus facile fut de les remplir de crème.
For the meringue cups (I used the recipe provided in the challenge):
I used two eggs for 110 g sugar, which yielded about 20 cups. I had to throw some away.
Preheat the oven to 150°C. Beat the egg white with an electric mixer untill it become very stiff. Add the sugar little by little, still beating, untill the mixture gets stiff and glossy.
Using a piping bag or a ziploc, carefully line muffin or cupcake cups with the meringue.
Put in the oven and immediately lower the heat to 130°C. Cook for 45 minutes.
Turn the oven off and let the meringues cool for a few hours.
I had prepared an arsenal of tools to unmold my meringues, but I soon found out it would'nt be work out this way. I instead put the meringues in the freezer for a few hours and miracle, the tip of a knife was just enough to have them pop out of their molds. The easiest part was filling them with cream.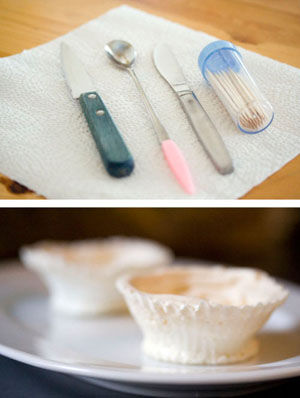 Pour les tuiles:
À mon grand désespoir, je vous renvoie à la recette de Martha Stuart, car c'est celle que j'ai utillisée, mais please, utillisez-en une autre...
For the tuiles:
I'm really sorry to have to link over to Martha Stuart's recipe, but it is the one I used. Please, if you will, find another recipe...
Pour les bacon cups:
For the bacon cups:

Pour la cuisson, j'ai utillisé la recette fournie, mais me suis inspirée des liens fournis pour l'ésthétique. Je garderai le mystère concernant la confection des cups, surtout qu'il y va beaucoup du feeling en plus du soin. J'ai pensé que le fil de cuisson donnerait un meilleur résultat que les cures-dent, mais ça tenait déjà assez bien tout seul, j'ai juste voulu être sûre.
I used the provided recipe to bake these cups, but was inspired by the links that accompanied the recipe for aesthetics. I will keep the cup weaving misterious, especially since it has a lot to do with feeling it and being neat. I did use cooking string rather than toothpicks to hold the cups together, allthough it seemed to hold by itself.

Pour 4 cups: 10 tranches de bacon
cuisson au four environ 1/2 heure à 200°C. Surveiller attentivement, ça aura vite fait de brûler! Je les ai démoulés dès la sortie du four, pensant qu'ils seraient peut-être un peu plus moelleux et donc moins fragiles, mais je crois que ça n'a aucune espèce d'importance.
For 4 cups: 10 slices bacon
Cooking time: about a half an hour at 200°C. Check often, in order not to let it burn. I removed the cups immediately as I took them out of the oven, thinking they might be a little softer and less fragile, but I think in the end, it does'nt really matter.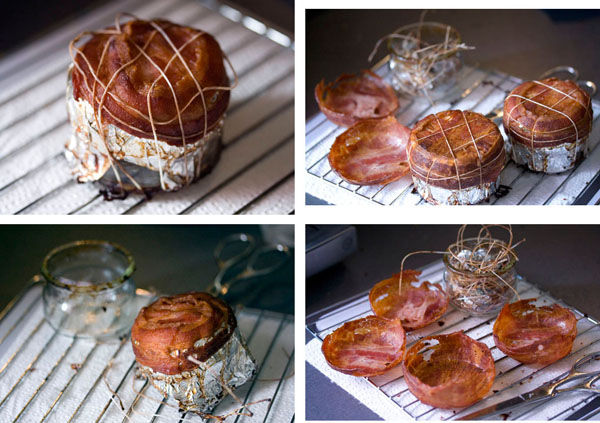 Et voilà un beau résultat final, dont je suis assez fière. Le mélange bacon-érable s'est avéré plus que mangeable, MAIS!
Oui, mais: les cups de bacon avaient l'air teeeeeeellement bon et étaient le fruit de teeeeellement de labeur...
J'ai préféré les manger à leur juste valeur, en salade, hmmmmmmmmm!
And here are the final results of which I am quite proud. The maple syrup and bacon mix turned out more than just edible, BUT! But the bacon cups looked sooooo good and were the fruit of suuuuuch labor...
I prefered to enjoy them as I thought was most suitable, with a salad, yummmmmm!